Former local cop in child sex sting
Man busted in U.S. and Ottawa-area home raided.
by KENNETH JACKSON, SUN MEDIA
Tue, July 8, 20008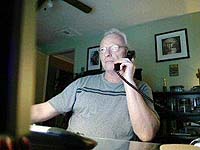 The FBI alleges former Ottawa cop Paul Michael Maher, 57, set up a sex-date with a 14-year-old girl in the United States in June. The 'girl' was an undercover FBI agent and Maher was arrested and now faces numerous charges in the U.S. and Canada.
A 57-year-old former Ottawa cop, Paul Michael Maher, drove his Dodge SUV nearly 965 km to Pennsylvania last month to take the virginity of a 14-year-old girl he lured off the Internet after months of chatting.
But his prey turned out to be a male FBI agent, according to allegations in U.S. court documents.
Maher was arrested June 30 in New York, three days after he drove to Mount Pleasant, Penn., to meet the girl but didn't go through with the tryst.
Acting on information from the U.S., Ottawa police raided Maher's Richmond home on July 2.
He faces several charges of child luring and pornography possession and distribution charges in the U.S. and in Ottawa. Maher has also been charged with seven firearm offences in Ottawa.
Maher resigned as a constable with the former City of Ottawa police force in 1988, after approximately 14 years of service. Police refuse to say what unit he was in.
He told the FBI that he now works for the federal government.
Authorities allege that they first met Maher in a Yahoo "fetish" chatroom in October 2007 with a U.S. cop posing as "Jess" and Maher using the handle "chancemaycome" and "pablo mendez."
PICTURES AND VIDEOS
Over the next nine months, Maher would allegedly send more than 220 pictures and 37 videos of prepubescent children being penetrated by adults to the person he thought was a teenage girl.
Maher allegedly described wanting to have the "gift of the 14-year-old's virginity" and proposed explicit and detailed sexual activities.
"He also said that he wanted to take '10,000' pictures of the 14-year-old and describes the poses that he would photograph," FBI Special Agent Gregg Frankhouser wrote in an application to obtain an arrest warrant.
Maher told police the youngest girl he'd been with was a 14-year-old, and that she was related to a neighbour, according to the warrant.
"He could be seen masturbating at various times during the chats, on his webcam, and transmitted images of his own penis," Frankhouser states in the warrant.
Maher allegedly planned to make the trip in November, but didn't because he needed to renew his expired passport.
Maher and the undercover agent made plans to meet at a corner store in Mt. Pleasant at 10 a.m., June 27, close to where Maher had made reservations at a Holiday Inn Express.
The FBI alleges Maher's 2009 black Dodge was spotted in the area at 8 a.m. but he failed to show up for the meeting.
Just before noon, Maher spoke with a civilian decoy, who was assisting the FBI. He told the decoy he was spooked when he noticed he was being followed and men speaking on radios.
The FBI alleges Maher admitted to sending child pornography, but claimed that he didn't believe the undercover agent was 14 years old.
DETENTION HEARING
Maher is being transferred from Binghamton, N.Y., to Pittsburgh, said Margaret Philbin, a spokeswoman with the United States Attorney's Office for the Western District of Pennsylvania.
Philbin said a detention hearing for Maher is expected to be held in Pittsburgh. The Crown is determining whether to send evidence to assist U.S. authorities.
A court date is scheduled for Monday. It's unknown when Maher will be returned to Canada to face charges in Ottawa.