Family betrayal: how Krzysztof B 'fathered his daughter's children'
September 10, 2008 - 6:07AM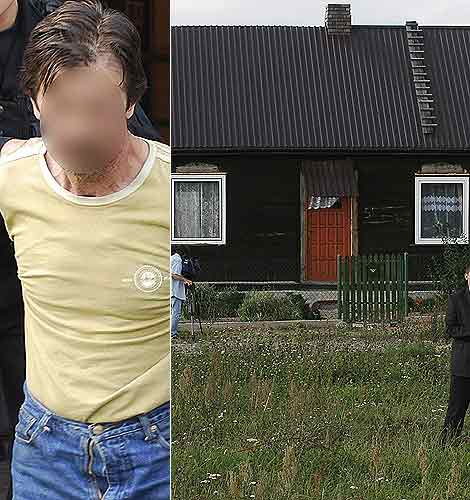 Krzysztof B, and inset, the house where the girl was allegedly held.
Prosecutors investigating claims that a Polish man imprisoned and raped his daughter were seeking DNA samples from the two children she says he fathered.
The 21-year-old told police she had been held captive since 2002 and forced to give two boys up for adoption.
Police were trying to find the boys to determine if the accused man is their father.
Prime Minister Donald Tusk called the situation a "tragedy" and said he would push for a law to require incorrigible pedophiles to be chemically castrated.
"I would like Poland to introduce chemical castration not on request but as an element of the court sentence," Tusk told a news conference.
"I don't think that protection of human rights would apply to these kind of occurrences."
Neighbours said they often saw the woman outside the family's home - a tiny, brown one-storey house with lace curtains - and that she sometimes walked to a nearby store to buy food and hair dye. She attended church with her parents and an 11-year-old brother.
Jan Chwaszczewski, a 46 year-old plumber who lives across the street, said he had visited the family three times since they moved into the house two years ago but never suspected anything was amiss.
"There was no hint, no sign. The wife was always smiling," Chwaszczewski said.
The story bears similarities to the case of Austrian Josef Fritzl, who investigators say confessed to confining his daughter in a cellar for 24 years and fathering her seven children.
The case in Poland involves a 45-year-old man identified only as Krzysztof B, in keeping with Polish privacy laws. Police detained him on Friday in the eastern city of Siedlce after his wife and daughter came forward. Police said they believe the man was trying to flee Poland.
His wife, identified as Teresa B, said on private TVN24 television that the man used to order her to watch television whenever he went into the girl's room, closed it and took out the door handle.
"My daughter was frightened and did not want to talk about it," the mother said. She learned the facts when she found her daughter's diary, the mother said.
She said the man beat her and her daughter when they asked that he stop the abuse.
"He intimidated us; he threatened that my daughter will be dead, that he will destroy us all, if anyone learned about it," Teresa B said.
Investigators collected the hospital records of the children and were trying to find them and carry out DNA tests to determine their paternity, national police spokesman Mariusz Sokolowski said.
Prosecutor Miroslaw Zoch in Siemiatycze cautioned that it was too early to say whether the man fathered the two boys.
Adam Kozub, a spokesman for the investigating prosecutors, said they have questioned the man and his brother, who is also a suspect in the case.
"It is a very disturbing story, but also a very delicate one because the victim is further suffering from the huge interest in her story," Kozub said.
Sokolowski said the woman did have limited contact with the outside world, including visits to hospitals to give birth to her sons, unlike Fritzl's captives, who officials said were locked in an underground cell.
"The main problem was the extreme psychological pressure she was under, the intimidation," Sokolowski said. "We are also looking for people who might have known about the situation."
Krzysztof B is being held pending the outcome of the investigation.
AP