Roxon to blame for bungle
Leo Shanahan
November 28, 2008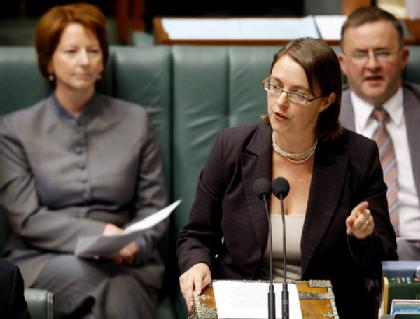 Nicola Roxon in Parliament yesterday after sacking one of her men's health ambassadors on radio. Photo: Glen McCurtayne
HEALTH Minister Nicola Roxon has accepted responsibility for a bungle that led to her having to sack one of six men's health ambassadors with questions remaining over two others.
- Gay claim controversy
- 'Very offensive': Roxon
- Marsh 'saddened'

Ms Roxon yesterday stood down the Fatherhood Foundation's Warwick Marsh from the voluntary position after he refused to back down from a paper published by the foundation that — among other things — claimed homosexuality was a mental disorder and that gay people were more likely to take drugs and molest children.
The Health Minister made the announcement live on radio yesterday before Mr Marsh had been informed, saying she found it unacceptable that he had not repudiated the arguments made in the paper.
"I would have preferred to talk to him before I did this interview but it is very clear to me that he has not repudiated these comments. They are very offensive and it is not appropriate for him to continue in this role," Ms Roxon told ABC radio.
The Minister said she accepted blame for inadequacies in the vetting process of the new ambassadors, who will travel around Australia to promote men's health.
"I take responsibility for this, it was a mistake. This men's health policy is important; it's a new change, it's a new approach. I regret that this has happened, but mistakes are made," she said.
Mr Marsh told The Age that he was saddened by the decision but said he would not back down from the paper entitled 21 Reasons Why Gender Matters.
"They said to me 'do you believe what's been written?' and I said 'I wouldn't have written it if I didn't believe it.' And at nine o'clock this morning I found out I had the sack."
Mr Marsh said he thought the decision was a "step backward for normal Aussie blokes".
"I'm not against gay men; they need to have a voice and they need to have services. But there are a lot more guys dropping off the perch with prostate cancer, bowel cancer and heart disease.
"I think red-blooded Aussie blokes, working-class blokes, need a voice and I think I could've done that," Mr Marsh said.
But Greens leader and gay Senator Bob Brown said yesterday he thought Ms Roxon "had form" on the issue, pointing to a speech she made in 2004 at a National Marriage Coalition forum in which she reiterated her support for a policy banning gay marriage.
"Nicola was the Labor shadow minister who told a cheering throng … in 2004 that Labor would lead the charge to ban gay marriage and prodded the Howard government into legislating to discriminate against same-sex couples," he told reporters.
Both major parties have policies banning the introduction of gay marriage.
Another of the ambassadors, president of Lone Fathers Barry Williams, who also put his name to the controversial paper, will stay in the role after he distanced himself from the comments. He said he merely provided some family law advice for the document.
"I think that Mr Williams' sins are not having read and taken care what he put his name to," Ms Roxon said.
"He has publicly and expressly disassociated himself from any of these comments and I am prepared to accept that explanation."
The removal of Mr Marsh was a further embarrassment for Ms Roxon after criticism from the Opposition for appointing Julia Gillard's partner and hair product salesman Tim Mathieson as one of the health ambassadors.
With AAP