'Perfect mother' massacred her five children by slitting their throats while husband was away
By Mail Foreign Service
Last updated at 1:38 AM on 10th December 2008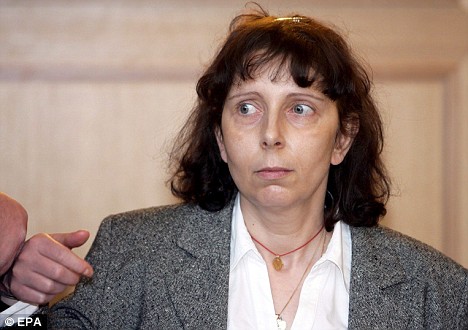 'Perfect mother': Genevieve Lhermitte arrives for the first day of her in Belgium today. She is accused of murdering her five children
The oldest victim, 14-year-old Yasmine was too big for her to handle so she used a trick, she said. She told the girl that she was going to blindfold her because she wanted to prepare a surprise for her.
Then when the teenager was unable to see she hit her over the head with a heavy marble tabletop, knocking her out before also killing her with a knife.
She phoned the police before trying to commit suicide by plunging the knife into her breast.
Police found her body spread-eagled in the hall. She later told police she felt "desperate and trapped" at having to be at home with the children while her husband was away, the court heard.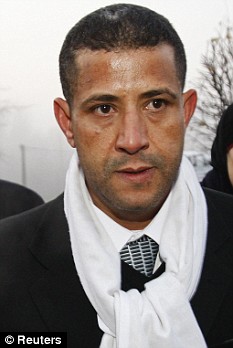 Husband: Bouchaib Moqadem, shown here as he arrived at court today, has since been divorced by Genevieve Lhermitte
The judge was told that Lhermitte's role as wife and mother was disturbed by the presence in the family home of a middle-aged Belgium doctor, Michel Schaar who paid most of the family's bills.
'He lived with us he even went on our honeymoon and slept in our room. We had to wait until he fell asleep before we could make love,' she said in court.
'I found that weird but Bouchaib said he regarded him as his stepfather. I think the doctor loved my husband in a platonic way.
'He watched TV with us in the evenings and went on holiday with us in the summer. We depended on him financially."
Lhermitte was asked in court why she laid the dead body of her 13-year-old daughter Nora in the bathroom used by Dr Schaar. She said: 'I wanted to hurt him. Nora was his favourite.'
On the day before the murders Lhermitte said she phoned her psychiatrist who had been treating her for several years. But he was unable to give her an appointment.
Her lawyer Xavier Magnee told the jury of eight women and four men: 'Your task is to discover why a woman who had hitherto been a perfect mother suddenly exploded.'
Lhermitt has since divorced her husband whom she accused of never having any understanding of her problems.
She said: 'I gave him a son and killed him. I've lost all children through my own fault. They never deserved it.
'I shall suffer to the end of my days - that is my punishment.'
The trial continues.