British seek power to expel wayward lords like Conrad Black
Feb 01, 2009 11:07 AM
TORONTO STAR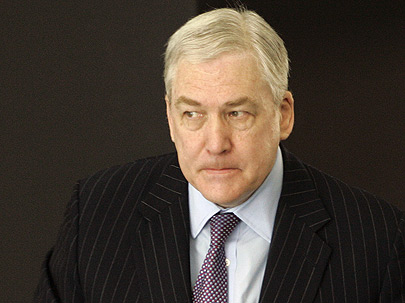 LONDON - The British government said today that it wants peers who break the law to be expelled from the House of Lords.
The candidates would include convicted media mogul Conrad Black.
There is currently no way to remove members from Parliament's unelected upper chamber. Members of the Lords are mostly appointed for life, although some are hereditary nobles, bishops or judges.
Several criminals retain their seats, including Black and novelist and convicted perjurer Jeffrey Archer.
Black, a former Canadian citizen, is serving a 6 1/2-year sentence at a Florida jail after his conviction in 2007 for fraud and obstruction of justice for swindling shareholders of the Hollinger International media empire.
Justice Secretary Jack Straw said peers who are guilty of serious misconduct should be expelled. He said he was preparing measures to be included in the forthcoming Constitutional Renewal Bill.
"In the House of Commons if you break the criminal law, or for example it is found that although you have not broken the criminal law, you have been doing something completely improper, then the House of Commons can in extremis expel you," Straw told Sky News television. "And that must apply to the House of Lords."
The House of Lords has been in the spotlight since a newspaper alleged last week that several peers had offered to amend laws on behalf of lobbyists in return for cash.
The 700-year-old Lords does not make laws, but has the power to amend legislation or delay its passage. It is regarded by many Britons as undemocratic and outdated - and by many others as a crucial counterbalance to the elected House of Commons.
Britain's Labour party government has tried to reform the Lords since it was elected in 1997, with limited success.
It removed all but 92 of the hereditary Lords such as dukes and earls from the chamber, replacing them with appointees.
But moves to create a wholly or partly elected upper chamber have stalled.
- With files from The Canadian Press.
Commentary by the Ottawa Mens Centre
Ontario's House Of Lords have another name in Ontario, they are called "the judiciary", judges are appointed virtually for life, and there is almost no practical way of even lodging a complaint, you see, any complaint about a judge's flagrant abuse of judicial power, you should appeal that, to another equally corrupt judge who, operates in a "band of brothers" with a "code of silence" that rivals that of the most effective criminal organizations. Many of our Ontario Judiciary are appointed in a similar fashion to that in England, they are rewarded for the politically correct attitude and a demonstrated willingness to abide by an unwritten contract to repay the favour with political instead of legal decisions, most visible in family court where they carry out a program of male gender apartheid. see the research by Peter Roscoe at the OttawaMensCentre cite.