Ottawa man charged in attempted Montreal abduction tried to snatch boy in 2005
Last Updated: Tuesday, March 3, 2009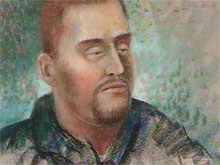 Michael Fisher, 35, shown in a sketch from court on Monday, is charged with attempted abduction of a minor. (CBC)
An Ottawa man with a history of mental illness and criminal charges will return to a Montreal courtroom Tuesday for a bail hearing after he was charged with the attempted abduction of a six-year-old girl from a department store.
Montreal police allege Michael Fisher, 35, visited a Wal-Mart in the Montreal suburb of Kirkland and tried to lure a girl away from her mother at about 2:30 p.m. on Sunday.
Police say the mother lost sight of her daughter. When she located her moments later, the girl was with a man.
Const. Olivier Lapointe said the man was pulling at the girl's hair and arm, and the girl was crying.
As soon as the mother began to scream, the man let go of the girl and ran away, said Lapointe.
Fisher was arrested several blocks away. He made his first court appearance on Monday.
Not criminally responsible for past charges
Court heard on Monday that Fisher currently resides at the Royal Ottawa Mental Health Centre and that he faced assault and kidnapping charges a few years ago but was found not criminally responsible.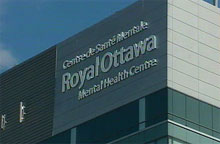 One of the cases took place in 2005. Fisher was accused of kidnapping a child from a sports arena in Victoriaville, a town 160 kilometres east of Montreal. The court found him not criminally responsible.
The court also heard that he has faced other charges since 1999, including mischief, arson and assault.
Crown lawyer Steeve Larivière said the prosecution would likely oppose bail during Tuesday's court appearance.
"Due to the nature of the infraction, the gravity of the offence, we think that a judge will have to decide whether or not he should be released on bail," Larivière told reporters.
"We think that he should be met by specialists in order for the courts to have a global picture of his ability to stand trial."
Experts advise parents instruct kids on what to do
The incident should serve as a reminder to parents about how quickly a child can wander off, said Pina Arcamone, director of the Missing Children's Network.
She said the mother reacted properly by screaming to draw attention to her daughter's plight.
Arcamone said her organization recommends that parents teach their children to yell out that the person is not their mother or father.
Otherwise, she said, people may think the child is simply throwing a tantrum.
"If you do scream, 'This is not my mother, this is not my father,' it will draw attention. The last thing an aggressor wants is to be identified by the public and they will remove themselves," said Arcamone.
With files from the Canadian Press
Commentary by the Ottawa Mens Centre
ottawamenscentre wrote:
Posted 2009/03/03 at 12:48 PM ET
Most family and criminal law cases have as their root cause, an underlying mental health problem and or a personality disorder. Society especially the judiciary adopts a taboo approach to the subject. The biggest single solvable economic cancer in Canadian society is the failure of the courts to deal expeditiously and appropriately with litigation that has as its cause, mental health and or personality problems.

Canada's failure to deal with the root cause and attempt to deal with the effects by ignoring the cause breeds multiple generations of fatherless children and dysfunctional single parent or duel parent same sex families that simply predispose another generation of children to become dysfunctional adults and parents.

The solution is in a legal presumption of equal parenting after separation, and psychological screening of JUDGES prior to appointment and upon any complaint of aberrant judicial behaviour. Presently we have Justice Denis Power and Alan Sheffield in Ottawa making draconian orders that defy legal logic and are obvious symptoms of at least, a personality disorder that should not be exhibited by a member of any public officer let alone a judge of the Ontario Superior Court. www.OttawaMensCentre.com