Boyfriend in female lovers' way, trial told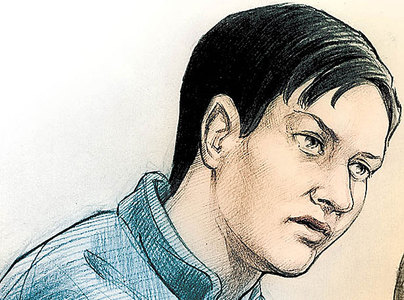 Ashleigh Pechaluk loved Nicola Puddicombe and dreamed of marrying her.
But Dennis Hoy, Puddicombe's boyfriend of 11 years, stood in the way, a murder trial was told yesterday.
So the two women concocted a plan to kill the 36-year-old man with an axe as he slept in Puddicombe's bed, prosecutor Tom Lissaman told a jury.
It was a scheme Pechaluk, then 22, described in detail to a friend, right down to the 911 call her lover would make to fool police, Lissaman alleged at the opening of Pechaluk's first-degree murder trial yesterday.
"He was bludgeoned to death as he lay naked and asleep in his girlfriend's bed," Lissaman said.
The plan was for Puddicombe to phone police to say she had just come out of the shower and was surprised by Hoy's bloodied body, the prosecutor said.
She was to say Hoy was a Hells Angel, was being followed and that his tires had been slashed. That is strikingly similar to what Puddicombe did tell police, Lissaman said.
At 12:45 a.m. on Oct. 27, 2006, police responded to Puddicombe's 911 call and arrived at the apartment she shared with Pechaluk and a male roommate on The Queensway near Park Lawn Rd.
Hoy was face down in Puddicombe's bed. The axe was nearby.
Puddicombe, 36, soon faces her own first-degree murder trial.
Her motive "may have been slightly different from Ashleigh's," Lissaman said, adding that she stood to gain $250,000 from Hoy's life insurance and pension policies.
Pechaluk met Puddicombe at the Loblaws grocery store at Victoria Park Ave. and Gerrard St. E., where they were both worked. They soon were lovers.
Pechaluk's private journals show she was obsessed with Puddicombe, and frustrated by Hoy being around, Lissaman said.
Pechaluk confided to fellow Loblaws part-timer Sarah Sousa that Hoy was interfering in their relationship and forbidding them to see each other, the prosecutor said.
Several months before the murder, she told Sousa she and Puddicombe had plans to buy a house, get married and have children, but they could never be together unless Hoy was gone, Lissaman said. "Ashleigh started talking about ways of killing Dennis."
A week before the slaying, she told Sousa that she planned to enter Puddicombe's bedroom when Hoy was asleep and hit him on the head with a baseball bat. She said they would make it look as if someone came in through a window.
When police arrived, the kitchen's sliding door was open. Hoy's blood was found near the handle of the adjacent sliding door as if to suggest the killer escaped that way.
"The evidence will show that this is not what occurred," Lissaman said.
The trial continues.
Commentary by the Ottawa Mens Centre
This is what you call another crime by Dum and Stupid. Most lesbians are not so stupid, they use more effective and devastating tactics.
Typically one will get pregnant to her male boyfriend and simply use Ontario's Feminist Judiciary to give her any order she wishes, regardless of the fact that she may be a real psychopath or a borderline personality or anything in between that can and does contain a very violent propensity.
These women typically gain a life time of financial support while destroying the man who lives a life worse than death unable ever to have a relationship with the child.
If you are contemplating the idea of being a sperm donor think very carefully about how a child will grow up with two parents of the same gender who generally have some deep seated tragic hatred of men.