D'Angelo not guilty of sex assault
Last Updated: 21st April 2009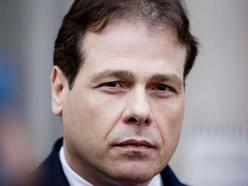 Frank D'Angelo leaves the courthouse at 361 University after being acquitted on sexual assault charges. (GREG HENKENHAF/SUN MEDIA)
Former Steelback Brewery owner Frank D'Angelo was acquitted today of sexually assaulting a woman less than half his age in a Toronto hotel room two years ago.
"At most, he may be or probably is guilty, but I am left with a reasonable doubt on the totality of the evidence and so he is acquitted," said Justice John Hamilton in exonerating the flamboyant entrepreneur of allegations that D'Angelo assaulted the woman, now 22, at his Yorkdale Holiday Inn hotel room on June 3, 2007.
"I find the complainant to be credible and the accused's evidence is also credible and I also believe him," said Hamilton.
D'Angelo, who turns 50 on Thursday, reacted outside the courtroom.
"A large weight has been lifted off my shoulders. Obviously, I'm very emotional about being called ( an alleged rapist) ," he said. "It has been horrible the last two years for my family and my friends to get through this.
"The D'Angelo name has always been a good name and I wanted to keep it that way. Justice has been served."
The Aurora woman, who cannot be legally identified, testified she trusted D'Angelo, noting he knew her father for 20 years. Court heard D'Angelo had known the woman from the time she was a young child.
The woman testified she accompanied D'Angelo to his room and alleged he grabbed her arm, stripped her naked and forced her to have sex for an hour.
The complainant testified she set up a lunch with D'Angelo because she was anxious to score an events co-ordinator job at the Steelback Grand Prix — an event Steelback was sponsoring. But talk of the job never came up during their lunch meeting and they ended up in his room, she told court.
The woman testified she said, "Please, no, Frank ... stop," when he pulled her on to the bed and disrobed both of them.
Afterwards, D'Angelo took a shower for up to eight minutes, leaving her alone in the room, while the woman stayed. She walked out with him and was kissed goodbye in the parking lot, court heard.
The woman did not report the alleged assault that night when she joined two friends to watch the comedy, Knocked Up — a story of an ambitious career woman who ends up pregnant after a drunken, one-night stand with a loveable loser.
The next night the woman met with police and a charge was laid. She had no injuries to report other than a bump on the head.
D'Angelo testified she was the sexual aggressor who kissing him and sparked their hour-long sexual encounter.
He said the hotel room episode occurred after a luncheon where she revealed she was single and exposed tattoos on her shoulder and her lower back.
D'Angelo testified he was using the hotel room that day because the air conditioning system at his house was broken.
D'Angelo insisted it was the woman who pressed for a lunch meeting to show her gratitude to him.
He provided several free dinners for the woman during the previous year at his Forget About It Supper Club in Toronto.
She had also received a 46-inch Sony Bravia TV set, worth $3,000, which D'Angelo initially gave to her father. Her father gave the television to her.