Convicted killer Colin Thatcher's forthcoming book has prompted the Saskatchewan government to consider laws that would deny criminals payment for writing accounts of their crimes.
Mr. Thatcher, the millionaire Saskatchewan MLA convicted of the 1983 murder of his ex-wife, began writing a book dissecting the case against him in 2006, the year he was paroled.
When news broke last week that ECW Press, a Toronto firm, would publish Mr. Thatcher's 110,000-word Final Appeal: Anatomy of a Frame, victims' advocacy groups objected to the possibility of Mr. Thatcher profiting from the crime.
Unlike Manitoba, Alberta, Nova Scotia and Ontario, Saskatchewan does not prevent criminals from selling the tale of their crimes.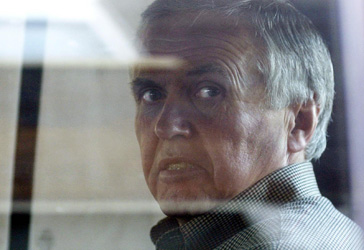 Colin Thatcher, shown in 2003, was convicted of murder in 1984. His coming book is titled Final Appeal: Anatomy of a Frame.
(GEOFF HOWE/MOOSE JAW TIMES HERALD/THE CANADIAN PRESS)