Man didn't die instantly in axe attack, jury hears
Victim's skull split, MD testifies, at trial involving lesbian lovers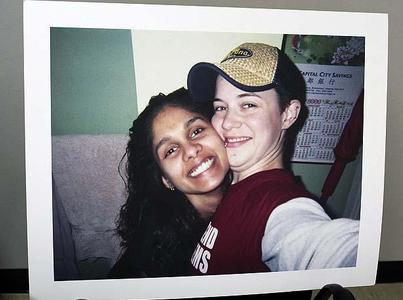 A man allegedly murdered by his girlfriend's lesbian lover may not have died immediately but would have quickly lost consciousness after he was hit six times on the head with an axe, a pathologist says.
"Death likely came in rapid order, but not instantaneously," Michael Pollanen, Ontario's chief forensic pathologist, testified yesterday at a murder trial.
"It would seem that unconsciousness and incapacity would ensue rapidly," he said.
Ashleigh Pechaluk, 24, is on trial in Ontario Superior Court for first-degree murder in the October 2006 death of Dennis Hoy. The Crown alleges she conspired with her lover, Nicola Puddicombe, 36, to kill Hoy as he lay in Puddicombe's bed because she believed he stood in the way of their romance.
Hoy, 36, was Puddicombe's boyfriend of 11 years at the time. She will also be tried for first-degree murder in Hoy's death after Pechaluk's trial is over.
Pollanen told court he went to the apartment shared by Puddicombe and Pechaluk 12 hours after the slaying. Hoy's body was nude, lying face down and grasping a pillow, he said.
"There was blood spatter on the surrounding pillow," he said.
The six distinct injuries on Hoy's head were consistent with being hit with the blunt sides of an axe, but the blade could have caused at least one injury, Pollanen said.
The most serious injury was behind the right ear, where Hoy was likely hit with the blunt end of the axe, Pollanen said.
"The skull damage was extensive," he said, noting the skull broke into seven pieces and that the tough membrane surrounding the brain was torn open and the brain forced out.
The cause of death was blunt-impact trauma to the head, Pollanen said.
Defence lawyer Peter Zaduk asked Pollanen if he recalled telling a homicide detective at the scene that the assailant would likely have been splashed with blood.
Pollanen said he did not remember saying that, but agreed it was possible.
Police found no blood on either Pechaluk or Puddicombe after the murder, court has heard.
The trial continues.