New hearing for mother convicted in son's death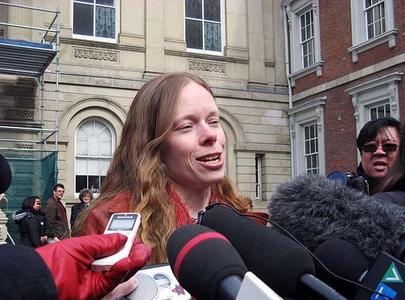 Tammy Marquardt, 37, speaks to the media outside court in Toronto, Thursday March 12, 2009.
Nearly 14 years after the words of a disgraced pathologist put her behind bars for the death of her infant son, Tammy Marquardt has won a new hearing.
The Supreme Court of Canada has ordered the Ontario Court of Appeal to take a second look at the Toronto woman's case in light of evidence from six forensic experts who say Dr. Charles Smith's conclusions were wrong.
"The case is remanded to the Court of Appeal for Ontario for consideration of fresh evidence and whether the applicant's conviction constitutes a miscarriage of justice," the court said in announcing its decision today.
Marquardt, 37, was released on bail from a federal prison last month and is living at a Toronto drug treatment centre.
She was convicted on Oct. 24, 1995 of second-degree murder in connection with the death of her son, Kenneth Wynne, 2 1/2.
Following her arrest, Marquardt had another son, Keith, now 14. Another son, Eric, now 12, was born after she went to prison.
Both were seized by child welfare officials and put up for adoption.
Smith maintained Kenneth had been smothered or strangled, but Marquardt has consistently told a different story. She said she awoke from a nap on Oct. 9, 1993 to find him tangled in bed sheets. He later went limp.
Dr. Simon Avis, Newfoundland's chief medical examiner and one of the six experts who recently rejected Smith's findings, said Kenneth, who had epilepsy, could have died from a seizure. Marquardt also has a history of seizures.