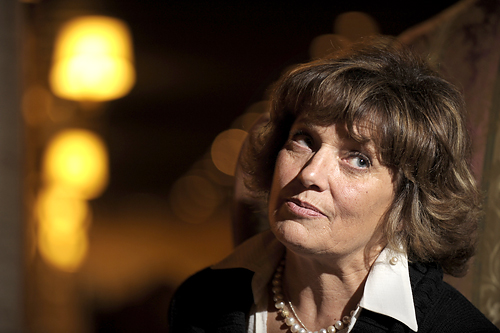 Margaret Trudeau speaks to the Globe about her biploar condition and mental health. (Fred Lum/The Globe and Mail)
Margaret Trudeau steps into the lobby of Toronto's Royal York hotel on the stroke of the hour. Dressed in a black skirt and sweater over a white blouse, worn with pearls, she has come to talk about her work as a speaker on mental-health issues since she went public three years ago with her diagnosis with a bipolar mood disorder.
"Depression is 80 per cent of my condition," she says now. "And 10 per cent is mania, and 10 per cent is what we call normal. I say that must be when I am buying groceries," she jokes. "Or vacuuming."
At 60, Ms. Trudeau has reached a positive equilibrium as a mother, grandmother and mental-health advocate. But she is still the irrepressible Maggie that Canada has always known: For all her efforts to restrict her comments to health issues, her natural frankness takes her off on tangents about the astrological signs of her two ex-husbands, Buddhism, "polygamy," drugs and lemon cake.
Her ebullience belies a long and lonely battle, which few people in her life understood or acknowledged. Her mental instability wreaked havoc with her relationships, catapulted her into headlines – she admits her behaviour "went over the edge of propriety" – and distanced her from people who loved her.