JP denies he grabbed colleague's derrière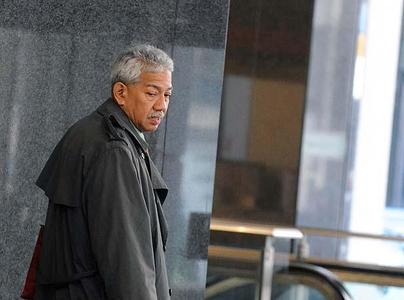 MICHAEL STUPARYK/TORONTO STAR
Vernon Chang Alloy, 63, leaves a hearing May 12, 2009. Another justice of the peace says he squeezed her backside in a courthouse corridor
A Brampton justice of the peace flat-out denied yesterday that he touched a female colleague in an unwanted, sexual way.
"It didn't happen," Vernon Chang Alloy told a disciplinary hearing when asked if he grabbed the left buttock of another justice of the peace in July 2006.
"It didn't happen," he repeated, when asked if two weeks earlier he had run his finger down her spine.
The woman, her name protected by a publication ban, testified earlier Alloy made a sudden "full-hand grab and squeeze" of her buttock in a corridor of Brampton courthouse, where the two had offices across the hall from each other.
She also said she accidentally opened a door into him soon after, and he said, "I bet you've been wanting to do that for a while."
Asked if he made such a statement, Alloy told prosecutor Gavin MacKenzie that he "could have." Asked by his own lawyer about the tone of the remark, Alloy said he spoke with humour, not anger.
Alloy, 63, said he immigrated to Canada from Jamaica in 1969. He is married with a daughter and holds bachelor degrees in commerce and tourism, and a real estate licence. He has no formal legal training.
In 1990, he said, he was offered a position as a justice of the peace as a political favour after campaigning for a successful Ontario Legislature candidate.
At first he wasn't interested, but he was told it might help his real estate business, he said. He had no ambition to rise up the ladder, he said, until he was told he could make more money.
"A presiding position came up and I didn't apply," Chang Alloy said. "Somebody asked me if I was interested. I said, `Does it mean more money?'
"She said, `Not right now but down the road.' That drove me (to get the position),'" he testified.
Public records show that Chang Alloy made $178,000 last year as a justice of the peace while continuing to work as a real estate agent.
Ontario's 325 justices of the peace preside over virtually all bail hearings and most criminal remand courts, and perform other functions.
Since 1992, seven have faced disciplinary hearings. Three cases resulted in a removal recommendations, of which one is being appealed. Two resulted in other types of penalties. In two cases, complaints were not established.