Not guilty verdict in lesbian axe murder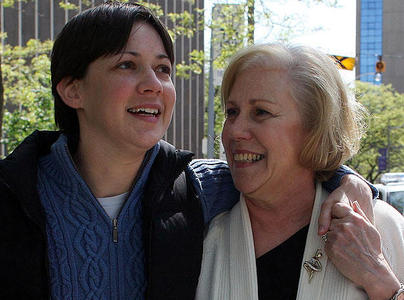 REN… JOHNSTON/TORONTO STAR
Asked how she will handle her ex-loverís trial, Ashleigh Pechaluk, left, with mother Beverley Salton, said, "We're not thinking about that right now." (June 4, 2009)
The timing of the trial of a second woman charged with an axe murder is up in the air after a jury yesterday acquitted her co-accused and former lover, Ashleigh Pechaluk.
"The verdict in this case has to be taken into consideration in terms of how our trial will proceed," said defence lawyer Richard Stern, who represents Nicola Puddicombe, 36. Stern said he will be holding discussions with the Crown about the trial that was tentatively set to begin Monday.
The women were jointly charged with first-degree murder for allegedly concocting a plan to kill 36-year-old Dennis Hoy, Puddicombe's boyfriend.
On Oct. 27, 2006, police responded to a 911 call and arrived at an apartment on the Queensway after midnight to find Hoy, a GO Transit constable, face down and naked in the bed. There was an axe nearby.
Pechaluk, 24, was arrested that night and has been in custody since.
Last month, the soft-spoken woman testified she was asleep in the next room when Puddicombe banged on the door after midnight. "She said that Dennis is dead," Pechaluk said.
Two hours before that, she said, she had refused Puddicombe's demand that she bash in Hoy's head as he slept.
The two had met at work and fell in love. But it was complicated because Puddicombe had been seeing Hoy for 11 years. The prosecution alleged the two women decided to kill Hoy to clear the way for their lesbian romance and the marriage Pechaluk dreamed about.
After hearing evidence in the case for two months, a jury retired Monday to begin deliberations but returned to the courtroom Wednesday to tell the judge they were unable to reach a unanimous verdict.
The prospect of a "hung jury" and another trial after one "this long and heartfelt" was daunting, said defence lawyer Peter Zaduk.
Superior Court Justice Mary Lou Benotto asked jurors to try again to reach a "common conclusion" and by 4 p.m. yesterday they had: not guilty.
Pechaluk tearfully hugged Zaduk and co-counsel Kristine Connidis before turning to embrace her mother, Beverley Salton.
Pechaluk then walked out of the courtroom a free woman.
"I haven't touched her in two years and seven months," said Salton, her arm wrapped around her daughter and hand stroking the back of her head.
Zaduk said he was relieved for Pechaluk who was "wrongfully charged."
"There's not a fibre of her being that made her capable of this."
Sentencing arguments in the Livent fraud case were supposed to begin Wednesday in front of Benotto, who also conducted that trial, but were postponed while the jury in the Pechaluk case continued its deliberations.
Benotto is also scheduled to preside over Puddicombe's trial.
Pechaluk said she has nothing to say to Puddicombe except "she'll have a fair trial." She said she was sorry for what happened to the Hoy family. "It's not fair."
Asked how she will handle Puddicombe's trial, whenever it is, Salton started to say: "We'll deal with it," when her daughter interrupted: "We're not thinking about that right now."