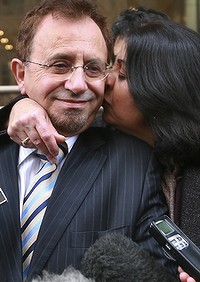 Theo Theophanous outside court with his wife, Rita. Photo: Rebecca Hallas
VICTORIA Police last night confirmed that embattled MP Theo Theophanous remained under investigation in relation to the now-dismissed rape case against him.
"We have launched one investigation into Mr Theophanous," Police spokeswoman Karla Dennis told The Sunday Age.
Senior Constable Dennis would not confirm whether the new probe was into alleged interference with witnesses but she said it was separate from another inquiry. That inquiry, began at Mr Theophanous' request in March, is into whether the rape allegation was part of a conspiracy against the former minister.
An angry Mr Theophanous told The Sunday Age yesterday that two investigators had told him that he was not under investigation. He again denied interfering with witnesses and said it was his accuser who had tried to "contact, coerce or coach at least six witnesses". In a statement, he said that no issue in relation to alleged interference was raised during the committal hearing.
"The police are investigating a number of people and all they will tell me is that I am not one of them," Mr Theophanous said.
The MP has confirmed he spoke to one witness — a friend who approached him in 2008 to tell him a police investigation was afoot.
The disagreement came as Melbourne lawyers expressed surprise that the case against Mr Theophanous was thrown out at a committal, a hearing to decide whether a case should be sent to trial. "I think it's fair to say we were all stunned," said one senior barrister, who declined to be named. "It is highly unusual for an accused to be discharged in a rape case based on the credibility of the complainant. Usually the magistrate leaves that up for the jury to assess."
On Friday, magistrate Peter Reardon dismissed the "inherently weak" case against Mr Theophanous and criticised the prosecution case and the police, saying the complainant was "an entirely unreliable witness" and the case was "not sustainable on the evidence at any level".
The woman had accused Mr Theophanous of raping her on a couch in his parliamentary office in 1998.
While there had been concern expressed for the damage the case had done to Mr Theophanous' reputation, some lawyers worried that the failure of such a high-profile case could deter victims of sexual assault from pursuing justice. Dr Vivian Waller, a sexual assault lawyer who represented Carol Stingel in her civil case against former Aboriginal leader Geoff Clark, said: "I would be very saddened if women took this as a message not to come forward; women should be encouraged to report sexual crimes and get advice on what their options are."
But other lawyers said it simply sent a message to women not to bring false claims to court. "This shouldn't send any message to a genuine complainant," one barrister said. Criminal barrister Peter Faris, QC, said the Office of Public Prosecutions and police could not be blamed for bringing the case to trial. "They have to lay charges and leave it to the court," he said. "That's the way the system works."
The Director of Public Prosecutions, Jeremy Rapke, was unavailable for comment yesterday. He retains the right to take Mr Theophanous directly to the County Court, despite the case having failed at committal. Some barristers told The Sunday Age it was unlikely Mr Rapke would continue to pursue the MP. Others disagreed. "I would not, if I were Mr Theophanous, think the battle over," one barrister said.
The strength of Mr Reardon's comments has given Mr Theophanous' backers in the Labor Party more weight to their argument that the MP should again be preselected for the upper house this week. One of these backers, factional heavyweight and federal senator Stephen Conroy, is believed to be considering supporting the resurrection of Mr Thephanous' career, should he consider fighting for his political future. Mr Theophanous said he was still undecided.
The Premier's Office may decide to use the 61-year-old's spot in the Northern Metropolitan Region to introduce fresh talent. Premier John Brumby had no comment yesterday.
One senior party source said: "If he wants to continue, he will be allowed to do so by the (Right) faction.
"There are probably just about enough numbers now to secure his renomination."