Former president likely arrived in North Korea with messages for regime from White House, despite Washington's insistence he was on a
N
orth Korea's repressive dictator Kim Jong-Il freed two U.S. journalists Tuesday after former president Bill Clinton flew in for a high-profile and carefully staged visit that delivered the sort of international attention the regime craves.
Whether Mr. Clinton's humanitarian mission will unlock the hostile – and now nuclear – stalemate between Pyongyang and Washington remains uncertain. Previously hoped-for breakthroughs have failed, usually because North Korea has secretly broken vows to cease its nuclear-weapons programs.
After months of bellicose rhetoric from the brutal neo-Stalinist regime punctuated by nuclear-weapons tests and missile salvos, Mr. Clinton was treated to a bouquet of flowers and dinner with the dictator, who announced he had issued a "special pardon" as part of Pyongyang's "humanitarian and peace-loving policy."
The pardon released Laura Ling and Euna Lee, two American television journalists who had been sentenced to 12 years of hard labour after being seized by North Korean border guards on the border with China in March. Accompanied by Mr. Clinton, the journalists are now en route to Los Angeles, where they are to be reunited with their families.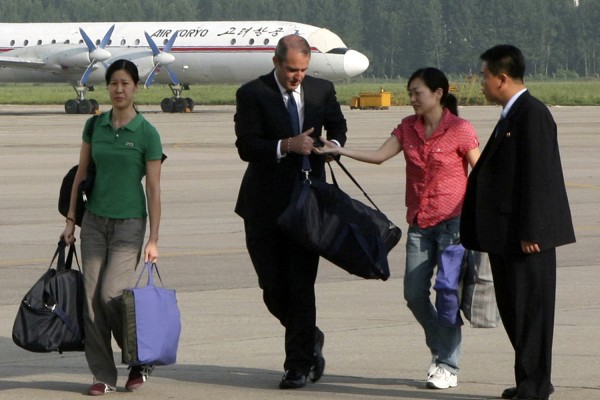 Mr. Clinton's successful visit holds out the possibility of "a dramatic turnaround by North Korea that could lead to a new phase of negotiations," said Yun Duk-min of the Institute of Foreign Affairs and National Security in the South Korean capital Seoul.
The Obama administration, however, was making no such sweeping claims.
The former president – and husband of the current U.S. Secretary of State – was on a "private mission," the White House insisted shortly after Mr. Clinton and his Secret Service bodyguards arrived in North Korea.
Mr. Clinton reportedly dined with Kim Jong-Il and was pictured towering over a grinning but gaunt North Korean leader and posing in front of a huge mural.
North Korea's state-owed news agency described their conversation as a "wide-ranging exchange of views on matters of common concern" – in what was clearly an effort to portray Mr. Clinton as an Obama envoy with a broad policy mandate.
"That's not true," Mr. Obama's spokesman Robert Gibbs said, insisting Mr. Clinton's mission was narrowly humanitarian and intended solely to seek the release of the two journalists.
Mr. Clinton's unannounced visit capped months of secret negotiations to craft a deal to extricate the journalists, and played out as a day of elaborate diplomatic theatre.
One person familiar with the negotiations said several possible envoys had been considered, but the North Koreans were unwilling to accept anyone with less stature than the former president.
Al Gore, the former vice-president and head of Current News, which employed the two journalists, was apparently rejected by Pyongyang.
"Presumably they didn't want to talk about global warning," said John Pike, director of GlobalSecurity.org. Mr. Pike, who has closely followed North Korea's ambitious effort to develop nuclear warheads and the missiles capable of delivering them, suggested that the decision to dispatch Mr. Clinton to Pyongyang underscores the importance the Obama administration attaches to dealing with the terrorist-sponsoring state.
"Mr. Clinton is way too much firepower to deploy just to spring two journalists," he said, adding that the former president likely went armed with messages from the White House and will carefully assess whether Pyongyang is willing to re-engage on the issue of its nuclear arsenal.
After a day of global media attention, it remained unclear whether North Korea will attempt to use the Clinton visit – and whatever goodwill was generated by releasing the Americans – to press for bilateral talks with Washington, an objective long-sought by Pyongyang.
At the very least, Mr. Clinton delivered the kind of attention North Korea's seeks, and that may also signal a new effort to defang Pyongyang's nuclear arsenal.
Mr. Clinton is the highest-profile American to visit Pyongyang since he was president and sent then-secretary-of-state Madeleine Albright to Pyongyang in 2000 to seal a nuclear non-proliferation deal that the North Koreans then broke.
Kim Jong-Il, reportedly dying of cancer, recently named his 25-year-old youngest son as heir to what is becoming the planet's first Communist dynasty. The dictator's illnesses – he disappeared from public view last year after reportedly suffering a stroke – and the announcement of the succession of his son were accompanied by a new round of defiance, including the breakdown of so-called six-party talks last December.
Less than two weeks ago, Hillary Clinton dismissively rejected Pyongyang's increasingly shrill demands for bilateral attention from the Obama administration.
"Maybe it's the mother in me or experience that I've had with small children and unruly teenagers," the Secretary of State said, adding she planned to deny "the North Koreans the satisfaction they were looking for, which is to try to elevate them again to centre stage."