Enduring 'white torture' in Iranian jail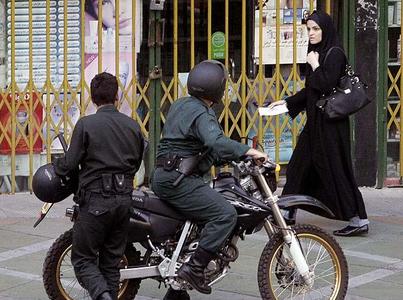 BEIRUT–The interrogator politely apologized for grilling the prisoner about her role in the mass protests over Iran's disputed presidential election.
Then the prisoner was made to sit facing a wall in the courtyard of Iran's Evin Prison, blindfolded, handcuffed and covered in an all-enveloping chadour for 4 1/2 hours under the blazing sun.
"America is our enemy," the interrogator told her. "Why are you so naïve and can't see this? It's exploiting the situation here and wants to ransack the country. They don't have your interest at heart."
The ordeal of Nazy, a 29-year-old university student who worked with the campaign of defeated presidential candidate Mehdi Karroubi, gives a rare glimpse of what is happening to detained protesters. Nazy spoke to the Associated Press by telephone from Tehran after her release on condition only her first name be used, to protect herself and her family.
Thousands have been arrested since incumbent President Mahmoud Ahmadinejad was declared the winner in the June 12 election, despite cries of fraud. The opposition claims detainees were savagely raped by their jailers and at least 69 people were killed, including some from beatings in prison.
The account from Nazy, who is known in reformist circles, could not be independently backed up. But former prisoners and human rights groups have noted such treatment of prisoners – a mix of intimidation and persuasion known as "white torture" – is widespread, and that ordinary people along with opposition politicians have been subjected to it.
"This case is one of thousands that take place in Iran," said Mohammad Javad Akbarein, an analyst who was himself jailed in 2001. "The majority of prisoners experience white torture. But it's worrisome when people become complacent when prisoners are not subjected to black torture and forget that their rights, dignity and honour are trampled on."
June 20 was a tense Saturday, the day after Supreme Leader Ayatollah Ali Khamenei declared the presidential vote would stand and warned opposition leaders to end street protests or be responsible for bloodshed.
"We knew that from that day on anyone who comes into the street may have to pay a high price for it," said Nazy.
Nazy was on her way to buy a book in downtown Tehran and planned to attend a demonstration that afternoon at 4. Before leaving home, she stuffed a bunch of white wristbands that said "change" into her backpack along with a folded poster she had prepared for the afternoon demonstration. White is the colour of Karroubi's supporters.
At noon, Nazy had just climbed out of the car in front of the book shop when a man in a white vest, blue shirt and white sneakers twisted her arm and slapped handcuffs on her. He pushed her forward and ordered her to walk a few metres in front of him in the busy street.
Two clean-shaven young men in tight blue jeans and wearing green wristbands– the colour of the other defeated reformist candidate, Mir Hossein Mousavi – quickly caught up with her. "Don't make any noise; when you reach the narrow street we will help you escape," one of them told her.
But when she reached the street that led to the "Protective Police," the men pushed her inside the gate. They had duped her.
She walked into a huge courtyard packed with disciplinary police officers and with vans and jeeps. Nazy saw five or six men beaten as they were led into the detention centre.
Nazy herself was hit a couple of times on her back, led into a basement and interrogated.
A female guard pulled out a poster from Nazy's bag. "Ha, instead of saying `In the Name of God,' she's written `In the Name of Democracy' on the poster," the guard mocked Nazy. "I'll show you what democracy really is."
Another guard came in and challenged Nazy for being a member of the "One Million Signature" campaign – a group pressing for changes in Iran's laws on women.
"Why don't you live your life quietly?" she said. "Do you really consider yourself a woman? We are women who work to bring bread to the table, just like normal people. You ought to do the same and work."
By 4 p.m. the number of detainees – mostly men picked up at protest sites – had swelled to 100.
Nazy and two other women waited for several hours in a van while more female demonstrators were brought in. It was dark by the time the van, which seated 12, was filled with 19 women plus one male and two female officers. They sat three to a seat, blindfolded, their hands tied to the chairs. Every time they said a word, they were smacked.
The women were driven to a temporary jailhouse for prostitutes and drug addicts. After 15 hours, they were allowed to use the toilet, and only once.
Nazy was told her charges included disruption of law and order, action against national security, destruction of public property and participation in illegal gathering. She was handcuffed, blindfolded and taken to Evin Prison where she endured several interrogations.
Her last session took 4 1/2 hours under the sun. All the female prisoners were made to sit facing the wall. Interrogators sat behind them. Some were aggressive and kicked and slapped the prisoners. But Nazy's interrogator was polite.
"This is what happens when there's a mass sweep. Some are innocent," he told Nazy. "Why did you have to come into the street that day when you knew the situation was tense?"
Then he gave her a lecture about U.S. designs against the Islamic Republic and the attempts of opportunists to destabilize the country.
"You've done nothing here, but if we don't find those responsible we will have to blame you, charge you for it. Why? Because you brought about a situation where they could exploit it," he said.
Nazy was freed on bail at 11.30 the next night, a week after her arrest. She awaits a summons from court.
Commentary by the Ottawa Mens Centre.com
A similar approach applies in Ontario , against men.
Its Ontario's male sharia law, its also called the war on men or,
in judicial language, the unofficial legal term, "the process of justification" that has many parallels with how protestors , male or female are treated in Iran.
This story was about Iranian Women, if you read the story, you hear them gloss over how men were being subjected to severe torture, apparently that's ok, men can be tortured, but if it happens to women, its an outrage.
In Ontario, men are routinely picked , thrown in jail for no other reason than being male and the victim of a mentally ill vindictive violent woman.
In Family Court, if you end up in front to the worst excrement in society, like Justice Allan Sheffield , Denis Power, Cheryl Robertson or Chucky Hackland, you are just as likely to have your life complete destroyed and, never see your children again, while being repeatedly incarcerated for not earning a fictitious income that often has no more relevance than a telephone number from the phone book.
OttawaMensCentre.com