Woman shot in Orangeville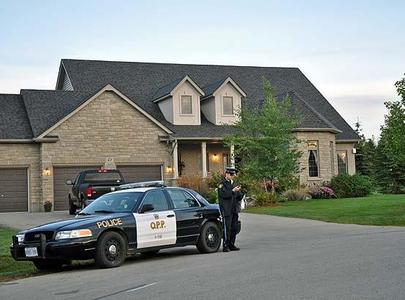 A 39-year-old mother and her estranged husband are dead after an altercation early this morning.
A domestic dispute broke out between the man and woman that led to the woman being shot and eventually dying from her injuries at Sunnybrook Hospital.
The man was later found dead in his home in Mono Township, north of Orangeville.
Neighbours said that the woman had moved into 28 Westdale Ave. about a year ago.
She and her estranged husband have two children: a 15-year-old son and a 19-year-old daughter who goes to Ryerson University in Toronto.
A woman who lives opposite number 28 heard the shots at around 12:20 in the morning.
"I didn't know it was gunfire. I came out later and saw cruisers all over the place," she said. The woman did not wish to be identified.
Pam Hillock, another neighbour, said the deceased woman kept mostly to herself and was rarely seen on the street.
OPP officers are canvassing the neighbourhood. House number 28 and the neighbouring house, 39, have been taped off by police.