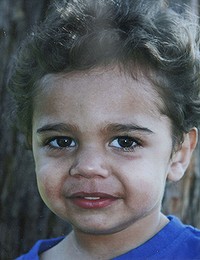 Dean Shillingsworth, 2, whose body was found at a lake in Ambervale. Photo: Dallas Kilponen
A woman killed her son then stuffed him in a suitcase to prevent his father and grandmother from gaining custody, a court has heard.
Dean Shillingsworth's body was found in a pond in Ambarvale on October 17, 2007.
His mother, Rachel Pfitzner, 27, pleaded guilty to the two-year-old's murder in August.
During sentence submissions in the Supreme Court today, Crown prosecutor Mark Tedeschi, QC, said Pfitzner killed her son on the very day a local court ordered his paternal grandmother to gain permanent custody.
The court also heard that, in 2006, Pfitzner threatened to kill Dean rather than allow him to live with his grandmother, Ann Coffey.
"I will kill Dean before he goes back to Ann," the court heard Pfitzner told Dean's grandfather.
Mr Tedeschi argued that Pfitzner had intended to kill Dean.
"On two occasions she held him up by his clothing, causing him to asphyxiate because the clothing was around his neck," he said.
Pfitzner had told numerous people that she could not stand Dean, that she did not want him and that she could not wait until he was taken away, the court heard.
She had "ambivalent" feelings about Dean, Mr Tedeschi said.
"On the one hand she wanted to be seen as the mother of this child. On the other hand she loathed this child. She was cruel to him, she hated him," he said.
"She was irrationally cruel ... and thought that the child was consistently testing her, consistently provoking her.
"If she loathed this child so much and if he pressed her buttons to such an extent, why didn't she use the numerous opportunities she had to hand him over?"
Mr Tedeschi said other factors that led to the killing included Pfitzner's anger towards Dean and the fact that he reminded her of his father, Paul Shillingsworth.
The standard non-parole period for the murder of a child is 25 years in jail.
Mr Tedeschi said the Crown would not be seeking the maximum sentence of life imprisonment because Pfitzner had pleaded guilty and had been diagnosed with a borderline personality disorder.
Pfitzner's defence counsel, Paul Winch, described the killing as "a sudden and complete loss of temper" and "an explosion or eruption of anger" due to her depressive state and the fact that she was unable to cope with the stresses of daily life.
"There was no obvious trigger that is entirely rational for the outburst that happened on that day," he said. "She did not intend to kill him but to inflict grievous bodily harm."
Mrs Coffey and other members of Dean's extended family were in court for the hearing.
In a victim impact statement read by the officer in charge of the investigation, Mrs Coffey said Dean was "scared" of his mother and would "run away and hide" from her.
"Dean was a gift and he was taken away from us in the worst possible way," she wrote.
"I miss Dean every second of every minute, every minute of every hour, every hour of every day. My life will never be the same. There is a hole inside me that no one or nothing will replace."
In a victim impact statement by Mr Shillingsworth, who is serving time in jail for robbing a taxi driver, he wrote: "I never got to teach my son Dean to catch a football, our culture, all that kind of stuff you like to do with your son. I wanted to go to jail 'cause I wanted to hide it like it never happen (sic) but it did and I can't change that no matter were (sic) I go."
Pfitzner will be sentenced on November 27.
Bellinda Kontominas is a Herald Court Reporter.