Texas Gov. Rick Perry defends 2004 execution despite questions about evidence, calls convict 'a monster'
October 15, 2009, 4:10AM
Mike Graczyk / Associated PressThis is the house where Cameron Todd Willingham's three children died in a December 1991 fire in Corsicana, Texas. Willingham always maintained he was innocent of setting the fire that killed his three small children two days before Christmas in 1991.Kelley Shannon and Michael Graczyk / Associated Press
AUSTIN, Texas -- A man put to death in 2004 for killing his three children was "a monster," and suggestions that he may have been innocent are anti-death penalty propaganda, Gov. Rick Perry said Wednesday.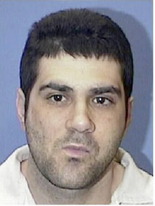 Cameron Todd WillinghamCameron Todd Willingham's convictions were upheld several times before he was put to death, and recent media reports looking into whether Willingham may have been innocent glossed over evidence that showed he murdered his children, Perry told reporters after addressing Texas Association of Realtors members at a luncheon.
"Willingham was a monster. He was a guy who murdered his three children, who tried to beat his wife into an abortion so that he wouldn't have those kids. Person after person has stood up and testified to facts of this case that quite frankly you all aren't covering," Perry said.
Willingham was convicted of capital murder for the 1991 deaths of his children, 2-year-old Amber and 1-year-old twins Karmon and Kameron. Prosecutors said he set fire to the family's Corsicana home while the children were inside.
Forensic scientists have called into question arson evidence used to convict Willingham, who maintained his innocence until his death. John Jackson, the Navarro County prosecutor who argued the case, still believes Willingham is guilty, but acknowledges it would have been hard to win a death sentence without the arson finding.
The governor has been criticized for replacing members of the Texas Forensic Science Commission just before they were to review a new report critical of the arson science used to convict Willingham. If the evidence ultimately proves Willingham did not kill his children, it would be the first known wrongful execution in Texas.
Perry dismissed suggestions he was trying to influence the commission's findings, calling the commission members' replacement a matter of "process." He said capable new members of the panel will move forward with the investigation.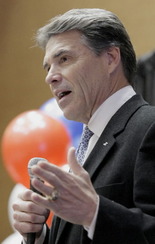 Texas Gov. Rick PerrySen. Kay Bailey Hutchison, Perry's rival for the Republican nomination for governor in 2010, has said that while she supports the death penalty, she disagrees with Perry's decision to replace the commission members.
She told the Associated Press on Wednesday in Houston that Perry should have allowed the panel's investigation to go forward to ensure that Willingham was in fact guilty.
"I don't have the facts. I'm not taking up for Mr. Willingham because I have no idea. I'm taking up for the process, for the criminal justice system in our state," Hutchison said.
Hutchison, repeating a point her campaign has been pressing for days, said Perry's actions were heavy-handed, much like his decision to replace appointees on university regent boards who didn't back him.
"I think the majority of Texans believe the death penalty is an appropriate punishment for the crimes that are the state law for the death penalty. I think every one of the people who believe in the death penalty would want to know we are using DNA evidence and the best technology in all the fields to determine if a person is rightfully convicted," Hutchison said.
Hutchison's campaign issued a statement saying Perry's handling of the commission has given liberals ammunition to discredit the death penalty.
A state fire marshal, now deceased, and a local fire investigator ruled the Willingham case was arson. The investigator stands by the findings.
But a Baltimore-based arson expert hired by the Forensic Science Commission to study the case, Craig Beyler, concluded the arson findings were not scientifically supported and that investigators at the scene had "poor understandings of fire science."
Beyler blasted Perry late Wednesday, accusing the governor of "unethical" behavior in the case, the Dallas Morning News reported. Beyler said via e-mail that the governor had a conflict of interest because he approved Willingham's execution.
"His failure to recuse himself is both unethical and injurious to the cause of justice," Beyler wrote in a note intended for the Forensic Science Commission and forwarded to several reporters with his permission.
Beyler, a contractor to the state commission, called on the new appointees to step down and seek the reinstatement of the people they replaced. He could not be reached to elaborate, the newspaper reported.
Perry's spokeswoman, Allison Castle, said the comments called into question Beyler's report and his motives.
"This statement demonstrates that he was never an objective scientist looking only at forensic facts," Castle said. "He clearly had another agenda."
Perry said he wanted to remind the public of all the facts in the case, not "one piece of study that everyone is glomming onto and saying 'Ah-ha.'"
"Getting all tied up in the process here frankly is a deflection of what people across this state and this country need to be looking at," Perry said.
At trial, Willingham's wife, Stacy, testified for him during the punishment phase, denying he ever hurt her. Acquaintances, however, said she told them he'd beaten her several times, even while she was pregnant.
The commission doesn't have the power to rule on Willingham's guilt or innocence, but was expected to release a report next year on the validity of the arson investigation.
Michael Graczyk reported from Houston.