The story behind Ex-MP Rahim Jaffer's drunk-driving arrest
Jaffer boasted to businesses: I can get government money easily
Published On Thu Apr 08 2010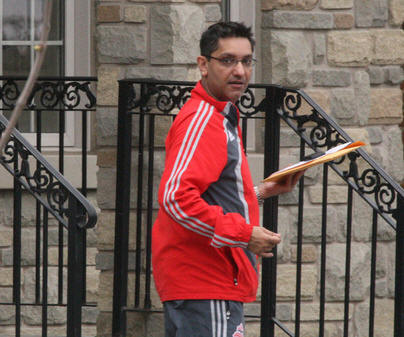 Nazim Gillani, an associate of former MP Rahim Jaffer.
RENE JOHNSTON/TORONTO STAR
The booze was flowing on the back patio at Harbour 60 Steakhouse in downtown Toronto.
Nazim Gillani of International Strategic Investments, four business associates, and three busty hookers dined in style last Sept. 10.
Former MP Rahim Jaffer, a self-described peddler of government grants, credits and loans, was in fine form, chatting up prospective clients. Early the next morning, Gillani would greet the day with a colourful email to the night's guests: "Mr. Jaffer has opened up the Prime Minister's office to us," he boasted, unaware at the time of how Jaffer's night had ended. Gillani is a character. By last September, at least two major police departments and the federal taxman were after him on fraud or tax evasion allegations.
Sixty kilometres north of the dark wood panelling of Harbour 60, a dozen Ontario Provincial Police officers were setting up a RIDE check, a routine stop and sniff assignment that is the bread and butter of the Caledon OPP detachment. Sgt. Mike Garant was the boss. Ten-year veteran Kim Stapleton, a by-the-book officer, was also on duty. Often praised for her work, Stapleton was one of a group of OPP officers selected to travel to the Olympics to work on a security detail in the new year. With other Caledon officers that night, she set up a highly visible RIDE checkpoint just north of the road that snakes past the Pumpkin Patch Childcare Centre. Proudly displayed in their tiny OPP detachment is a MacLean's article on strict policing with the headline: Caledon: Where you can't get away with anything.
The intersection of Gillani, Jaffer and the waiting RIDE program is central to the unanswered question surrounding events that Thursday night – how did Jaffer escape serious charges with a slap on the wrist? And its raises another question – was the former MP selling government access he did not have?
Nazim Gillani lives and works out of a rented, million dollar, two-storey home on a busy stretch of Kipling Ave. in Etobicoke. Hanging around the house at any given time are a former CFL offensive guard who once faced steroid production and marijuana possession charges (they were dropped); a lawyer suspended three times for not cooperating with Law Society probes into his business ; a creeping nest of would-be-titans-of-finance; and an odd parade of 20 something interns from business schools across the country.
In the driveway there is usually a Porsche Turbo, two BMWs, a sleek Infiniti, a Mercedes, and a lumbering old white van. Gillani owns none of his empire, at least on paper.
Gillani, the ceo of ISI, is a 43-year old wheeler dealer whose company boasts it "has been successful in obtaining grants and loans from various Government bodies." A typical day for Gillani involves a late breakfast on the Queensway, an afternoon meeting around the kitchen table at the house, an early evening visit to his "Bloor Street Office" (the VIP lounge at strip joint Club Paradise) and a dinner like this one.
At Harbour 60, Gillani was doing what he always does: Talking big about deals. Gillani – "Naz" to his pals – has a habit of finding new businesses, promising to take them public. As the first part of that process he convinces owners of companies to pay him cash to cover his fees. Businessmen who have walked away angry say Gillani owes them hundreds of thousands of dollars, and they received nothing in return. Some speculate that Gillani raised money for them, and kept it. Though some would like to complain to police, they say they are reluctant to because Gillani has told them he has compromising photographs of them at strip clubs.
Keeping a close watch on Gillani at the dinner, as he always does, was former Toronto Argonaut offensive guard Mike Mihelic, his six-foot-five inch, 310 pound vice-president of business affairs (who owns most of the cars in the driveway).
Mihelic and Gillani, that night, were feeling heat from York Region Police, who were probing their involvement in a $1.5 million wire transfer fraud against home buildings supply company Rona, a case unrelated to Gillani's investment schemes. The allegations of investment fraud were being looked into by the Integrated Market Enforcement Team, an RCMP-led task force.
Gillani was visibly drunk; Jaffer was not, though he drank steadily.
Jaffer is known in Ottawa, where the Edmonton native was an MP for a decade, as a party animal. To those assembled at Harbour 60 though, Jaffer explained that he could not stay out all night. He had borrowed his wife's Ford Escape, parked it at the Kipling Street house, and Mihelic had driven him to Harbour 60 in the Porsche. Jaffer said his wife, Helena Guergis, the minister of state for the status of women, was returning from a business trip and he had to get home to the house they shared in Angus.
The night progressed from cocktails to wine to liqueurs.
The women were supplied by 23-year-old Jasmine of high class escort agency Cachet Ladies. Gillani tells his friends he is engaged to Jasmine, whom he met a year ago on an escort date.
Jaffer, as he often does, told businessmen that he and his company, Green Power Solutions, were experts in obtaining government money. "I can get it, no problem," he said. His company's promotional material boasts a "thorough knowledge of government policies and incentive programs."
"I have access to a green fund," Jaffer said at the table.
A few weeks before the Harbour 60 dinner, Jaffer and Gillani held court at another steak restaurant, La Castille in Etobicoke. Gillani told a group of invited businessmen that his company could arrange start-up financing, and that Jaffer could come up with federal government funds. Jaffer explained that he had expertise, particularly in securing what he called "green loans" at very low interest rates.
Though Jaffer has not been an MP since he lost an election in 2008, he still gives out his MP business cards and did so at La Castille.
(Former and current associates of Gillani were granted anonymity for this story for several reasons, primarily because they fear physical retribution from Gillani and his associates.)
Also on hand at both steakhouses was Dr. Hai Chen, a business associate working with Gillani and Jaffer on a murky deal Gillani calls the 'China initiative.'
At Harbour 60, Jaffer and Chen made plans for the first of two trips to Shanghai to grow business contacts between Canada and China. After Jaffer said he could secure Canadian government money for businesses, Chen said he could do the same in China. There was much talk around the table of "green" projects, particularly a Canadian venture where waste could be turned into solid fuel.
Shortly before 11 pm, the dinner party ended. The bill for dinner and drinks for nine was more than $3,200. Gillani paid and he and his guests went to the parking lot. It's unclear where everyone went, but Jaffer and Mihelic drove off in the Porsche. There was much talk at the dinner that some would head off to Club Paradise.
Constable Kim Stapleton was going off shift and left her fellow officers at the RIDE program in Palgrave at 12:45 am. A diligent officer, she activated her mobile radar detector as she drove south through Palgrave on Highway 50. The speed limit in the small town was 50 kph. The detector beeped and clocked the approaching Ford Escape SUV at 93 kph.
"I've got a high miler here," Stapleton said into her radio, turning on her lights. She told Sgt. Mike Garant back at the RIDE program that she was pulling over an SUV.
Walking up to the car, the female officer shone her flashlight in at the driver. Rahim Jaffer looked back. Stapleton smelled alcohol and asked Jaffer several questions.
"I smell alcohol, I am doing an alc test," Stapleton radioed to Garant.
Pulling a roadside breathalyzer unit from her cruiser she administered the test, which showed positive for alcohol. Stapleton radioed for a male officer to join her because she was arresting Jaffer. Stapleton called for a tow truck to take away the Ford.
Sgt. Garant sent an officer down to Stapleton's position. The officer searched Jaffer and found a bag in his pocket, which turned out to be cocaine.
The police officers looked inside Jaffer's car and found a stack of Helena Guergis' business cards. They drove Jaffer to the Caledon East OPP detachment and administered a blood alcohol test, which showed a level above the legal .08 level (police have not released the level or amount of cocaine). In Ontario, the penalty for being found guilty of driving above the legal level is a one year licence suspension, a $150 fine and a requirement to install an ignition lock that prevents a vehicle from starting unless the driver provides a sober breath sample.
Officers at the OPP detachment conducted a strip search of Jaffer, which police say is standard protocol when drugs are found on a person.
Stapleton charged Jaffer, 38, with driving over the legal blood alcohol limit, speeding 93 kph in a 50 kph zone; and possession of cocaine. He was released from the station around 6 am on Friday, Sept. 11.
The news of the high profile former MP's arrest did not trickle out for a week. The morning Jaffer was charged, Gillani sent out an email to investors that was full of positive bluster.
"As most of you may have heard, we had a rather earth moving experience last night at dinner with Rahim Jaffer and Dr. Chen. Mr. Jaffer has opened up the Prime Ministers' office to us and as a result of that dinner – he today advised me that is just as excited as we are and joining our team seems to be the next logical step," Gillani wrote to a dozen close associates. (Tory insiders say Jaffer has no such access).
When news of Jaffer's arrest leaked out the next week, it was front page news. Toronto lawyer Howard Rubel was hired to defend Jaffer. Jaffer told associates that the cocaine was in his jacket pocket, which was hanging in the back seat of his car, which he said meant he would likely get off on a technicality. The police maintain the cocaine was in his pants pocket.
OPP officer Stapleton, with the realization that this high profile case was likely coming to court during her Olympic duties, prepared her notes and understood that if needed she would fly back to testify.
Meanwhile, York Regional Police detectives charged Gillani, Mihelic and several others in November with fraud in connection with a deal Gillani allegedly orchestrated. A former senior employee of Rona was coerced into using his computer and finance knowledge to wire $1.5 million of Rona money to a dummy account in Hong Kong. Jasmine, the Cachet Ladies escort, was with Gillani in his bedroom when detectives arrived to make the arrest. Sobbing, she pleaded with them not to take her boyfriend away.
Two of those accused have said they will plead guilty in return for providing evidence against Gillani. No findings of guilt have been made and the case continues in Newmarket court later this month.
At IMET, the detectives who investigate financial market fraud allegations, senior officer Kevin Harrison said through a spokesman that he is aware of Gillani, but won't confirm that an investigation is underway. Gillani has previously faced charges of carrying a handgun in B.C., and is being probed in a tax evasion case. Neither of these cases have been resolved.
Jaffer and Gillani's friendship and business association cooled by November, though Jaffer and Chen are still friends. Jaffer had four brief court hearings on the cocaine and driving charges last fall and early winter. His lawyer showed up; he did not.
For the OPP in Caledon, the Jaffer arrest was a routine case. That's why officers were surprised to be told in early January by Crown Attorney Marie Balogh that she did not want a trial. Instead, she was seeking a guilty plea on reduced charges. A pre-trial conference – the matters discussed are secret – was held on Feb. 18, 2010 before a judge. Caledon OPP were notified that the deal with Jaffer was made at "the most senior levels" of provincial law enforcement. OPP Caledon pushed back but to no avail.
The next night, Jaffer and Dr. Chen had dinner to discuss their recent trip to Shanghai and another planned for April. Jaffer told Chen his wife was flying in from Prince Edward Island – he was hoping to pick her up at the Toronto airport but heard she was delayed.
Chen said he learned the next day from news reports that the delay came because Charlottetown airport staff had asked Guergis to take her boots off for screening and the minister threw a tantrum. Guergis later apologized.
On March 9, 2010, crown attorney Balogh told a hearing (in front of a different judge) that she was withdrawing all charges – speeding, driving over the legal blood alcohol limit, and cocaine possession – against Jaffer because there were issues with the evidence and she saw no reasonable prospect of a conviction. She replaced the charge with one count of careless driving, to which the former MP pleaded guilty. He was fined $500 and also voluntarily made a $500 payment to a cystic fibrosis charity.
In Ottawa, politicians speculated that Jaffer received a deal – the judge described it as "a break" – because of political connections. Former Stephen Harper spokesman Kory Teneycke said that is "ridiculous."
In Toronto, former associates of Gillani speculate that Jaffer has "rolled over" on Gillani, provided evidence, and in return was given a good deal on his drug, speeding and drunk driving charges.
Jaffer lawyer Rubel said it that is "laughable."
Neither Gillani, Mihelic or Jaffer would respond to interview requests. Gillani cancelled numerous appointments with a Star reporter.
"Last night I woke up in excruciating pain and my feet were the size of footballs. I don't know what it is - but I haven't moved at all," Gillani wrote in one cancellation email.
Kevin Donovan can be reached at (416) 312-3503 or kdonovan@thestar.ca