RD demanded money from man in a coma
By ESTHER TAUNTON - Taranaki Daily News
11/05/2010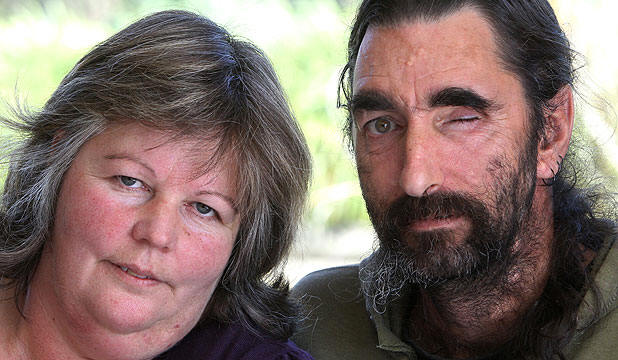 JONATHAN CAMERON/Taranaki Daily News
11/05/2010
The wife of a Taranaki man left with brain damage after a vicious attack says Inland Revenue continued to demand child support payments from him as he lay in a coma.
Brendan Hareb and his neighbour, Duncan Transom, were beaten after they confronted a group of young people smashing letterboxes in Eltham in 2006.
Along with a fractured skull and brain damage, Mr Hareb lost an eye, his hearing in one ear, the use of an arm and his short-term memory.
Yesterday, Mr Hareb's wife, Sarah, said Inland Revenue continued to charge her husband child support and late payment penalties as he lay unconscious in hospital.
"I was fighting it while he was unconscious but there was no compassion from them," she said. "They told me he still had to pay. It was up to his ex-partner to decide if she didn't want to apply for it."
Mrs Hareb, who contacted the Taranaki Daily News after reading of another couple's wrangle with red tape yesterday, said repeated calls to Inland Revenue to plead her unconscious husband's case all had the same result.
"They didn't want to listen.
Mr Hareb, who has a son from a previous relationship, owed $461 by March 2007, four months after the attack.
He had spent three of those months unconscious and was not discharged from hospital until July. "He wasn't capable of paying it, he was in a coma," Mrs Hareb said.
When her husband's ACC payments started, Mrs Hareb was able to begin paying off his child support bill but said it should never have been charged.
"If the guys who did this had children, as soon as the key was turned in the cell door their payments would have been stopped," she said. Mrs Hareb does most of the speaking for her husband whose injuries left him with slurred speech, but he is quick to express his feelings about his treatment by Inland Revenue.
"It's not fair," he said.
"Saying we're a bit annoyed is putting it nicely."
A spokesman for Inland Revenue said they were unable to comment on individual cases but there were general policies covering taxpayers in long-term hospital care.
Child support payments could be stopped for patients who spent at least 13 weeks in a hospital or a drug rehabilitation centre and received no income or minimal income from investments.
Patients whose only income was a reduced benefit from Work and Income could also have their payments stopped.
An application to have payments stopped could be made on the patient's behalf but had to be completed within three months of discharge.
Mrs Hareb said she had been well aware of the rules when she contacted Inland Revenue but had been told because her husband was receiving an ACC payment, he would have to pay.
Commentary by the Ottawa Mens Centre.com
Things are worse in Canada. Orders for support are made on income that does not exist purely because a woman asked for it. Judges "strike pleadings" declare fathers vexatious litigants ("Power orders" & Sheffield orders) that are destined to indefinitely incarcerate a father to prevent any litigation re a child's best interests. Those orders for support cannot be varied regardless of change in circumstances. www.OttawaMensCentre.com