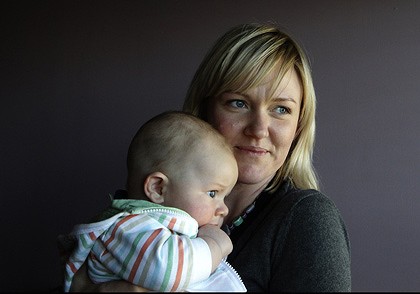 "It was hard to relate to the life I had before"... trial participant Tessa Dean with her three-month-old son Luka. Photo: Jacky Ghossein
A hormone nasal spray may help mothers bond better with their babies.
A world-first trial by Sydney researchers involves giving mothers a synthetic version of the hormone oxytocin, often dubbed the ''love drug'' or the ''cuddle chemical''. Past studies have shown mothers who are deficient in oxytocin are less sensitive to their babies' cues than mothers with high levels of the hormone.
Now Professor Mark Dadds and PhD student Rebecca McErlean, of the University of NSW school of psychology, have launched the Mothers Early Experiences of Parenting (MEEP) project, which will use oxytocin nasal spray in combination with infant massage and play sessions. They will then measure eye contact, affectionate touch and feelings of closeness and warmth to see if there is improvement in attachment between mother and child.
Professor Dadds said that although the role of oxytocin in childbirth and breastfeeding was well documented, scientists were increasingly interested in the hormone's role in human social interaction. It is known to reduce fear, increase empathy and improve memory, especially of happy events.
''It allows us to recognise and feel connected to loved ones,'' Professor Dadds said. ''So after eye contact, cuddling, even an orgasm, with a loved one, you get a big shot of oxytocin, which increases trust and connection.''
Professor Dadds said oxytocin delivered by nasal spray had very subtle effects but could be a powerful intervention when combined with psychological therapies. ''It's a new age of psychology and medicine working together and magnifying the effects of each other,'' he said.
Ms McErlean said the MEEP research was important because between 10 and 20 per cent of mothers had post-natal depression, and at least a third of those women had trouble bonding with their babies. An impaired early bond is associated with adverse developmental outcomes for children.
''There's a huge body of research showing that the more securely attached you are by age three to five, the better your outcomes for mental health,'' she said.
Trial participant Tessa Dean, 28, said she had never had problems bonding with her baby, Luka, now three months old, but she occasionally found her new life ''overwhelming''.
''At the beginning it was very tiring and I did feel some anxiety,'' she said. ''I was never depressed but sometimes it was hard to relate to the life I had before. Overall I'm more confident now. The adjustment to motherhood is totally life-changing.''