Crown prosecutors have withdrawn all criminal charges against former Ontario attorney general Michael Bryant stemming from the death of a bicycle courier in downtown Toronto.
Richard Peck, a prosecutor brought in from British Columbia to handle the case, told a Toronto court Tuesday morning there was no reasonable prospect of conviction.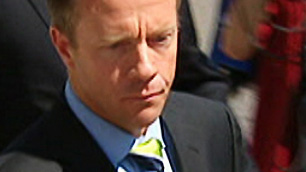 Former Ontario attorney general Michael Bryant arrives at a court in Toronto on Tuesday, when the Crown withdrew charges involving an altercation with a bike courier. (CBC)
Peck said in court that the decision not to pursue the case was "mine and mine alone."
Bryant was charged with criminal negligence causing death and dangerous operation of a motor vehicle causing death after an alleged confrontation with Darcy Allan Sheppard on the evening of Aug. 31.
Criminal negligence causing death carries a maximum sentence of life in prison, while dangerous operation of a motor vehicle causing death carries a maximum 14-year term.
Police had alleged that Sheppard died after grabbing onto a car on Bloor Street West following an altercation with the driver.
Video of the incident shows Sheppard leaned into the driver side of Bryant's car near the steering wheel, and was holding onto the car as it moved forward, veering to the wrong side of the road. Sheppard succumbed to injuries after smashing against a tree and a mailbox.
Peck said Bryant and his wife panicked when Sheppard came into their car.
Forensic experts concluded Sheppard was trying to attack Bryant, Peck said
"Our conclusion is that Mr. Bryant had been attacked by a man who unfortunately was in a rage," Peck later said outside court. "In such circumstances, he was legally justified in attempting to get away. The case could not be proved."
Sheppard's struggles detailed
The cyclist's blood alcohol concentration was measured earlier in the day at .183, more than twice the legal limit, court was told.
"Mr. Sheppard struggled with alcohol, drug use and psychiatric issues," said Peck, who added that he was trying to outline the facts in the case and not trying to "demonize" Sheppard.
Peck detailed six previous altercations involving Sheppard and motorists who called police after seeing Sheppard's photo, which Peck said indicated "a pattern of escalating behaviour with motorists leading to the fateful incident."
In one case, Sheppard smashed a car mirror, and in another he reached into a BMW trying to snatch keys, Peck told the court.
Bryant was elected as the Liberal MPP for St. Paul's riding in 1999 and won re-election in 2003 — becoming the province's youngest-ever attorney general at the time — and again in 2007. He also served as aboriginal affairs minister and minister of economic development.
Bryant remained an Ontario cabinet minister until May of last year when he stepped down to take the job as president and CEO of Invest Toronto, an arm's-length agency set up by the City of Toronto to promote investment. Until then he had been frequently mentioned as a possible successor to Premier Dalton McGuinty as leader of the province's Liberals.
Bryant is a Harvard-trained lawyer who clerked at the Supreme Court of Canada and later taught law at the University of Toronto, Osgoode Hall and King's College, London.
With files from The Canadian Press
You have really got to give some credit to the back room publicity guys in the Bryant affair. Navigator or equivalent has been posting like crazy, lots of diversionary posts to breed public apathy. Then of course, Bryant gets up and at the right moment says "Nobody is above the law, to be sure. But no one's below the law, either"

Give me a break. Bryant is "above the law", was and is above the law, he and his cronies are the law and tell us what the law is.

Its a mixture of the rich and powerful Ontario and those High income generators in the legal profession. Almost every law firm with a judges name on it or riddled with the ghosts of judges who were lawyers at that practice do very very well, with "orders for costs".

That's the legal cartel's way of throwing cash around by judges to their friends by means of orders for costs.

We have not heard the last of Bryant, Jaffer Guergis or Fantino, more government names that will be remembered for less than what is expected from elected officials and public officers. Its enough to make you want to puke.

www.OttawaMensCentre.com