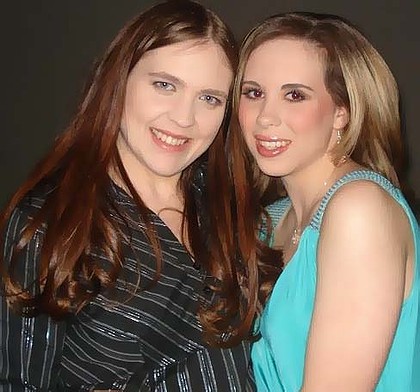 Susan Worrall, right, was killed by Kathleen Worrall.
A former university student who stabbed her sister to death has been jailed for a minimum of four years and three months.
Kathleen Worrall was sentenced today for the manslaughter of her sister Susan, 18.
Susan, a year 12 student at the Methodist Ladies College in Burwood, died at their family's Strathfield home on October 10, 2008.
Kathleen attacked Susan as she came out of the bath, inflicting more than 50 wounds. Afterwards she phoned her father, saying: "Daddy, I've stabbed Susan. I've got blood all over me."
Mr Worrall told her to phone triple-0.
Kathleen, then aged 20, was charged with her sister's murder but pleaded guilty to the lesser charge of manslaughter.
The Crown accepted she had been substantially impaired by a "disability of the mind".
Kathleen suffered from a mood disorder related to her hormonal condition, congenital adrenal hyperplasia.
She had not regularly been taking the medication that controlled the condition and two months before the killing had the testosterone levels of a normal adult male.
Supreme Court judge Elizabeth Fullerton said it was a "compound tragedy" for the girls' parents.
Justice Fullerton accepted Kathleen was a gentle, caring person who had loved her sister.
The "horrific death" would never have occurred without Kathleen's medical condition and the potential for her psychiatric state to be undermined by failing to take her medication, she said.
Kathleen wept and was obviously distressed throughout the hearing.
Justice Fullerton sentenced her to a maximum six-year jail term.
With time already served, she will be eligible for parole in 2013.
Kim Arlington is a Herald Court Reporter.