On a typical case, he might have to decide whether a child had been shaken to death or accidentally fallen from a highchair.
Dr. Charles Smith was once considered top-notch in his field of forensic child pathology. In 1999, a Fifth Estate documentary singled him out as one of four Canadians with this rare expertise.
For 24 years, Smith worked at Toronto's Hospital for Sick Children. In the hospital's pediatric forensic pathology unit, he conducted more than 1,000 child autopsies.
But Smith no longer practises pathology. An Ontario coroner's inquiry reviewed 45 child autopsies in which Smith had concluded the cause of death was either homicide or criminally suspicious.
The coroner's review found that Smith made questionable conclusions of foul play in 20 of the cases — 13 of which had resulted in criminal convictions. After the review's findings were made public in April 2007, Ontario's government ordered a public inquiry into the doctor's practices.
That inquiry, led by Justice Stephen Goudge and concluding in October 2008, found that Smith "actively misled" his superiors, "made false and misleading statements" in court and exaggerated his expertise in trials.
'Smith was adamant that his failings were never intentional. I simply cannot accept such a sweeping attempt to escape moral responsibility.'—Justice Stephen Goudge
Far from an expert in forensic child pathology, "Smith lacked basic knowledge about forensic pathology," wrote Goudge in the inquiry report.
"Smith was adamant that his failings were never intentional," Goudge wrote. "I simply cannot accept such a sweeping attempt to escape moral responsibility."
Two years later, the Ontario government announced compensation for families affected by Smith's mistakes.
Individuals will be entitled to a maximum of $250,000 each. A child of someone wrongfully accused who was removed from the family home as a result is entitled to up to $25,000.
A family member directly affected by a relative's involvement in the criminal justice system is entitled to up to $12,500. Legal costs incurred by the wrongly accused may also be reimbursed.
Acted more like a prosecutor
Some have accused Smith of taking on a role larger than pathologist. The lawyer for Brenda Waudby said he was on a crusade and acted more like a prosecutor. Waudby was convicted in the murder of her daughter after Smith analyzed the case.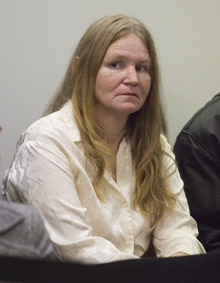 Brenda Waudby was wrongly accused of killing her 21-month-old daughter Jenna in 1997. (Frank Gunn/Canadian Press)
A pubic-like hair found on her daughter disappeared during Smith's investigation. It was discovered he had kept the hair in his office before police found it five years later. In the end, the charges against Waudby were dropped and the child's babysitter was convicted.
Smith said he had a passion for uncovering the truth in child deaths. The Ontario pathologist told media lampooning him he had "a thing against people who hurt children." He welled up when speaking about a mother looking for the cause of her baby's death.
Smith had been in search of his own personal truths. He was born in a Toronto Salvation Army hospital where he was put up for adoption three months later. After years of looking for his biological mother, he called her on her 65th birthday. But she refused to take his call.
Smith's adoptive family moved often. His father's job in the Canadian Forces took them throughout Canada and to Germany. He attended high school in Ottawa, and graduated from medical school at the University of Saskatchewan in 1975.
Sick Kids tenure
Hired by Toronto's Hospital for Sick Children in 1979, Smith worked in surgery for a year and then moved on to pathology training. A pathologist studies diseases and illnesses by assessing matter such as cells, tissues, organs and fluids. Pathologists also examine biopsy material, and give a subsequent diagnosis.
When it comes to autopsy reports, the field of pathology can be a subjective one. It's based on research and opinion, and it's especially controversial in Canada, where there is no formal training or certification process. Only a handful of practitioners in Ontario are entrusted with the job — and they've learned by doing.
With child victims, forensic analysis is rarely cut and dried. It can take an infant up to 24 hours to die of a shaking incident, which is a crime that doesn't leave evidence the way a regular killing might.
After his initial training at Sick Kids, as the Toronto hospital is known, Smith began conducting child autopsies in 1981. He started with children who had died of accidental and natural causes. By the late '90s, Smith saw more forensic child cases than any other pathologist across the country.
Smith's unit used arrest warrants to reinvestigate cases of sudden infant death syndrome (SIDS). He oversaw the autopsies of exhumed babies that led to new murder charges.
In one such case, Smith appeared before a court in the death of six-month-old Sara Podniewicz. He concluded she had been dead for up to 15 hours before her parents reported the death. The parents had told a 911 operator the girl had died just moments before. Smith's analysis led to second-degree murder charges.
In December 2009, Sherry Sherrett-Robinson was acquitted of killing her son whom Smith had concluded died of asphyxia a decade earlier. Smith suggested Sherrett-Robinson's son, Joshua, suffered a skull fracture and neck hemorrhages. Ontario's chief forensic pathologist, Dr. Michael Pollanen, however, told the Ontario Court of Appeal that he did not find a skull fructure and noted the neck hemorrhages were caused during the autopsy process.
First doubts
In 1991, a family in Timmins, Ont., was the first to raise questions about Smith's work. He had concluded their one-year-old baby had died from being shaken. The child had been under the care of a babysitter who said the baby had fallen down stairs.
In court, experts challenged Smith's opinion, which had resulted in the babysitter's charge of manslaughter. The judge in the case stated Smith should have taken other causes into consideration.
Once the most prolific pathologist, Smith began getting a reputation for late cases, and his disorderly desk produced samples that had gone missing.
In 2002, he received a caution from the Ontario College of Physicians and Surgeons. The college said he was being "overly dogmatic" and had a "tendency towards overstatement."
In June 2005, Dr. Barry McLellan, Ontario's chief coroner, started the review of 45 child autopsies conducted by Smith between 1991 and 2002. The review, released in April 2007, found that Smith had made mistakes in 20 cases involving the deaths of children. The review cast doubt on criminal convictions in 13 of the cases.
"I am very surprised with the overall results of the review, and concerned," McLellan said. "In a number of cases, the reviewers felt that Dr. Smith had provided an opinion regarding the cause of death that was not reasonably supported by the materials available for review."
The chief coroner said the results of the review were being shared with defence and Crown attorneys involved in all of the relevant criminal cases.
After resigning from Sick Kids in 2005, Smith accepted a pathology position in Saskatoon. He was fired after three months. A tribunal later reinstated him, but without a licence, Smith was unable to practise.
Smith told media his marriage ended in light of stress from the highly publicized events. He had lived with his wife and two children on a farm north of Newmarket, Ont.
As a member of the Christian and Missionary Alliance, Smith says he has been fuelled by his life's purpose — finding out the truth for parents who have lost babies.

On 22 April 2007 Cindy Harnett of the www.timescolonist.com reported on Dr Charles Smith.

She said he's known as Randy to his neighbours, a nice man who has lived for the past couple of years with a well-known Victoria child and youth psychologist in a house on a dead-end street full of mansions, lush gardens and longtime residents.

But what some of those neighbours didn't know until this week is that Randy is also the Dr Charles Smith appearing in newspapers across the country, accused of making mistakes in 20 child-death cases in Ontario - errors that may have resulted in the wrongful convictions of 13 people.

The BC Coroners Service has launched its own review of Smith's role in a 1997 child-death investigation on Vancouver Island. "It's quite a shocker for everyone around," said one neighbour yesterday, asking not to be identified.

At his rancher-style house, where a burgundy Jeep and silver Corvette with an expired licence plate sat in the pine-needle-strewn driveway, the window blinds were drawn shut yesterday. Phone calls were not answered.

Neighbours say Smith, who helped shovel driveways during the past winter's snowstorms, has commuted between Victoria and Saskatchewan for some time.

The pathologist is registered with the College of Physicians and Surgeons of Ontario and Saskatchewan, but is not licensed to practise medicine in BC.

After Smith resigned as chief pediatric psychologist at Toronto's Hospital for Sick Children, he moved to Saskatoon, but was terminated by the Saskatoon Regional Health Authority from Saskatoon City Hospital following a year-long contract as a surgical pathologist.

He was reinstated last year, however, after an appeals tribunal ruled he had been unfairly fired and that he was well qualified for his job.

Neighbours describe Smith and partner Dr Bonnie Leadbeater, director of the Centre for Youth and Society at the University of Victoria, as a nice and "busy" working couple.

Leadbeater, who has led workshops on working as a children's advocate, maintains a small clinical practice focused on children, youth and families, according to her website. She was expected to be in Winnipeg over the weekend.

The couple, who both have children from previous marriages, have a dog and a cat and are known to residents who have lived on the block for decades as the "new neighbours."

Source: 22 April 2007 Cindy E. Harnett "Nice man, his neighbours say" Times Colonist

www.OttawaMensCentre.com
A commenter provided this information- unconfirmed
Charles Smith is living in Victoria under the alias RANDY SMITH. He lives with a woman by the name of Dr. Bonnie Leadbeater. Leadbeater has received millions in "research" funds for child protective services-type work.

The CBC should be investigating Smith, and his new partner, Dr. Bonnie Leadbeater. Smith isn't "sorry," he knew exactly what he was doing. We need to know what he is up to with this woman, Leadbeater, who appears to be in a relatively powerful position, with the ability to affect many young lives.

Come on, CBC, do your job - investigate what Smith is up to now, with this woman Leadbeater. It's not all about the children, so don't get conned.