New concerns for missing child last spotted in Toronto
Published On Fri Dec 10 2010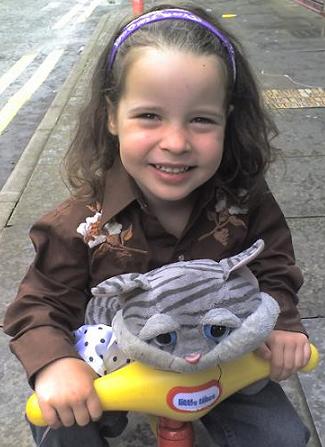 Pearl Rose Gavaghan da Massa was last seen in Toronto, where she was known as Belle Flaherty.
SUPPLIED PHOTO
The father of a missing 6-year-old girl last seen in Toronto is asking the public for help after new concerns about the child's safety were brought to police.
Police say a Toronto healthcare professional who treated Pearl Rose Gavaghan da Massa — known in Toronto as Belle Flaherty — said the child showed "signs of trauma, social isolation and continued upheaval."
The news confirmed the desperate father's fears about the wellbeing of his child, who he hasn't seen in over two years.
An international arrest warrant remains in effect for Helen Gavaghan, the girl's mother.
"I'm just gravely concerned for Pearl," da Massa said Friday. "She is in jeopardy."
"Now is the time for people who know anything about Helen and Pearl to share that information with the police, anonymously or otherwise."
Da Massa quit his job and left behind his life in the U.K. to search for Pearl in Toronto. He was been living in a small basement apartment near the Danforth since February.
He hasn't seen his daughter since December 2008, when Gavaghan — his ex-girlfriend — withdrew a large amount of cash from her bank account, changed her name and fled to Mexico with Pearl in tow.
Gavaghan and Pearl were last spotted in Parkdale where they were living as Dana and Belle Flaherty. Gavaghan may have been offering babysitting services in the Riverdale area, police say.
Their departure came six months after a U.K. court granted a shared custody order — a decision da Massa says upset his ex.
Manchester Police Det.-Insp. Colin Larkin is urging the public to help with the investigation.
"If any member of the public has information about her whereabouts, or has any knowledge of Helen and Pearl whatsoever, I urge them to now contact Greater Manchester Police or the Toronto Police Service," he said in a statement released Friday.
Anyone with information is asked to contact police at 416-808-5930, Crime Stoppers anonymously at 416-222-8477, or Child Find Ontario at 1-800-387-7967.