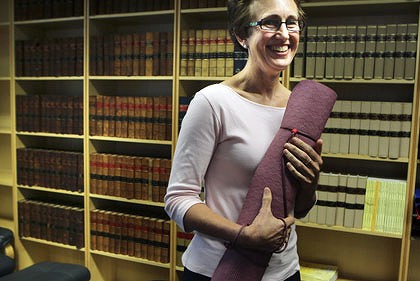 Stress busters ... Judge Helen Murrell on her way to yoga class.
The famously taciturn former NSW and High Court chief justice Murray Gleeson is renowned for having said: ''Judicial stress is something I give, not something I have''.
Judges and magistrates are resilient types, in some cases workaholics, steeled by the long hours and unpredictable twists of life as barristers or solicitors. But the public flaying of the former judges Jeff Shaw, Vince Bruce and Ian Dodd as they battled alcohol, depression and sleep apnoea has forced an acknowledgment, Justice George Palmer says, that judges are not ''superhuman''.
Advertisement: Story continues below
For better or worse they have largely resisted the encroachments of human resources managers and taken responsibility for pastoral care on themselves.
''I don't see why judges would be any different statistically to the general community and that would include relatively manageable ailments such as anxiety and depression,'' Judge Richard Cogswell says. To keep stress at bay he practises Christian meditation for half an hour twice daily. ''I do it on planes, trains, in cars,'' he says.
Judge Helen Murrell practises yoga. Justice Ruth McColl is a keen cyclist. Others report jogging, swimming or regular gym visits. Justice Peter Young finds escape in his model bus collection. He grew up near a bus-stop and says '' I've always been interested in timetables and buses''.
The Chief Magistrate and his deputies make a point of speaking one-on-one to each of their flock at least once a year. ''The health of members of this court is paramount,'' says Judge Graeme Henson. ''I chant it almost like a mantra to them, health first, family first, work second.''
In the District Court, a support committee of four senior judges was established in 2005 to assist with issues such as health, behaviour in court and other ''difficulties'', says Judge Dianne Truss, one of its members. ''It just works very informally. If it were a formal process I think the judges would be [reluctant].''
All judicial officers have annual health checks and access to a free counselling service, although the magistrate Daphne Kok suspects lawyers ''are averse to accepting free government-sponsored help because they do not believe it will necessarily remain confidential''.
In the Supreme Court, Chief Justice Jim Spigelman has baulked at forcing a formal monitoring system on his colleagues. ''It's just not that kind of a problem,'' he says, preferring to rely on the collegiality of the court as a support system.
After Justice Anthony Whealy left his liquor licensing practice 10 years ago, he was struck by the sight of a retiring judge who ''just left the building by himself - and nobody said anything to him''.
Whealy has since emerged as an unofficial social secretary, organising dinners for retirees and new arrivals, annual concerts and regular Friday evening drinks from his impressive cellar.
Supreme Court judges have lunch together each week in the court's dining room. In the District Court, where life is less formal, judges can bring their own lunches and reheat them in two common rooms, one of which contains a piano for the occasional singalong, a survivor of the now defunct compensation court.
That court ''actually had its own song book'', says Judge Truss. ''It had a bit of a reputation for being a 'fun' court. But we still worked very hard.''