Woman fighting to find sperm donor dad

By MATT KIELYTKA, QMI Agency
October 26, 2010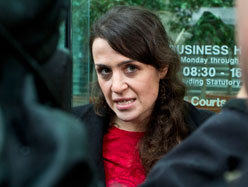 Olivia Pratten, who is seeking to overturn B.C.'s Adoption Act, speaks to media during a break at the BC Supreme Court in Vancouver, October 25, 2010. (CARMINE MARINELLI/QMI Agency)
VANCOUVER — Olivia Pratten arrived at B.C. Supreme Court Monday morning feeling the answers to her questions are finally close to being answered.
The 28-year-old Toronto resident has been fighting for 10 years to change what she calls a "despicable" system.
She was conceived artificially with sperm from a donor but, unlike adopted children, she has no right to find out who her father is – even if records exist.
And despite a happy family life with her mom and the man she calls "dad," she doesn't feel the anonymous nature of sperm donation is fair.
Pratten's fight has taken her all the way to B.C. Supreme Court and a five-day hearing into her case against the Attorney General and College of Physicians and Surgeons began Monday.
"I'm not looking for another dad," Pratten insisted. "It's not just about me, it's about other people in B.C. and across the country. It's about knowing where you come from."
The journalist wasn't sure whether she would seek contact with her biological father, but believed the system of complete anonymity needed to change.
Children of sperm donors should be given the chance to know who their father is when they become adults," she added.
"It's about you having the dignity of a choice because right now you have a system that tells you to forget about it, to be grateful, be happy. It's patronizing and I don't think that's acceptable," the Nanaimo native said. "If you don't want to be identified in the future, don't be a donor. You don't have to do it. The children don't choose this."
Lawyer Joseph Arvay argued in court that without knowing her biological origin, Pratten's health is at risk because she has no idea what hereditary diseases could afflict her.
"If they ask, they soon find that they have no right or opportunity to know this information from the government and the medical community," he said, adding adopted children have had the right to know who their biological parents are since 1996.
Source