Supreme Court tweets may be possible in non-jury trials: Chief Justice Marilyn Warren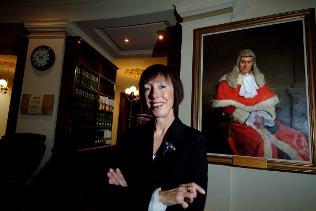 SUPREME Court Chief Justice Marilyn Warren has indicated that "tweeting" reports from court may be possible in non-jury trials where electronic reporting can't distract or influence a jury.
The Victorian Chief Justice's comments followed a decision by England's Lord Chief Justice, who said courts could permit use of the instant messaging and other live, text-based communications.
A London district judge last week allowed journalists to tweet reports of Australian WikiLeaks founder Julian Assange's appearance and bail bid at Westminster Magistrates' Court.
The English courts' permission for live tweet and other electronic reports directly from the body of courtrooms have so far been confined to allowing journalists to meet ever-tighter deadlines in media delivery.
"The Supreme Court monitors all aspects of social media," Chief Justice Warren told the Herald Sun when asked for a view on the UK decisions.
She noted earlier Victorian Supreme Court cases where permission has been granted to file reports as evidence unfolded. "In non-jury trials the court has allowed media to use lap-tops and BlackBerrys, and file from court," she said.
Commentary by the Ottawa Mens Centre
For many years, we have had the technology for the courts to record virtually ALL proceedings in audio and video and to be available for viewing on line.

Most proceedings do not have "reported decisions", that means, courts operate without public scrutiny, in secret, where absolute power is invited to be corrupt absolutely.

Almost always, decisions do not accurately reflect the proceedings, transcripts do not accurately reflect what was said, how it was said, and all the hidden meanings that can only be learned by watching the facial expressions and hearing the intonations and of course, the facial expressions of the others in the court room.

It's when every case is available for public viewing, that the courts will be transparent and that is most unlikely for a very long time.

www.OttawaMensCentre.com