Portrait, and mystery, emerges of accused in snowplow death
Published On Thu Jan 13 2011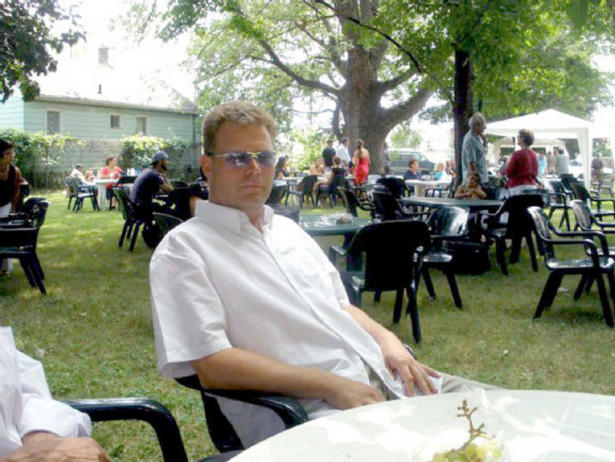 Richard Kachkar is seen in this undated Facebook photo.
FACEBOOK
Less than two weeks ago, Richard Esber Kachkar was huddled outside a crumbling St. Catharines building, one he bought for $29,500 only to leave vacant for years as he lived on the streets.
This morning, the 44-year-old man is at St. Michael's Hospital in Toronto, recovering from gunshot wounds suffered during a violent rampage in which a Toronto police officer was killed.
What happened in between remains a mystery. How did a once-married father of two — known around town as a friendly, neatly dressed, aspiring business owner — wind up at a Toronto homeless shelter Tuesday night, mere hours before allegedly stealing a snowplow and killing Sgt. Ryan Russell?
"I think we're all just a little bit in shock right now about the whole thing," said a longtime friend of Kachkar's family, who asked not to be named.
"It just goes to show you, you never really know. People make choices you just never expect."
Kachkar stands accused of first-degree murder in Russell's death. The 35-year-old officer died Wednesday morning after being struck by a snowplow, which had smashed its way across Toronto for three hours.
Kachkar also faces two counts of attempted murder, Police Chief Bill Blair said Thursday.
Russell, a well-respected gang investigator who was promoted just six months ago, leaves his wife, Christine, and 2-year-old son, Nolan. In a written statement, the Russell family asked the media for privacy during this difficult time.
"We wish to thank all members of the Toronto Police Service, the Toronto Police Association and all our friends, family and all the exceptional members of the public, for their outpouring of love and support, thoughts and prayers," the statement read.
"Every single member of Ryan's family is touched. The warm, heartfelt comments bring much comfort to our hearts."
A funeral for Russell will be held at the Metro Toronto Convention Centre at 1 p.m. Tuesday.
Kachkar checked into the Toronto's Good Shepherd Centre in Regent Park on Tuesday night, said spokeswoman Adrienne Urquhart.
He had travelled to Toronto in the last two weeks for unknown reasons.
"Based on our records, this was the first time he stayed there," Urquhart said.
She would not comment on reports that a locker Kachkar used was still sealed by police tape. Several people staying at the shelter said Thursday they didn't recognize Kachkar's picture.
"Our policy has always been to assist police in any investigation," Urquhart said, declining to offer more details about Kachkar's brief stay.
That investigation will likely include a surveillance video from a Tim Hortons at Parliament and Dundas Sts., about a 10-minute walk from the shelter.
That's where snowplow driver Daniel Da Silva made a quick coffee run with his partner just after 4 a.m. Wednesday.
Three hours into their shift, the duo —who work for Tolias Landscaping and Plowing — left the keys in the ignition of their heavy-duty Chevy pickup truck with an attached plow and salter.
While Da Silva waited for his coffee, a disheveled, agitated man — shoeless on a freezing night — stared at him from the doorway, and then bolted for the idling snowplow across the street.
Da Silva was right behind him, jumping onto the truck as the shoeless man hit the gas.
"I held on for about 20 or 30 feet," said Da Silva, who spent the next two hours helping police track the plow on the company's GPS system, as it rampaged up and down at least 70 city streets, smashing into cars.
Nearly two hours later, around 6 a.m., Russell was struck by the snowplow while attempting to stop it at Avenue and Davenport Rds.
Da Silva heard the call over the police radio.
"I feel terrible," he said Thursday, still visibly distraught, expressing concern for Russell's young family and the police force dealing with the tragedy.
An hour later, police cornered the truck at Keele St. and Humberside Ave. Kachkar was shot by police and taken to St. Mike's, where he is recovering in intensive care.
Few details have emerged about Kachkar.
He reportedly lived in a St. Catharines shelter, but also owned a dilapidated brick building on Geneva St., which he bought for $29,500 in August 2005, according to property records.
Andrew Dempsey, who manages a neighbouring store, last saw Kachkar a week and a half ago, "sitting in a chair outside his building all bundled up in winter clothing."
"I always thought there was something off about him but I couldn't put my finger on it," said Dempsey, adding the homeless man would help around his store, Chia Electronics and Security.
Dempsey has no idea how Kachkar managed to afford his commercial property when he didn't even have a home. About 10 feet wide and 30 deep, the one-storey brick building is approximately 100 years old with bare concrete floors. There is no heat or hydro and over the door, a worn-out sign reads "Lorenz Belt, Men's Custom Tailor."
The property was also once a pizzeria, according to nearby shop owners.
That same storefront can be seen in a photograph on Richard Kachkar's Facebook page in an album entitled "Narrow Buildings." The album also features 10 other photos, a miscellaneous mix of storefronts, logos and restaurant interiors.
Dempsey said Kachkar planned to fix up his property and turn it into a pizzeria or café. Last summer, nearby storeowners noticed Kachkar had rented a truck and car to clear out debris.
Kachkar was often seen cycling around St. Catharines and, according to court documents, he was fined $60 in August for riding his bicycle on a sidewalk outside a Salvation Army. Otherwise, he had no criminal record.
Another local business owner, who asked not be named, said he knew Richard Kachkar as Rich, a friendly neighbourhood fixture who dropped by occasionally.
"He may have seemed odd but not unbalanced or violent," the man said.
Around the corner, at Lows Glass and Mirror, an employee remembered Kachkar coming into his store talking about the renovations he wanted to do on his building.
"Would I say he was all there? No," said Russ Theune, who remembers Kachkar having long hair when he saw him last about two years ago.
Kachkar was born in Edmonton and later moved to Vancouver, according to his cousin, Jenny Kachkar, who lives in Alberta. Along the way, reports say, he also obtained a university degree.
He has three sisters in the Vancouver area — Daisy, Ingrid and Grace — the cousin said.
Jenny Kachkar last spoke to Richard around the time of his father's death, more than 12 years ago, she said. His mother is also deceased.
"We don't keep in touch with them," she said. "You know, I don't even know if I would recognize him if I walked by him."
Ingrid's son, Robert Gumuchian, reached in West Vancouver, said he hadn't seen his uncle in many years.
"(My mother) doesn't really talk to him," he said. "We're not close with (Kachkar).
In St. Catharines, Kachkar told Dempsey he once worked at a pizza shop in Mississauga after moving to Ontario from B.C.
Kachkar said he had been married and has two children, a daughter in her early 20s and a son in his late teens, Dempsey said.
"When he started talking about his daughter, it brought tears to his eyes," Dempsey recalled.
Ashley Kachkar, believed to be Richard Kachkar's daughter, did not respond to interview requests Thursday. On her Facebook page she wrote, "Worst 2 days of my entire life," before making her account private.
On Thursday, Blair gave credit to witnesses and video footage from Russell's own squad car for helping with the investigation.
"This has been an investigation which has been aided by the availability of video from Sgt. Russell's scout car and from evidence that has been provided by a number of civilian witnesses that stepped forward," Blair said.
"We are grateful for their assistance. The matter will now be placed before the courts. We are also working with the family in the preparation of funeral arrangements."
In the lobby of police headquarters, firefighters, police officers and civilians streamed to sign a book of condolences for the fallen officer.
Fred Giles, the father of Peel police officer David Giles, stopped by to sign the book. "I also have a son who's an officer," he explained. "It's one of those things you can appreciate. It does touch home."
Toronto firefighters Mark Reynolds and Kevin Locke also came by to sign the book.
"I thought it was important to come up today," said Reynolds, a firefighter for 23 years. "I understand what police go through. It's a topic of conversation at our station, of course. You never like to see anything like this happen. We just have to pull together."
No court date has yet been set for Kachkar.
With files from Allison Cross and Curtis Rush