SIU reopens G20 case after photos surface
Published On Fri Jan 14 2011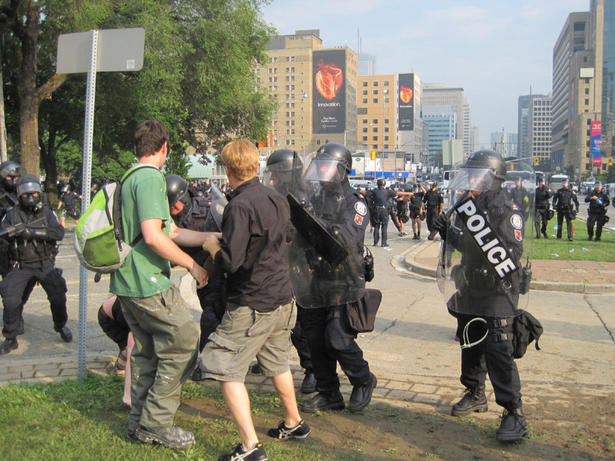 The SIU is seeking information about the person in the green shirt, shown in this photo taken by Andrew Wallace.
ANDREW WALLACE
The province's Special Investigations Unit announced Friday it will be reopening its investigation into injuries sustained by Dorian Barton, who says police assaulted him during the G20, breaking his arm and giving him a black eye.
The police watchdog looked into Barton's case, along with five others, but concluded in November there wasn't enough evidence to lay charges in any of them.
On Wednesday, the Star published newly surfaced photos of Barton's arrest at Queen's Park. Those photos were also given to the SIU.
"On January 12, 2011, the SIU received a number of photographs depicting officers in interaction with Mr. Barton during the demonstrations. As result of this materially new information, Director Scott has reopened the investigation," said a press release Friday.
In a second release, the agency asked for the public's help in identifying a male dressed in a green shirt and carrying a backpack.
"I'd reckon he's about a metre away," said spokesman Frank Phillips of why the SIU is interested in talking with the individual.
Barton and his lawyers, Clayton Ruby and Brian Shiller, have filed a civil suit against The Toronto Police Services Board and seven unidentified officers, referred to in a statement of claim as John Doe #1 through #7.
The lawsuit seeks $250,000 in damages for Barton's alleged assault and battery, unlawful arrest and detention and "negligent investigation."
Just before Christmas, 29-year-old Barton received a phone call from hospital employee Andrew Wallace, who recognized him from media coverage.
Wallace took photos of Barton's takedown and told the Star that during the arrest he witnessed an officer slamming Barton's right side with a riot shield and hitting him with a baton as Barton lay on the ground. He watched as other officers rushed in and dragged Barton across the pavement by his injured arm, he said.
The face of one of the officers in the photos is visible behind a visor. He is wearing a name tag in the photos, although the letters are too blurry to make out, and a Toronto Police Public Safety Unit badge.
Ruby, a longtime advocate of individual liberties, is seeking to have the officer identified and charged by the SIU with assault.
When Barton arrived at the Legislature grounds around 4:30 p.m., he said everything was calm. One minute, he was taking a picture of police horses with his iPhone — he wasn't a protester, just curious. The next minute, he alleges, he was slammed with a police shield.
Minutes later, Barton was sitting in the back of a police van. A wrenching pain radiated from his shattered right arm. His hands were tied behind his back. He had told police he thought his shoulder was broken. "They just laughed and put me in the paddy wagon."
Barton was eventually brought to the Eastern Ave. detention centre. Another five or six hours passed before he saw a medic, he said.
He was taken to hospital under police guard and handcuffed to a bed for hours. Doctors told him his upper arm was broken. He was taken back to the detention centre for nine more hours, then taken to the Kipling courthouse and charged with obstructing a police officer and unlawful demonstration.
Barton spent 30 hours in custody. His charges were among the very first G20-related charges that were dropped on Aug. 23.
Investigators with the SIU visited him when he was in the hospital.
Barton found their initial probe disappointing: "I felt frustrated that I was attacked and my rights were violated but nothing has come of it."
Only one criminal charge has been laid against an officer in relation to the violence during the G20 six months ago. After the SIU concluded it could not identify officers involved in alleged wrongdoing, citizens provided the Star and investigators with new videos and images that led to the arrest of Const. Babak Andalib-Goortani in the case of Adam Nobody.
The SIU has requested anyone with any information about Barton's case to call 416-622-2293 or 1-800-787-8529 extension #2293.