The judge who writes like a paperback novelist
KIRK MAKIN
JUSTICE REPORTER—
From Friday's Globe and Mail
Published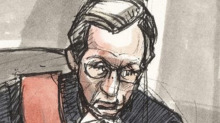 A prominent judge whose decisions are sometimes reminiscent of crime novels is causing a rumble amongst traditionalists who favour solemn rulings.
Ontario Court of Appeal Judge David Watt, a jurist once known for using complex sentence structure and legalistic embellishment, has transformed himself into a writer more in the vein of American best-selling novelist Elmore Leonard.
"He is out of control," said University of Windsor law professor David Tanovich. "I am frankly surprised that no one on the court – including the Chief Justice – has said anything to him. I would not be surprised if there is not a judicial council complaint if he continues."
In his latest instalment, Judge Watt launched a ruling that overturned a domestic murder conviction with literary panache: "Early one morning in June, 2006, Melvin Flores closed the book on his relationship with Cindy MacDonald. With a butcher knife embedded in Cindy's back. Fifty-three blunt force injuries."
And in a murder case last year, R v Simon, Judge Watt commenced: "Handguns and drug deals are frequent companions, but not good friends. Rip-offs happen. Shootings do too. Caveat emptor. Caveat venditor. People get hurt. People get killed. Sometimes, the buyer. Other times, the seller. That happened here."
A recognized authority on jury instructions and criminal law, Judge Watt's transformation is seen by some as part of a welcome trend away from impenetrable, legal jargon.
"This is another excellent piece of work by one of Canada's finest criminal law jurists," a Manitoba judge, speaking anonymously, said of the Flores decision. "It is must-read for all new judges in particular, and the rest of us, too. The first few pages are a tad whimsical but neither offensive nor demeaning."
However, others are irked by Judge Watt's light-handed touch and his apparent disregard for the conventional wisdom that the author of a judgment ought to be an invisible presence.
Prof. Tanovich, who has argued almost 100 cases in senior appellate courts, said that notoriously dry legal fields such as contract law can stand some lively writing.
"But criminal law is not one of them," said Prof. Tanovich, a law clerk for former Supreme Court of Canada Chief Justice Antonio Lamer. "This style of writing serves to sensationalize and desensitize tragic facts and serious social issues."
University of Ottawa law professor Rakhi Ruparelia said she was stunned by the disrespect Judge Watt showed in the Flores decision toward the gruesome murder of a young woman. "It seems as though Justice Watt was trying to titillate and entertain with his writing rather than offer a careful and appropriate consideration of the facts," she said.
"While making judicial writing more accessible is a laudable pursuit, in my view, this judgment simply trivializes the murder of a woman at the hands of an abusive partner."
Over the generations, judges have occasionally achieved a measure of fame for their distinctive style. Lord Denning, a fabled member of the British House of Lords, was known for bold, creatively crafted judgments.
In the U.S., Judge James B. Zagel – a veteran federal court judge who presided over former Illinois Gov. Rod Blagojevich's corruption trial – wrote a crime novel, Money to Burn, about a judge who masterminds a major bank robbery.
Some Canadian judges, such as Ontario Court of Appeal Judge John Laskin, have championed clear writing that is both accessible and stripped of legalese.
The controversy over Judge Watt's writing also echoes a debate that broke out last year, after Ontario Superior Court Judge Joseph Quinn used a ruling to ridicule a warring couple in a bitter divorce.
"Paging Dr. Freud, paging Dr. Freud," Judge Quinn wrote in the judgment. "Here, a husband and wife have been marinating in a mutual hatred so intense as to surely amount to a personality disorder requiring treatment."
The bar was split between those who admired Judge Quinn's deft humour and those who felt he had no right to talk down to litigants.
In his own words
Judge Watt's trial judgments tended to be clear but were written very much in a traditional form. More recently, his judgments on the appeal court have begun to resemble genre fiction.
The Old
"At the close of the prosecution's case-in-chief at their joint trial on an indictment that contains counts of first degree murder and unlawful confinement, Elva Bottineau and Norman Kidman seek directed verdicts of acquittal. On the count that charges first degree murder, each acknowledges that there is evidence on the basis of which a reasonable jury properly instructed could find them guilty of murder. But, they say, there is no evidence upon which a reasonable jury properly instructed could find them guilty of first degree murder on either basis upon which the prosecutor relies." - R v Bottineau. April, 2007
The New
"Tung Duong and Dung Ton fell out over money owed and product misappropriated in their business ventures in drugs, prostitution and money-lending. Duong decided that he wanted Ton dead. Killed, along with Ton's wife, Bon Bui, if they were together. Arrangements were necessary. Money to finance the job. A killer or two to carry it out. A weapon. A place away from public view. An escape plan." - R v Yumnu. October, 2010.
"On a cold weekend in late January 2000, the lengthy but brittle relationship among Michael Luciano, Colleen Richardson-Luciano and James Cooper ended. Abruptly and violently. First, in Woodbridge. Then, in Egmondville. Two deaths. Colleen Richardson-Luciano died first. In Woodbridge. Stabbed to death. A day later, James Cooper died in Egmondville. By asphixia from strangulation." - R v Luciano. May, 2010.
"Explosions damage and destroy things. Sometimes, their victims are people. Like here. An explosion damaged and destroyed several buildings. Hurt some people too. And killed others. The explosion was preventable. If only …" - R v Enbridge Gas Distribution and Precision Utility Ltd. January, 2011