$10,000 reward for girl on run with mom

By JONATHON BRODIE, QMI Agency
April 6, 2011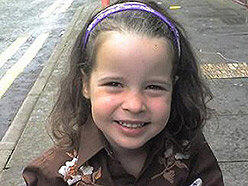 TORONTO - Henry Da Massa wanted to be celebrating with his daughter on her seventh birthday Wednesday, but instead was pleading with people to help him find her.
The Missing Children Society of Canada announced a $10,000 reward for any information leading to Pearl Gavaghan Da Massa's whereabouts during a press conference at Toronto Police headquarters.
"We're asking Canadians to step up and provide information, to be aware, to look and help us search, and bring Pearl home," said Amanda Pick, director of the missing kids' society.
Pearl was allegedly abducted from her United Kingdom home by her mother, Helen Gavaghan, in December 2008.
Police believe Gavaghan travelled to Mexico and then Texas, before coming to Toronto just over two years ago.
A tip led police to a west end Toronto shelter in February 2010, but Gavaghan fled with her daughter and has not been seen since.
"This is not just a little girl who's travelling with her mother," Pick said. "This is a little girl who has been abducted and we know very clearly that she's having traumatic experiences and that she will suffer from this."
Da Massa moved from the U.K. to Toronto last year in search of his only child.
"Part of me will never switch off until Pearl's here," said Da Massa, who last spent a birthday with his daughter when she was four.
"There's a part of me that really feels a strange combination of emotions today, a strange kind of poignancy because it's Pearl's birthday and yet there's a huge missing child banner at a press conference."
Police are not sure if the two are still in Toronto.
A U.K. arrest warrant and extradition order has been issued for Gavaghan.
Information and pictures of Pearl and Gavaghan are posted in Mac's convenience stores across Ontario, as well as on Facebook.
Anyone with information on the whereabouts of Pearl are being asked to contact the missing children's group, the Toronto Police fugitive squad, or Crime Stoppers.
jonathon.brodie@sunmedia.ca