P

arkdale mobilizes to protect citizens as attacks continue
SIRI AGRELL
From Saturday's Globe and Mail
Published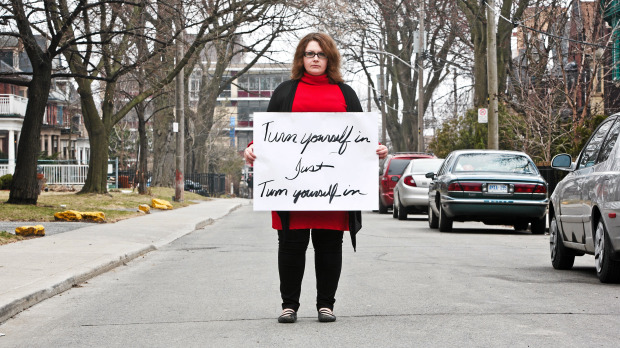 Paisley Rae holds a sign that appears in a PSA she developed in partnership with the Toronto police around the Parkdale attacks. —Jennifer Roberts for The Globe and Mail
The day George Wass died, staff from the Parkdale Activity Recreation Centre gathered in their Queen Street West offices with members of the Toronto homicide squad to watch grainy video of two vicious beatings.
The unprovoked brutality of the crimes, which happened on the same isolated one-way street, targeting the same type of victims, made Victor Willis, PARC's executive director, wonder if the perpetrator had passed through his doors, one of the approximately 3,000 clients with mental-health issues who have sought help through the centre during the last 18 months.
"We had to know, what if it's one of ours?" he said.
Since Jan. 4, six attacks have taken place near the intersection of King and Jameson, including one this week. Two were caught on surveillance tape and another, on March 18, resulted in Mr. Wass's death a few days later. In each case, a man with his face covered by a balaclava or scarf has rushed at his victims from behind, leveling them with a fierce blow before proceeding to kick and punch them remorselessly, without stealing a thing. Three, including Mr. Wass, were residents of a boarding house on Maynard Avenue occupied by people suffering from mental illness. The other three lived at a rooming house occupied by low-income residents, directly across the street.
Watching video of two of the beatings, Mr. Willis said it was clear that, while there was something wrong with the attacker, he was not like his victims. He moved with alacrity and confidence, and lacked the physical markers that come with years lived in poverty or struggling with profound mental illness.
And so, while police endeavour to arrest the man responsible, Mr. Willis and other members of the Parkdale community are left to concentrate on how to protect those who are being targeted, a population among the most marginalized in Toronto, who might not understand the threat against them or be willing to call police.
"It's tough – what is the strategy?" said Mr. Willis. "I know one thing, if this had happened in Yorkville or Rosedale, it would have been dealt with."
Two houses, six attacks
The focus of the perpetrator's ire became clear to police early on in the investigation. The attacks began when a 47-year-old woman walking on Leopold Street just before 8 a.m. on Jan. 4 was attacked from behind. The man came at her on a bicycle, hitting her in the face like he was taking a swing from a polo horse. She lived in the rooming house on Maynard Avenue, around the corner, and moved out of the neighbourhood two days later.
Fifty-three-year-old Edward Allison was attacked the following Sunday, also while walking on Leopold Street. Like the previous victim, his housemate, he was hurt so badly he required treatment at the hospital.
Police concluded it was the same guy. In both cases, the victims said their attacker was approximately five-foot-nine or five-foot-ten, his face covered, riding a dark-coloured mountain bike with no fenders.
They launched Project Leopold, an eight-member task force dedicated to solving the crimes, and stepped up their presence in the neighbourhood. The attacker did not strike again until Feb. 25, when 62-year-old Patrick Zack, who is schizophrenic, was attacked on Maynard Avenue. Then, on March 3, he targeted 55-year-old Glen Kerr, who suffers from delusions.
Mr. Wass was attacked early on the 18th. Described as having the mental capacity of a little boy, he did not initially report his beating, until a friend at his boarding house noticed his injuries and called 911. He was taken to nearby St. Joseph's Health Centre, where he was treated for two cracked ribs and released.
On Monday, March 21, he collapsed at his group home and died.
Mr. Wass's death ended Project Leopold and recast the investigation as a homicide case. Then on Tuesday, April 5, at 3 a.m., 45-year-old Dan Chiarelli was attacked while returning home to his Maynard Avenue rooming house after walking his girlfriend to the Queen streetcar. According to police, all of the attacks occurred within 100 metres of each other.
A community frustrated, fearful
Talk to most people in the neighbourhood, and they will voice their theory that the man responsible has a particular issue with the two homes where his victims live. The word "vendetta" is raised regularly, and some people talk about organizing their own stings, or offering themselves up as decoy targets. A feeling of frustration, fear and helplessness has pervaded the entire neighbourhood, affecting residents on both sides of the area's gentrification divide.
More than 300 people attended a public meeting at PARC on March 23, many from the higher-income area north of Queen Street, all offering to help and expressing their concern for the victims.
Mr. Willis described some of the advice offered by police at the meeting as "middle class," telling residents to carry whistles, walk with friends, phone police on their cell phones if they saw someone suspicious and run to the nearest house if they felt they were being followed. "Go with your gut feeling," said police spokesperson Tony Vella. "That's the most important message."
But among those being targeted, gut feelings are not always reliable.
Mr. Willis said many mental-health patients smoke and take medication that makes them restless and unable to sleep, increasing the odds they will go out for a walk alone and at night. Some have trouble discerning real threats from imagined ones. As for those living in the rooming house, Mr. Willis said many are dealing with extreme poverty and have a distrust of police, making it hard for them to know where to turn for help.
"We're really trying to encourage people to think differently," he said.
The boarding house where Mr. Wass and two other victims lived is run by the non-profit organization Habitat Services, which has instituted a buddy system and heightened their security to protect their vulnerable residents.
PARC employees are focusing their outreach on the rooming house where the other victims have lived, trying to establish how many people are housed there and if they've been given any instructions on how to protect themselves.
Mr. Willis has asked all the residents to come to his centre and talk about their safety, although he worries many will resist any association with a facility known for treating the mentally ill.
But the threat against these groups has propelled others in the neighbourhood to step forward.
Paisley Rae, a social-media consultant who lives at King and Dufferin, became aware of the attacks through the publicity surrounding Mr. Wass's death, and attended the PARC meeting where she volunteered to help.
"I was left with the feeling of 'My god, I absolutely need to do something but I don't know what to do,'" she said. "It makes me feel bad about humanity."
Working with Toronto Police, Ms. Rae produced a PSA video that has been posted on YouTube, informing people about the crimes and appealing for community involvement.
"Somebody knows who's doing it and they're not saying anything," she said.
David Anthony Domet, who knew Mr. Wass through the Holy Family Parish on King Street West, said he worries about the community's other vulnerable populations: new immigrants, young families, single parents and children.
"He's obviously going after someone weak, an easy victim," he said. "It's just wanton violence."
The attacks have been distressing for the entire community, he said, and raise questions beyond just who is responsible.
He wants to know why the city is "growing cold" to such violence, and said the level of outrage and upset surrounding the attacks is not where it should be.
Also troubling is the fact that Mr. Wass was released from hospital, he said, only to die from his injuries days later.
"He didn't know how to take care of himself, it was obvious to anyone who met him," he said. "Everybody's wondered – what the heck was he doing out of the hospital?"
Michelle Tadique, a spokesperson for St. Joseph's, said the hospital could not release any information on Mr. Wass's treatment due to patient confidentiality, and would not say whether they were reviewing their actions.
But Mr. Willis said he has corresponded directly with Carolyn Baker, the hospital's chief executive officer, in the wake of Mr. Wass's death.
Opportunity arises from tragedy
If there is a bright side to what has happened, says Mr. Willis, it is the opportunity it has given the community to confront how it treats its most at-risk residents.
St. Joe's is one of the city's busiest emergency rooms for people with mental-health issues, he pointed out, and his organization is asking the hospital to reexamine how they deal with that demographic.
"Can they be a leader on this? Look at the population they serve – they should be," he said.
At PARC, employees have fielded calls from local artists, unions and other groups offering their services in the investigation.
Scott McKean, supervisor for the City of Toronto Community Crisis Response Program, has gotten involved, and is considering hosting a "take back the night" event.
The police, too, have made it clear they are dedicated to solving the crime, reaching out to community members, setting up a tip line and establishing a constant presence in the area. Tips have been coming in, said Constable Vella, a rarity in a neighbourhood not prone to trusting the police.
Not long ago, Mr. Willis said many in the community would have turned a blind eye to attacks on people like Mr. Wass, who they didn't consider to be their problem.
"Compared to how it would have been 15 years ago, the whole community has gotten involved," he said. "We're fighting this guy on a different battleground than it once was, and that's a positive thing."
Commentary by the OttawaMensCentre.com
Real crime, starts in Family Court were at one extreme man hating dead beat judges give mentally ill violent women custody and at the other end, the best children can get is a father visitor every second weekend who is impoverished by support orders that in addiction to his increased costs of parenting drive him into a basement.

This now generational problem creates an ever increasing number of children who are abused by being deprived of a father. They as a group are far more prone to mental health problems and or a personality disorder.

The next real crime starts with every Canadian for treating Mental Illness as "not their problem", its a "taboo subject" and any man raising the allegation in family court is deemed to be mentally ill, and unsuited to be a father, how dare he make such an allegation.

The solution, is to start at the root cause, ensure that our next generations of children have a Legal Presumption of Equal Parenting, which will largely eliminate the 100 billion dollar scam called family law.

The next solution is a real authority for the Judiciary, currently we have the most vile examples of psychopaths masquerading as judges. Their names are well known, Allan Sheffield, Denis Power, Desousa, Cheryl Robertson just to name a few of the 'worst of the worst' child abusers in Canada who leave a never ending trail of destruction and abused children denied a father who suffers a life time of injustice and incarceration as part of the Feminist War on men, by insane extreme feminists who are plauged with a pathological hatred of men.

Its time for change. Don't vote NDP, Jack Layton is the most anti father , anti Equal Parenting politician in Canada.

www.OttawaMensCentre.com