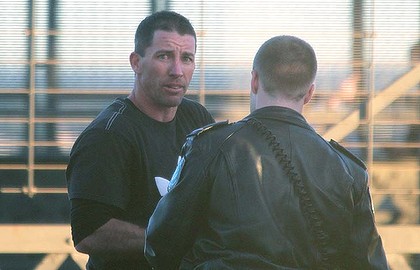 Michael Fox is arrested after abseiling down from the top of the Harbour Bridge. Photo: Brendan Esposito
A man who caused traffic chaos when he climbed the Sydney Harbour Bridge with a banner reading "pls help my kids", has pleaded not guilty to charges over his protest.
Michael Fox, a former soldier, entered the plea in Sydney's Downing Centre Local Court today.
The 38-year-old father of three, from Narrabeen on Sydney's northern beaches, used ropes to climb to the top of the bridge before dawn on May 13.
Advertisement: Story continues below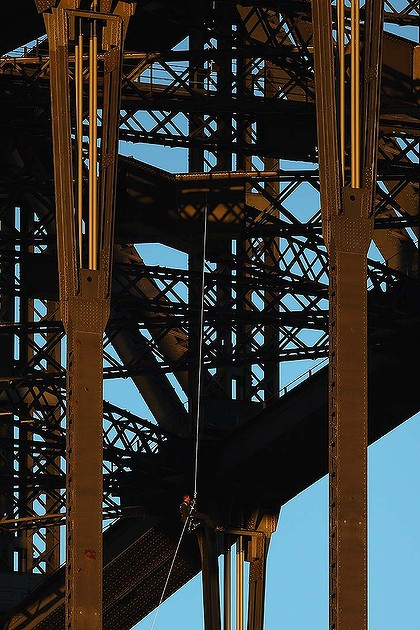 Michael Fox abseils down from the bridge. Photo: Getty Images
He rappelled down about 7am and was immediately arrested by police, but the stunt brought peak-hour traffic on the bridge to a standstill for more than two hours.
Police charged Mr Fox with obstructing traffic, climbing or jumping from buildings or other structures, and climbing on bridges.
He told media at the time that his protest was over a ban on him contacting his former wife or her immediate family, including his children.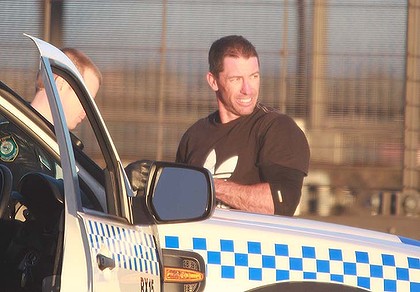 Bridge protester Michael Fox is taken into police custody after abseiling down. Photo: Brendan Esposito
Outside court today, Mr Fox told reporters he had no regrets and would fight his case.
"The law says that I'm allowed to climb bridges and structures and rappel from and stop the traffic if I've got a reasonable excuse or if it's for a lawful purpose," he said.
"There's 50,000 new kids each year on top of 50,000 last year and next year that are getting exposed to family separations and at least half of those are going through a troubled break-up."
Mr Fox said the court action would "highlight the deficiencies and failings in government".
"The system needs to change, I think everyone knows it," he said.
"The government is suppressing the parents' situation through the Family Court and DOCS [NSW Department of Community Services] and they are not allowing the media to cover it, so everything is done in isolation.
"That's why there are so many mistakes."
His lawyer Brett Galloway says the maximum prison term for the offences with which Mr Fox is charged is three months.
"It's a shame some people were inconvenienced but what do you do to highlight the problem when you are in difficult circumstances as Mick was, and no one will listen or pay attention?" he told reporters.
Mr Fox said a change of his bail conditions meant he could now contact his children.
"They are the victims in this," he said.
"I think we will look back on this and realise someone had to stand up and do something about it."
The case has been adjourned to July 29.
AAP