Woman cleared of murder still treasures locket with photo of man she killed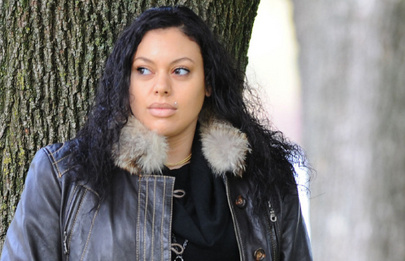 Melissa Lewis talks about her acquittal of her 2nd degree murder of her boyfriend Jermaine Gillespie.
Standing under a tree waiting to have her photograph taken in preparation for an interview with The Star, Melissa Lewis opens the locket around her neck to show her lawyer. On one side is a photo of her daughter, Briana; opposite is one of Jermaine Gillespie, the man she has just been acquitted of murdering.
"(The locket) is mostly for my daughter," Lewis said Tuesday in her only interview since the verdict on Friday night.
While many court observers were stunned by the verdict, Lewis said she was not. "I always had faith."
Smiling and upbeat during the interview, her demeanour was in striking contrast to the sullen woman who kept her head down through most of the trial.
She had admitted plunging a knife into her longtime boyfriend's neck while he was driving along a west-end Toronto street. Her lawyer Howard Goldkind portrayed Gillespie as a "ticking time bomb" and Lewis as a long-suffering victim of his regular beatings.
Gillespie's mother, Marjorie, was outraged Lewis was acquitted, maintaining her son was defenceless holding a steering wheel while Lewis sat in the car's backseat.
Those who don't believe she was acting in self-defence weren't in court to hear "the facts and the evidence," Lewis said.
"I never really had any doubts. I knew the truth would prevail."
Late Friday night, a jury in downtown Superior Court found her not guilty of second-degree murder in the May 29, 2010 death of Gillespie, 25, the father of her child.
Jurors also rejected the lesser charge of manslaughter and instead set the raven-haired 26-year-old free after 16 months in custody, reuniting her with 7-year-old Briana.
"I never meant to hurt Jermaine, never meant to kill him. I love him," said Lewis.
.
Around 10:15 p.m. Friday, the jury announced its verdict after Justice Robert Clark delivered six hours of legal instructions the previous evening.
Lewis's heart was racing as a court clerk asked her to stand. "I had to hold myself up there because my knees felt they were going to give out."
She credits Goldkind for "keeping my spirits up during 16 months in jail" and the jury "for having faith in me when not a lot of people did."
Some legal commentators have speculated evidence of Gillespie's unsympathetic character may have played a role in the verdict.
"No doubt, Mr. Gillespie was not a model citizen," Goldkind said, nodding. But the jury was an intelligent group and received "a comprehensive charge from the judge, and heard all the evidence unlike some members of the public who heard bits and pieces."
Lewis is looking forward to raising Briana, who has been living with her siblings. "She's just happy that I'm home," she says. Her plans could include writing a book, studying jewellery design or photography. She may also speak to women in abusive relationships.
"To uplift them and show my experience. Hopefully they realize they can get out of it and, just hopefully, save lives."
She tolerated Gillespie's abuse believing "he was the only person that I had, who was there for me," she said. She now knows that's not the case, she said with a slight smile. "I have family. We definitely have a stronger bond."
Commentary by the Ottawa Mens Centre
This is a classic example of Male Sharia Law in Canada.
"Melissa Lewis" was sitting in the car's back seat, and plunged a knife into her longtime boyfriend's neck as he was driving in Toronto.
The jury even rejected manslaughter, that's right, she literally slaughtered her boyfriend while he was driving from the back seat and the jury found her not guilty of not just murder, but "ManSlaughter".
Now, if this lady was truly a victim of the abuse she claimed, just why does she claim that she stills loves him?
The reason could be is that he provided the sperm that created her daughter Briana.
Then there is her claim "I never meant to hurt Jermaine"
Then why did she plunge that knife into his neck.
She is what you call a murderous bitch from hell and now Jermaine's fate and Melissa's acquittal will be
increasingly told by the women's shelters on how to kill your husband and get away with it while
claiming to be a victim of abuse.
It also begs the question as to why she did not leave with the billions of dollars poured annually
into one stop divorce centers. Perhaps she had problems that may have prevented her from getting custody.
No mention in the article of CAS involvement or the witnesses to her abuse of him.
That's Ontario Male Sharia Law for you and a good reason
we need a overhaul of family law.
www.OttawaMensCentre.com