Infant caught in custody dispute as mother faces deportation
Published On Wed Dec 14 2011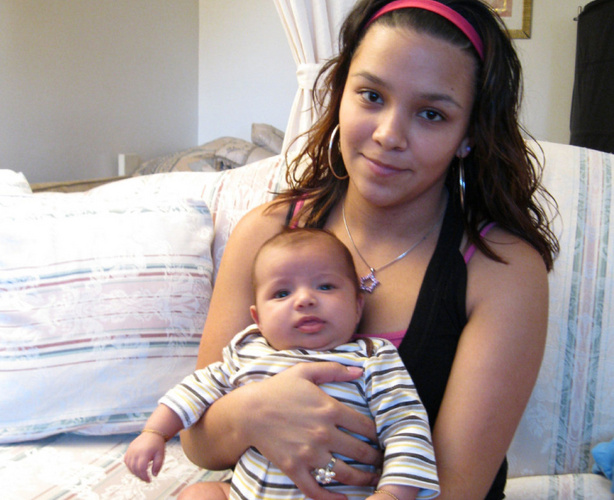 Jessica Aristizabal Calrasco, 19, claims she broke up with the baby's father in May after she refused an abortion.
NICHOLAS KEUNG/TORONTO STAR
A 9-week-old baby is at the centre of a custody fight between his Canadian father and refugee mother, who is facing deportation next month.
The dispute between Jessica Aristizabal Calrasco, 19, and Daniel Ricardo Velasquez, 21, raises the issue of what is best for their Canadian-born son, Jonathan, who is still being nursed by his mother.
"(The father) believes that it would be in the child's best interest that he has sole custody," Velasquez, an office cleaner and bartender, says in his written submission to Milton family court.
"The (father) is a Canadian citizen and the (mother) is not. The (father) is aware that it is likely that the (mother) may be deported to Colombia."
Aristizabal, along with her mother Claudia, sister Marcela, and aunt, Veronica Torres, are scheduled to be deported Jan. 2 after their refugee claim was denied.
However, a Jan. 6 court date has been set in Milton family court to settle the custody dispute. If the mother is deported as scheduled, she will have to leave without the baby.
Richard Wazana, Aristizabal's immigration lawyer, said a family court judge has jurisdiction in ordering a child not be removed from Canada, but the mother's deportation is at the discretion of border enforcement. The mother is asking that her deportation be put on hold until the custody issue is settled.
"It is not a black and white issue. Having a Canadian-born child cannot stop a removal (of the mother)," Wazana said.
The mother, from Colombia, claims the couple broke up in May after she refused an abortion. Her ex-boyfriend, she says, showed little interest in being a father and was allegedly seeing other women while she was pregnant.
"I am the baby's mother. I am still breastfeeding him. No one can separate us," said Aristizabal.
The family arrived in Canada in 2008 via the United States. Aristizabal's mother alleged FARC members killed her brother, a staff with the Administrative Department of Security, while he was probing the guerrilla group's infiltration into the department.
Both Claudia Aristizabal and Torres, her sister-in-law, claimed they were kidnapped and raped by the assailants. Officials rejected their asylum claim in 2009 and an application to stay here on humanitarian grounds was denied.
The family was to be deported in October, but it was delayed due to Aristizabal's imminent delivery.
Aristizabal claims that after learning of her pregnancy in February, Velasquez suggested she go for an abortion and then disappeared for two months until her mother notified his mother about the baby.
According to the father's submission, Aristizabal and Velasquez, both from Burlington, met at a party and began dating in 2009. He claims that after the baby was born, he accompanied his ex on medical appointments and paid for the child's necessities, but was denied access to the baby.
At Velasquez's request, the family court has ordered a blood test to confirm that he is Jonathan's biological father.
Aristizabal's case has galvanized the support of staff and students at Corpus Christi Catholic Secondary School, where Claudia Aristizabal has worked as the head custodian since 2010.
"From a mother's perspective, I can't imagine how horrifying it is for Jessica to have the baby she has bonded ripped out of her life, knowing she may never see him again," said teacher Melissa Broglio, who has three boys.
"Whether Jessica is 18, 28 or 38, the bottom line is she loves that little boy. Whether she is a teenage mom or not makes no difference."
Staff at the school has raised more than $4,000 for the family's legal fees, while students set up a Facebook page petitioning for family to stay.
"Canada has a policy to protect refugees and help them get on their feet. Claudia did not come here to take advantage of our generosity," said Judy Caruso, financial secretary of the school.
"She works hard and contributes to our community. All she wants is a safe place for her family."
Her claims are typical of any woman who seeks custody of a child for improper reasons.
The odds are that she chose him as a sperm donor for no other purpose than to assist her in her fight to avoid
a deportation order that she and her family knew was coming after entering Canada from the United States.
If they had a genuine refugee claim then that claim should have been made in the United States.
Then there is that breast feeding claim that is totally irrelevant, the father could and should be feeding the infant
himself when the child is with him.
What is sickening is that this illegal immigrant will have hundreds of thousands of dollars thrown at her
by feminists across Canada all in the legal fight against a low income father who most probably is self represented.
Its enough to make you want to puke.