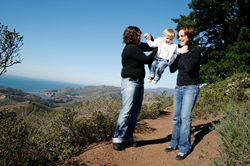 A sperm donor and lesbian couple from Ontario Canada who have been fighting over custody of their two year old son, have suddenly settled their case, after months of litigation and shortly before a scheduled trial.
The man had signed an agreement that he would have nothing to do with his genetic offspring. But he had second thoughts after the baby was born, felt the biological mother had reneged on her part of their deal and asked the courts to recognize him as the father, providing liberal access. The suit, whose parties cannot be named under the terms of a publication ban, has now been effectively withdrawn.
'It is always better for litigants to come to a resolution on their own'
"This is certainly the right outcome for this loving, bonded and stable family," Michelle Flowerday, the couple's lawyer, said in an emailed statement. "It is always better for litigants to come to a resolution on their own, as opposed to having one imposed upon them by the court." The fact that the courts will not rule on the dispute, however, leaves a gap in the law in Ontario and other provinces, she said. There is a growing national movement to make clear that donating sperm does not equate to being a parent, but only B.C., Alberta and Quebec have enshrined the idea in their legislation, said Ms. Flowerday.
The donor and his lawyer could not be reached for comment.
Growing numbers of children are being born in Canada as a result of in-vitro fertilization and other forms of "assisted" reproduction. When donations are obtained anonymously from sperm banks, and in the few provinces with laws that directly address the issue, parenthood is generally uncontested.
Where couples and single people make arrangements with sperm donors they know, however, the rights of the various parties remain largely unresolved. The northern Ontario dispute boasted the most clear-cut set of facts of any to reach the courts, making it an ideal legal testing ground. A trial was scheduled for this summer.
The donor was a high-school acquaintance of the biological mother, and initially agreed to bear a child for him, as well, if he agreed to provide his sperm. The actual agreement he signed, though, did not mention that part of their arrangement.
He went to court after the boy was born, saying that he had felt pressured by the mother and that she now appeared unwilling to have a baby for him. But then, at a meeting last week, the parties agreed to a declaration that the two women are the child's parents and the donor is not his father, according to an order issued by Justice Gregory Ellies of the Ontario Superior Court.
'I don't think anybody wants to be a test case'
The document also includes a restraining order preventing him from having contact with the child or the two women. In exchange, though, he and his parents have the right to one meeting of at least an hour in a public place, with an agreed-upon third party observing. The donor and his parents "may not initiate physical contact" with the boy, and cannot take photographs or video. As well, the man and his parents are barred from identifying themselves as the child's father or grandparents, said the order.
"I don't think anybody wants to be a test case," noted Fiona Kelly, a University of British Columbia law professor who studies the field, about the settlement.
The lack of a ruling, however, means continued ambiguity in the majority of provinces that lack laws like one recently enacted in B.C., she said. That legislation says being a sperm donor does not in itself make someone a father.
Article: 13th April 2013 www.news.nationalpost.com