Local TV Host Stabs Boyfriend to Death with Stiletto Heel: Cops
By Howard Breuer
06/21/2013 at 06:45 PM EDT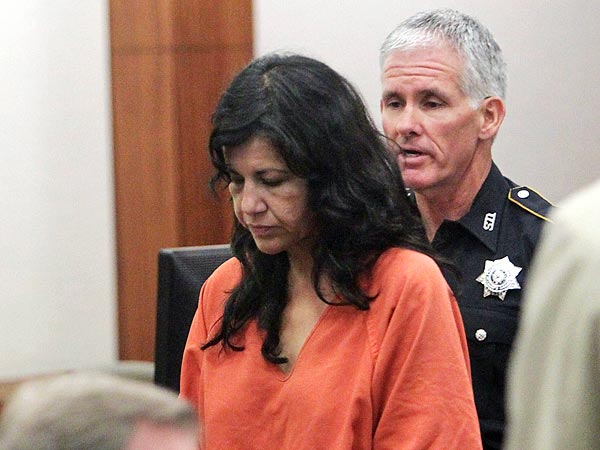 A Houston TV host charged with murdering her boyfriend claims she acted in self-defense when she allegedly struck him more than 10 times in the face, head and neck with her stiletto heel.

Lawyers on both sides say they're still gathering evidence about the relationship between Ana Trujillo, 44, and Alf Stefan Andersson, 59, a top researcher in women's health issues at the University of Houston, and what really happened the night Andersson died.

"We only have a dead man and a woman who confessed to doing it," says Harris County District Attorney spokeswoman, Sara Marie Kinney.

According to local TV station KTRK, Trujillo hosted community access shows in which she went by Ana Fox.

On the night of June 9, she and Andersson drank tequila at Bodega's Taco Shop and he got angry over another man who offered to buy Trujillo a drink, authorities say. They then went to his 18th-floor condominium at around 2 a.m. and he got angry over her plans to visit her daughter from a previous relationship.

Trujillo called 911, led officers to the body and told them Andersson "was attacking her and grabbed her hair and neck," according to DA spokeswoman Kinney. But officers observed no injuries on Trujillo, says Kinney.

Andersson, however, suffered "at least 10 very serious puncture wounds to the back of the skull, and to the head and neck," says Kinney, all inflicted by a stiletto.

Investigators are trying to determine if Trujillo stomped Andersson with the shoe or held it and struck him as she claims.

Kinney says she is unaware what kind of stiletto was used. The shoe is in evidence and can't be examined by a prosecutor until after Trujillo enters a plea – which is expected to happen at her next court appearance in July. Trujillo is being held on $100,000 bail.

Lott J. Brooks, Trujillo's attorney and former employer, tells PEOPLE that he believes Trujillo suffered from battered women's syndrome. He says Trujillo is a non-confrontational person who would not have instigated the fight.

"This doesn't seem like something she would have done without provocation, without some sort of triggering mechanism," Brooks tells PEOPLE. He adds, however, that he is still learning about the case and he doesn't specifically know what Andersson may have done to Trujillo before she started hitting him with the shoe.
Commentary by the Ottawa Mens Centre
If the this TV host had been in Ottawa, Corrupt Ottawa Police Detective Peter Van Der Zander would not have even bothered to ask her if she stabbed her boyfriend. He would have listened to her claims of abuse, had her dead boy friend wheeled in on a stretcher and interogated about how he provoked her.
Check out
www.OttawaMensCentre.com/wanted.htm