Woman's custody battle highlights problems in legal aid system
Judge rules woman applying for state-funded lawyer is "intelligent" and "articulate" enough to represent herself after running out of money.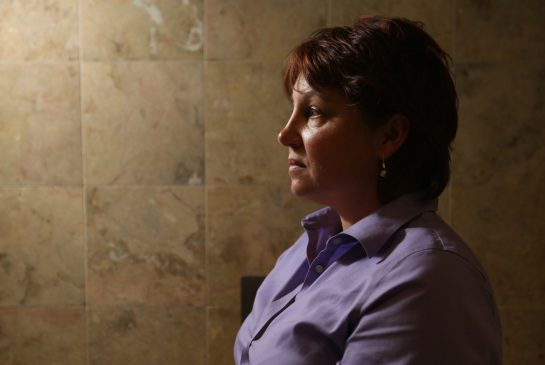 Rhonda Nordlander can't afford a lawyer, but she also can't afford to jeopardize her chance to regain access to her children by going ahead without one.
Nordlander, 44, who has been representing herself after exhausting funds for a lawyer during four years of court battles over divorce and custody of her children, is hoping to appeal the decision of an Ontario Court Justice to deny her state-funded counsel.
Justice Patrick Dunn ruled last month that Nordlander is both "intelligent" and "articulate" enough to make her case and it would cause an unnecessary delay to find a lawyer willing to take on the case and get up to speed.
"I do not find the issue too complex for the Applicant to understand," he wrote, adding "this case needs a resolution as soon as possible."
With legal aid only accessible to the very poor , reports show an increasing number of unrepresented individuals in the family law system, which lawyers and judges believe can result in longer resolution times for cases and worse outcomes.
Dunn's decision reveals the ongoing dilemma the court system faces in "triaging" cases to dispense scarce legal aid where it is most needed.
Nordlander sits facing a wall of legal texts in the poverty law clinic where she works as an office administrator in Brampton, earning about $40,000 a year.
The books are no help in her family law case, she says wryly. It took her a long time to discover that she could apply for government-funded counsel after being turned down for legal aid.
"I think I'm a fool to go into this trial self-represented," she says. "I'm being left to the wolves."
After six months on legal aid during her divorce and initial custody battle, she spent $26,000 on legal fees and $15,000 more on a custody assessment that contributed to her declaring insolvency at the start of this year, she says.
She uses the phrase "post-traumatic court disorder" to describe the stress and anxiety she now feels after her many court appearances.
Nordlander earns too much to be eligible for legal aid, but she says that she can't afford to take a repayable advance from the province.
The court agrees that Nordlander can't afford to hire a lawyer, but she turned down the offer of assistance "at her peril," wrote Dunn.
"The court readily acknowledges that it would be very beneficial to the Applicant mother to have legal representation," says Dunn in his decision. "I find that the applicant's finances were surely that she would be able to enter a repayment schedule … that would have been fair."
The case is clearly a challenging one, says Queen's University family law professor Nicholas Bala.
In deciding how to "triage" the case, the judge considers factors such as the competence of the applicant, the complexity of the case, the seriousness of the case and impact of the delay.
"One can be sympathetic to any person not having access to legal services. On the other hand, as the justice would be aware, and the Supreme Court has made clear, the courts have to be careful about spending public money," he says.
"If they gave out legal services wherever it was asked for and needed, we'd have judges spending billions of dollars on legal services."
Still, considering the intelligence of a self-represented person is a "slippery slope," says Julie MacFarlane, a University of Windsor law professor.
MacFarlane completed a study on self-representation in court earlier this year that looked at the challenges and consequences they face. Nordlander was one of the 259 so-called "self-reps" interviewed.
"Even the most intelligent people will feel overwhelmed when advocating on their own behalf in a personal matter," says MacFarlane,
And the emotional toll is highest when children are involved, she says.
The decision also highlights the reality faced by many self-funded litigants, which is the difficulty of finding a lawyer to take on a case after being self-represented, says MacFarlane.
Many of the people she interviewed began with a lawyer, ran out of money and took on their case themselves, only to try and get counsel again when they became overwhelmed.
"But the difficulty they have is that most lawyers do not want to take on a case that a self-rep has handled themselves, because they fear that there are errors or other problems they have to make good."
It's not right that Nordlander get penalized for that problem, she says.
"I think it's unfair to take advantage of what is an unfair situation already."
Correction - October 10, 2013: This article was edited from a previous version that misstated the amount that Rhonda Nordlander spent on a custody assessment as $4,000.
Commentary by the Ottawa Mens Centre