Nidal Zeiti says he is the victim, not the 20-year-old he is accused of raping.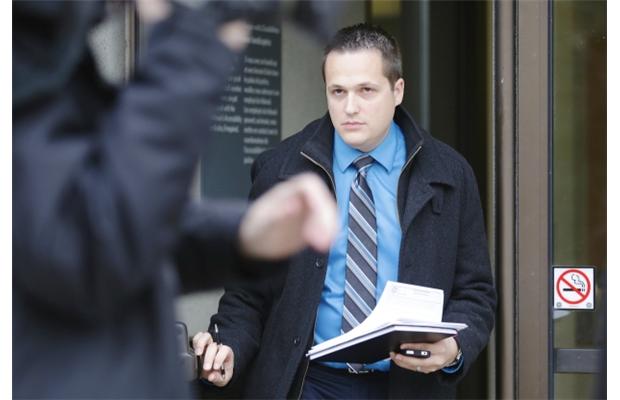 Ottawa police Det. Jean-Luc Bonin exits the Elgin St.reet courthouse in Ottawa on Friday, November 15, 2013. Bonin, who testified at a bail hearing today, is one of the investigators in the sexual assault case involving the woman and a taxi driver Saturday, Nov. 9, 2013.
Photograph by:
Mike Carroccetto, The Ottawa Citizen
Photograph by:
Mike Carroccetto, The Ottawa Citizen
Taxi driver Nidal Zeiti said "she assaulted me" in response to reporter's question if he has anything to say as he walks away from the Elgin Street courthouse after receiving bail in Ottawa on Friday, November 15, 2013. The 52-year-old Blue Line cabbie has been charged with sexual assault in relation to an incident with a young female passenger in the early morning hours last Saturday, Nov. 9, 2013.
Photograph by:
Mike Carroccetto, The Ottawa Citizen
OTTAWA — The Ottawa taxi driver accused of raping a female passenger in the back seat of his cab remained defiant Friday after winning bail.
Nidal Zeiti, 52, walked out of the Elgin Street courthouse declaring that he was the victim, not his 20-year-old accuser.
His longtime wife and eldest daughter stood by his side and detailed a shopping list of what they see wrong in the case, and claimed that the taxi driver will be vindicated if the case goes to trial.
Zeiti was released on strict bail conditions and is forbidden to be alone with any female unless she's a relative.
The father of four is also prohibited from driving a taxi or a vehicle that resembles one. The court-order banning him from being behind the wheel of a cab trumps a City of Ottawa request to suspend his licence, a process that could outlast the accused rapist's trial.
The justice of the peace's order shows that Zeiti is not a threat to society, said criminal defence lawyer Henry Burr, who was successful at winning his client's release after a two-hour bail hearing.
There is a publication ban on the police evidence presented at Friday's bail hearing.
His release was granted after he and his wife posted a $12,500 bond. He put up $7,500, and his wife posted the remaining money, which they lose if the cabbie breaches his conditions. If he breaks any of his bail conditions, he could end up living in jail until trial.
According to his bail conditions, Zeiti is also banned from being within one kilometre of the alleged victim's residence.
The accused's family described him as a hard-working father who clocked long hours at the wheel of a taxi to provide for his wife and four children.
Zeiti, who has worked at Blue Line since 2010, moved from Syria to Canada in the 1990s, and is now a Canadian citizen.
He is charged with sexually assaulting a 20-year-old woman who hailed a cab on Bank Street after 2 a.m. Saturday morning.
Police say the woman was driven to a residential neighbourhood near McCarthy and Walkley roads and the driver sexually assaulted her in the back seat of the Blue Line cab.
Police detectives seized a taxi earlier this week after a review of surveillance images from a camera inside the cab.
Zeiti next appears in court in December, and until then, he has to be at home every night by 11 p.m., according to a court-ordered curfew.
twitter.com/crimegarden