Hamilton police flooded with thousands of emails 'honest cops" very polite arrest of flailing woman
National Post Staff | 12/12/13 | Last Updated: 13/12/13 4:12 PM ET
More from National Post Staff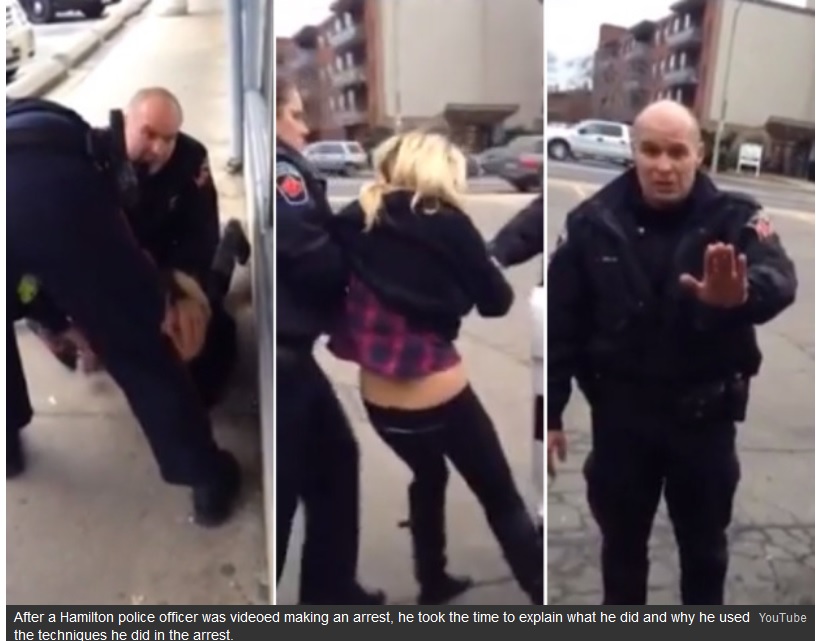 Hamilton police say they're "overwhelmed by the thousands of emails" after nearly a million people tuned in to watch officers make a difficult arrest.
The video, titled "honest cops" and posted on YouTube on Wednesday, shows two Hamilton police officers subduing a screaming woman. Throughout the arrest, the male officer uses his size to hold her to the ground, placing handcuffs on the woman before ushering her to the back of a police cruiser.
After she's in the car, the officer politely explains the level of force used.
"I'm doing my best, ma'am, not to hurt that girl," officer Mark Morelli explains to several people who filmed the arrest.
"…While it may appear to be very rough to you — I apologize for you having to see that — but unfortunately I have the lawful authority to arrest her, I am obligated to arrest her. I can't tell you why, and I'm really sorry about that, but she deserves some privacy too."
As the video spread across the Internet, to mostly positive reviews, Hamilton Police Chief Glenn De Claire released a statement after being inundated with calls and emails.
"I am impressed by the professionalism of our officers during this arrest and very proud," he wrote Thursday. "They maintained a calm response, using the appropriate use of force options during a stressful incident."
Spectators start filming the arrest as Morelli and officer Chantal Wilson wrestled with the woman outside a store. As she flailed, Morelli held her to the ground as the second officer controlled the woman's kicking feet.
"I can't breathe," she complained.
"Just let her go," one of several photographers said.
"No excuses! No excuses!" someone else shouts.
"Go stand over there," the Wilson says.
The video runs for several minutes as the two officers struggle to get the woman to the cruiser.
"Unfortunately, she decided to try to resist arrest … and while it may look and appear to be something much worse than it is, it is only because she is resisting so violently and flailing around on the ground," Morelli tells the crowd after.
Morelli then goes into specifics about how exactly he confronted the woman, and what techniques he used.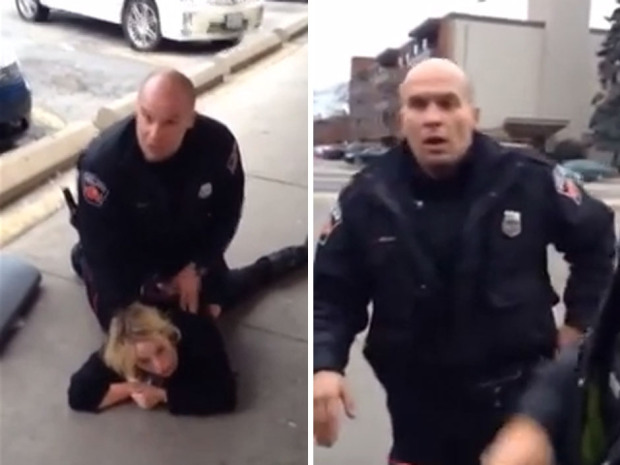 Mark Morelli during and after Sunday's arrest.



"Our mandate is to effect arrests doing the minimum amount of damage to people as possible. That's what I tried to do, no matter what it may appear. I can assure you, I used soft hand techniques … I didn't punch her, I didn't throw her to the ground, I grabbed her and she began to struggle. I'm not going to get into a long wrestling match with a young girl, because the longer she fights, the more likely that one of the two of us going to get hurt."

The video was posted on the social-sharing site Reddit Wednesday evening and the incident reportedly took place on Sunday morning.



I didn't throw her to the ground, I grabbed her and she began to struggle



Social media reaction was mostly behind the police.

"My God the guy filming is an idiot. I could clearly see her resist and start flailing and not listening," user MattBinYYC wrote. "The cops weren't even that hard on her to begin with. Good on the cop to take the time to actually stand up for himself."

Another user who said that he was from an area of Hamilton near where the video was shot also chimed in.

"I'm actually from Hamilton and sadly, a lot of the people in the east end of the city are like this," user blegg44 said. "The cop did an outstanding job, that's how all police should act." Which garnered the response from FutureRocketSurgeon: "It just killed me how defeated he sounded when he knew that no one was listening to his side of the story."

The reaction was much the same on Twitter.

Hamilton police Chief Glenn De Caire told CBC Hamilton He was "very pleased with the amount of communication from our officers." The Hamilton Police also confirmed to the CBC that the incident, which took place in the neighbourhood of East Mountain, involved a domestic situation.




Press release from Hamilton Chief of Police Glenn De Claire:
Chief De Caire on Viral Video

For Immediate release: December 12th, 2013
Hamilton, ON

I am impressed by the professionalism of our officers during this arrest and very proud. They maintained a calm response, using the appropriate use of force options during a stressful incident. Everyday our officers deliver this type of excellence in policing when responding to hundreds of calls from our citizens.

We have been overwhelmed by the thousands of emails and the social media response we have received in support of our officers and our Service.

With this incredible volume of support, we won't be able to individually respond to everyone. We wish to extend our sincere thanks to all who have taken the time to share their comments and support.

Source


Commentary by the Ottawa Mens Centre


It's amazing how Police officers can act so professionally, and show so much empathy, compassion and respect for privacy, when there is a video camera running.
Another good reason why Police Officers should have video and audio recorded while on duty.

Audio recordings did not however prevent an Ottawa Police Partner Assault Det. Peter Van der Zander from fabricating evidence to justify not laying assault charges against a female apparently in order to justify an Ottawa Police claim that 90% of victims are women.
If you have been a victim of fabrication of evidence by Det. Peter Vanderzander, email ottawamenscentre@gmail.com

www.OttawaMensCentre.com
Readers should note that the person being arrested was a woman, and if this had been a male, the odds of the same treatment or of bystanders taking as much interest, or of someone videoing the arrest is a hell of lot less simply because of gender.
The Hamilton Police are just as notorious as the Ottawa Police for arresting male victims of domestic violence and is riddled with a similar criminal private corporation in the city of Hamilton with an exclusive untendered contract for child protection services called "the children's Aid Society" which is just one of 48 cult like private corporations across Ontario who direct the various police forces to make arrests and to withdraw charges for the purposes of gaining an improper legal advantage.
Ontario Police and Child Protection Workers are famous for victimizing the victims of domestic violence of both genders with the claim that the victims exposed the child/ren to domestic violence.
These lowest forms of life undermine the administration of justice and make Ontario a less than third world country when it comes to justice which makes Ontario, one of the most lawless corrupt societies in the western world.
Makes you want to tear up your Canadian flag in disgust.
www.OttawaMensCentre.com
It's tragic that good police officers take the rap for all the lowest forms of life. At the end of the day, every police officer still covers for their fellow officers when they fabricate evidence and or pervert the course of Justice.
In Ottawa, Det. Peter Vanderzander is an example of the lowest forms of life who fabricates evidence and commits criminal offences against the administration of justice just to go along with the Ottawa police policy of promoting violence against fathers.

Ottawa, Canada's capital for arresting male victims of domestic violence and where women know they can assault the fathers of their children, in front of the children with impunity and if ever makes a complaint to police, HE will be arrested and the CAS called to ensure he never sees his kids again.
If you have been a victim of the Det. Peter Vanderzander of the Ottawa Police send an email to ottawamenscentre@gmail.com or call 613 797-3237
www.OttawaMensCentre.com