The Conservative Party is against segments of Canada's civil society that stand up for Palestinian rights.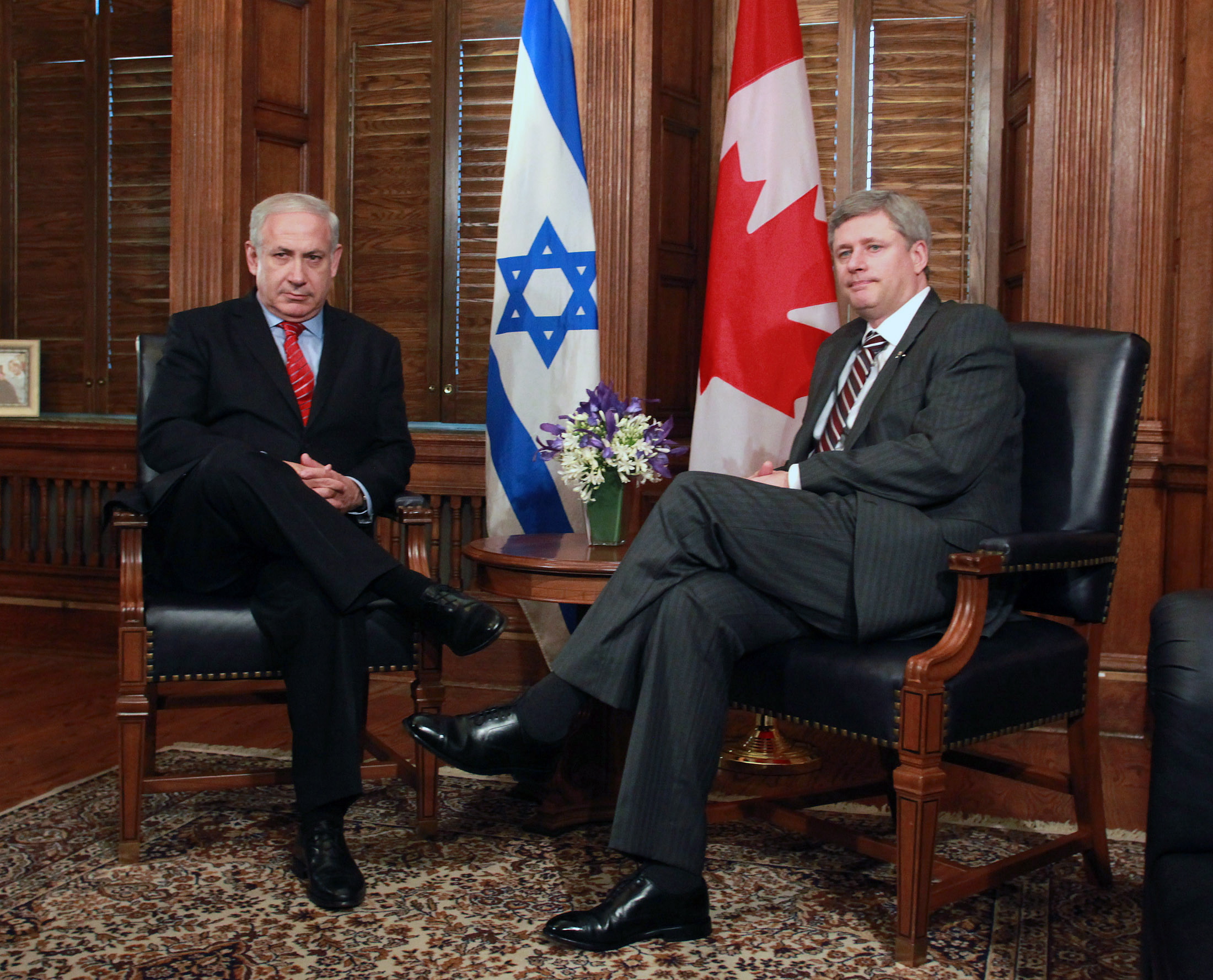 In Toronto, the Canadian Arab Institute (CAI) held its inaugural gala on October 30, officially ushering in the country's first Canadian Arab think-tank. Numerous dignitaries attended the fundraiser, which specified the institute's aim to renew Canada's internal and external dialogue vis-a-vis the Arab world.
Indeed, the ruling Conservative Party's Minister of Citizenship and Immigration Keith Alexander showed up to talk about, among other things, the Tories' humanitarian efforts towards Syria.
On December 1, Toronto played host to another gala: the Jewish National Fund's (JNF) annual Negev Dinner. The JNF is a quasi-governmental organisation that buys and leases/sells land in Israel, but has refused to do so to Arab-Israelis since 2004.
Many conservative politicians, showed up, though one stood out in particular: Prime Minister Stephen Harper, who reiterated, yet again, his administration's undying support for Israel. He stated his support for the "homeland of the Jewish people" amid a "region of darkness". Meanwhile, hundreds protested outside against Israel's (now defunct) "Prawer Plan", which sought to "relocate" tens of thousands of Bedouin off "state-owned land".
The protest is emblematic of the war waged by Harper's Conservative Party against segments of Canadian civil society that have stood up for the rights of Palestinians, both in Israel and in the Occupied Territories. So far, the Harper administration has gained the upper hand by gutting and smearing an entire segment of Canadian civil society that have stood up for Palestinian rights and dignity.
These non-profit organisations range from the Canadian Arab Federation (CAF), which provided settlement services for immigrants, to the International Relief Fund for the Afflicted and Needy (IRFAN)-Canada, a group that sent dialysis machines to the Gaza Strip, to the KAIROS Canadian Ecumenical Justice Initiatives, one of Canada's largest progressive church-based NGOs.
It is often said that the current conservative party aims to take "big government" out of Canadian life. What they're really taking out is civil society's role in Canada's democracy.
Smear campaign
The case that perhaps best illustrates the Harper administration's effort to erode Palestinian Canadian civil society is its smear campaign against IRFAN Canada.
The Fund, based in Mississauga, Ontario, is widely regarded in Canadian Arab circles as a major charity, often sponsoring some of the biggest events put on by Arab and Muslim Canadians. It lost its charitable status in April 2011.
A report from the Toronto Star shows that the Canadian Revenue Agency (CRA) concluded through audits that the Fund gave money to several organisations with "direct ties" to Hamas, a designated terrorist group in Canada. The Agency does not prove that IRFAN knowingly and directly dealt with Hamas. Nor does it care that having won the 2006 Palestinian Legislative election, Hamas is in direct control of the Gaza Ministry of Health, which deals with matters of humanitarian relief.
Under such circumstances, it would be hard for anyone to donate legally to Gaza, an area that the Red Cross and the World Health Organization have designated as one of the worst humanitarian crises on the planet.
Demonisation of IRFAN has also been used to smear organisations that associate with IRFAN. For example, the Fund sponsored the Reviving the Islamic Spirit (RIS) conference, one of the biggest annual Muslim conventions in North America.
Last year's conference featured Canadian Member of Parliament Justin Trudeau, now leader of the Liberal Party of Canada. Obscure anti-Muslim activists used the CRA's verdict on IRFAN to label RIS as an "Islamist" initiative, effectively smearing Trudeau himself. To his credit, Trudeau remained steadfast in his participation.
However, IRFAN, undefended by the convention's organisers, eventually withdrew as a sponsor.
Charge of anti-Semitism
CAF's former President Khaled Mouammar has referred to Israel as an apartheid regime, and publicly supports the Boycott, Divestment, and Sanctions (BDS) movement against Israel.
The Federation provided job search workshops and ESL classes for recent immigrants, federally funded by Citizenship and Immigration Canada which, until recently, was under the leadership of Minister Jason Kenney.
Kenney has made it widely known that he is an unequivocal supporter of Israel. Like many such "supporters", Kenney confidently equates criticism of Israeli policies with anti-Semitism. In a 2009 speech delivered in London, Kenney called out CAF for, as the CBC reported, "hatred against Jews".
He explained that CAF "should not expect to receive resources from the state, support from taxpayers or any other form of official respect from the government or the organs of our state". Kenney stopped $447,000 in funding to CAF in March 2009, depriving the organisation of its settlement services, prompting the organisation to sue.
Kenney's decision showed that under the Harper administration, civil organisations will only receive funding if they align politically with the Tories.
Oda-KAIROS scandal
A joint enterprise by several mainstream Canadian Christian groups, KAIROS has long been one of Canada's most respected development organisations.
According to its 2008 Annual Report, KAIROS depended on support from the Canadian International Development Agency (CIDA) for roughly 40 percent of its total funding. KAIROS was in good enough standing that it boasted an impressive 35-year working relationship with CIDA.
In March 2009, KAIROS applied for a routine $7m in funding for the succeeding four years. For four months, the request made its way through CIDA, and acquired approval from different levels until it finally ended up on Minister of International Co-operation Bev Oda's desk for a final okay. On November 30, KAIROS got a call from CIDA saying that the funding request had been rejected. Other than being told that the request did not align with CIDA's priorities, no further explanation was given.
That December, Kenney shed some light on the matter in speech he gave at the Global Forum to Counter Anti-Semitism in Jerusalem, by saying that, "We [the Canadian government] have de-funded organisations, most recently like KAIROS, who are taking a leadership role in the boycott. And we're receiving a lot of criticism for these decisions."
Kenney was referring to the BDS movement that, in fact, the board of KAIROS had not endorsed.
Aside from conflating activism against Israeli policies with anti-Semitism, Kenney was also misinformed. Kenney has since tried to backtrack.
In a letter to the Toronto Star, Kenney said that, "While I disagree with the nature of KAIROS's militant stance towards the Jewish homeland, that is not the reason their request for taxpayer funding was denied."
About a year later, Kim Mackrael, a graduate student studying journalism at Carleton University, found out that Oda denied KAIROS funding against the recommendation of 20 CIDA experts. She did so by deliberately mischaracterising CIDA's memo to her, recommending she approve KAIROS' application.
Mackrael acquired this memo via the Access to Information Act. It turns out Oda inserted the word "NOT" into a key statement in order for the memo to appear as if it hadn't recommended approval for KAIROS. Oda was asked to resign by opposition Parliamentarians. She finally did so amid this and other controversies.
Harper's worldview
The Harper administration's support for Israel, as reflected in its foreign policy, aims to consolidate a party base constituted substantially of voters who view the Middle East through a Biblical lens.
The "Harper worldview" has resulted in the gutting and demonisation of so many institutions within the Palestinian and Muslim communities as to make well-rounded democratic input on this issue almost impossible.
The extensive effects of this approach to governance have effected many groups that depend on the state for most of their funding (and thus securing a line of communication with the administration as to what policy ought to look like).
The conventional television media in Canada portrays other political parties as the major casualties of the Conservative majority. It's about time that Canadians recognise the true casualty of this careless governance method: The role of civil society in the democratic process.
Steven Zhou graduated from Carleton University with a Masters of Journalism and went on to work for the CBC and The Ottawa Citizen as a reporter. His writings have also appeared on The Globe and Mail, Counterpunch, Electronic Intifada, and J-Source, among other publications. Zhou worked as a regional coordinator with Canadians for Justice and Peace for the Middle East (CJPME), the only incorporated NGO that fights for Palestinian rights in Canada, as well as with the Canadian Arab Federation, as an Access and Equity Officer.
The views expressed in this article are the author's own and do not necessarily reflect Al Jazeera's editorial policy.