A Russian flag flies above one of the barricades which surround the Donetsk Regional Administration Building on April 23, 2014 in Donetsk, Ukraine.




DONETSK, Ukraine — Ukraine's highly publicized goal to recapture police stations and government buildings seized by pro-Russia forces in the east produced little action on the ground Wednesday but ignited foreboding words from Moscow.

Russian Foreign Minister Sergey Lavrov warned that Russia would mount a firm response if its citizens or interests come under attack in Ukraine. Although he did not specifically say Russia would launch a military attack, his comments bolstered wide concern that Russia could use any violence in eastern Ukraine as a pretext for sending in troops. This came with the news that Canada will send over 500 election observers into the country.

Separately, the Russian foreign ministry issued a statement demanding that Ukraine pull its armed forces out of the crisis-ridden region. Russia, meanwhile, has tens of thousands of troops stationed in areas near the Ukrainian border.

Ukraine's interim government has accused Russia of orchestrating the unrest in eastern Ukraine.

The Interior Ministry said police forced a group of armed insurgents out of the eastern village of Svyatogorsk on Wednesday, but did not give details of the action other than to

say there were no injuries.





Still, it's unclear how much capacity Ukraine's interim government in Kyiv has against the insurgents.

A previous operation to reclaimed seized buildings showed few results before it was suspended last week following international talks in Geneva that produced an agreement to de-escalate the crisis. Ukrainian forces claimed to have regained control of one small airport, but insurgents also seized armored vehicles and reports said some Ukrainian soldiers had switched sides.

"Security forces are in a state of disorganization and demoralization," said Kyiv-based political analyst Volodymyr Fesenko. "Today, most of them don't want to fight for anyone because they don't know who is going to win tomorrow and how all of this will end."

The army is underfunded and poorly equipped after years of corruption and mismanagement under Viktor Yanukovych, the Russia-friendly president who fled the country in February after months of protests.

Yanukovych's ouster sparked wide anger in his support base in Ukraine's east. The insurgents, who claim Ukraine's post-Yanukovych government consists of nationalists who will suppress the east's large Russian-speaking population, are demanding regional autonomy or even annexation by Russia, like the Black Sea peninsula of Crimea last month.

The insurgents, whom Kyiv and the West claim have Russian backing and direction, have occupied buildings in at least 10 eastern cities. Eugene Rumer, director of the Russia program at the Carnegie Endowment for International Peace, says the strategy appears to be "spreading across the map like ink blots."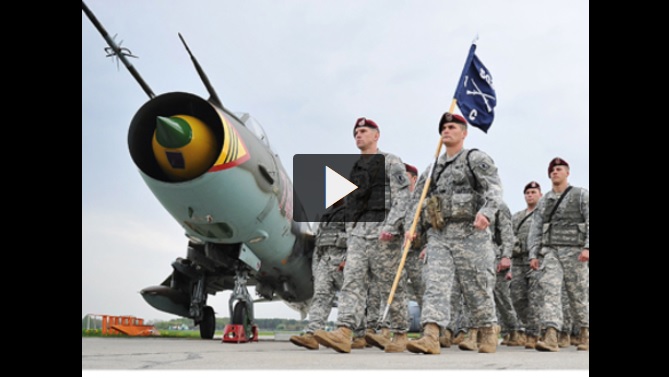 "They are a long ways away from merging into a large area, but this strategy is proving quite effective at challenging the power and authority of the Kyiv government, undermining Ukraine's territorial integrity and spreading the insurgency over a vast region that otherwise the Russian military would struggle to occupy and control," he wrote in an analysis.
In Fesenko's view, it's impossible for Ukraine to restore control over the insurgent region by force.
"Now the task is to block the spread of the separatist virus," he said.
The heart of the insurgent region — centred on the eastern city of Slovyansk, 160 kilometres west of the Russian border — has fallen into lawlessness. The order to resume the government operation came Tuesday after the bodies of two people allegedly abducted by pro-Russia insurgents were found in the area.

A woman, wrapped in the Ukrainian flag, holds a placard reading "Hands off Ukraine" during a mass prayer service in the northeastern Ukrainian city of Kharkiv on April 23, 2014.



On Wednesday, pro-Russia forces in Slovyansk admitted they are holding an American journalist, saying he was suspected of spying for Ukrainian ultra-nationalists.

Simon Ostrovsky, a journalist for Vice News, has not been seen since early Tuesday in Slovyansk. The fluent Russian-speaker who also holds an Israeli passport has been covering the crisis in Ukraine for weeks and was reporting about the masked gunmen seizing government buildings.

Vice — a media company that specializes in "immersive" media with a heavy international emphasis — is noted for its often-irreverent reporting.

Stella Khorosheva, a spokeswoman for the Slovyansk insurgents, confirmed that Ostrovsky was being held.

"He's with us. He's fine," Khorosheva told The Associated Press.

"[We] need to be careful, because this is not the first time we're dealing with spies," Khorosheva added, saying Ostrovsky is suspected of spying for the Right Sector, a far-right nationalist group despised by the pro-Russia forces.

She dismissed claims he was a hostage, saying the insurgents were not seeking to "exchange him for someone."





The insurgents in the east are defying last week's agreement in Geneva between Russia, Ukraine, the European Union and the United States that called for all sides to disarm militant groups in Ukraine and to vacate public buildings they are occupying.

Right Sector members have occupied two buildings in the capital, Kyiv, for months, but Ukraine authorities say their priority is to get the gunmen in eastern Ukraine to vacate those buildings.

Canada will send up to 500 people to monitor Ukraine's presidential election next month, Prime Minister Stephen Harper said Wednesday.

The Canadian delegation is to include up to 338 people in an election observation mission.

"Canada is a world leader in helping to promote democracy and good governance in Ukraine," Harper said in a statement.

"The measures announced today will help ensure that the upcoming Ukrainian elections are free and fair and that democracy and governance are the cornerstones of the new government."




Another group of up to 150 observers and 12 parliamentarians will join a election-monitoring mission from the Organization for Security Co-operation in Europe.

The government has earmarked $11 million to cover the costs of the observers.

In Washington, State Department spokeswoman Jen Psaki said U.S. authorities are "deeply concerned" about Ostrovsky's detention.

"We condemn any such actions, and all recent hostage-takings in eastern Ukraine, which directly violate commitments made in the Geneva joint statement," she said. "We call on Russia to use its influence with these groups to secure the immediate and safe release of all hostages in eastern Ukraine."

The crisis in Ukraine has provoked clear anxiety in Western Europe. Poland, which borders Russia and Ukraine, conducted its first major security exercise in decades on Wednesday.

In addition, Dutch, British and Danish fighter jets scrambled Wednesday afternoon after a pair of Russian bombers approached their airspace over the North Sea. The Russian TU-95 Bear jets were escorted by the NATO members' aircraft until they departed.

And the presidents of four post-Soviet republics and Ukraine's foreign minister were meeting in Prague with EU nations Thursday to figure out how to stop Russia from blocking their increased ties.

Jim Heintz and Nataliya Vasilyeva in Moscow, Maria Danilova in Kyiv and Matthew Lee in Washington, DC, contributed to this report. With files from Canadian Press

Source







Commentary by the OttawaMensCentre