Ottawa South: Riding has been Liberal stronghold, but tight race could be shaping up
TOM SPEARS
May 30, 2014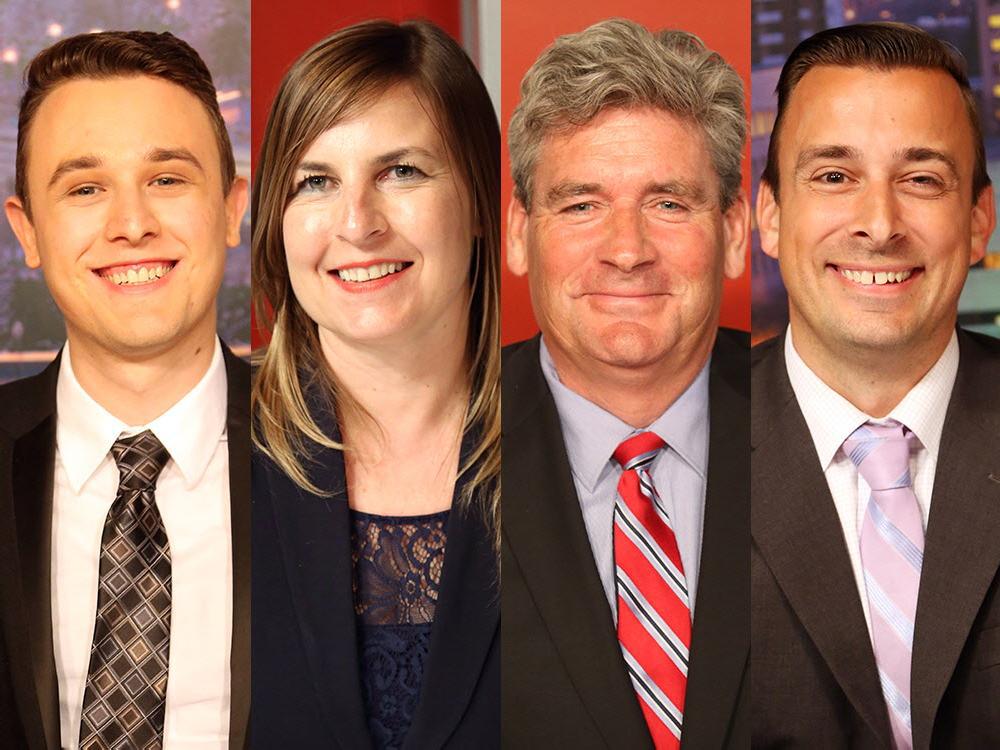 Ottawa South riding candidates include, from left, the Green party's Matt Lakatos-Hayward, New Democrat Bronwyn Funiciello, Liberal John Fraser and Progressive Conservative Matt Young.
Ottawa South was as Liberal as you could get under two Dalton McGuintys (senior and junior), although before 1987 it had been Tory since Fitzgerald was still writing The Great Gatsby.
Liberal newcomer John Fraser beat Progressive Conservative Matt Young and the NDP's Bronwyn Funiciello in a byelection last August after McGuinty retired, and all three are back today.
Fraser had a winning margin of fewer than 1,300 votes over and Young. Funiciello finished about 10,000 back.
Now two of the riding's city councillors say they are hoping for an MPP who gets the concept that there's no longer a clear line between what municipalities do and what the province does.
Take transit, says Diane Deans, who happens to chair the city's transit committee. Residents, she says, "are looking for the provincial government to be partners in public transit funding." As Ottawa builds an east-west light rail system, she doesn't want the province to overlook the expansion of the O-Train to Riverside South.
As well, there's the issue of seniors, a growing proportion of the city's population.
Social services and programs that allow seniors to remain in their own homes are at a premium. Cuts to physiotherapy for seniors became a flashpoint for Ontario seniors, and their families, last year.
Deans and Peter Hume also worry that the province will try to save money by cutting grants to cities for paramedics and firefighters. Both see a smoothly-operating partnership between city and province as key.
Whoever wins, Dean knows what she wants the winner's first act in office to be: "Pick up the phone and let's talk."
The Citizen asked the four main candidates:
Question 1: What is your commitment to transit in Ottawa South, especially O-Train expansion?
Question 2: What will you and your party do to support seniors and social services?
MATT YOUNG
Party: Progressive Conservative
Occupation: Business development manager
Transit: Young says the Conservatives' Million Jobs Plan will support the O-Train's southward extension. "On major programs of significant economic interest to the province like the LRT expansion, expect a PC government to work with municipalities to ensure that funding is available to help our cities grow," he said. But he says the city hasn't made a formal request or set up the needed timetable yet.
Social services: He says the Conservative jobs plan "commits to delivering care of our seniors closer to home by expanding home care and long-term care availability, and by promoting more types of care in the home." In a Rogers TV debate, Young said the Conservatives will still hire "front-line" health and education workers despite planned cuts of 100,000 public sector jobs.
Young says the biggest issue for Ottawa South constituents is rising hydro costs.
MATT LAKATOS-HAYWARD
Party: Green
Occupation: Graduating student, intern with Elizabeth May, national leader, Green Party.
Transit: To promote the O-Train growth and the LRT, he wants changes to Ontario's Development Charges Act. These would make developers pay a higher charge immediately for land near improved transit, rather than the gradual increase that applies under today's system.
Social services: The Greens don't suggest any major changes to support for seniors or other social services, he says. But he adds that "there's not a lot of resources now in the province. We've got kind of big economic problems. But we would really want to target our resources efficiently" to reduce waste on needless administrative costs.
A major Green issue for Ottawa South is opposition to the Energy East pipeline, since he feels it's only a matter of time before the pipeline spills oil into the Ottawa Valley somewhere. The pipeline route crosses the Rideau River upstream from Ottawa South. If it's permitted by the federal government, he wants strengthened Ontario environmental regulations to apply to it, and make sure that the people of Ottawa get benefits from the pipeline to offset environment risks.
BRONWYN FUNICIELLO
Party: New Democrats
Occupation: Federal public servant, school trustee
Transit: "Transit isn't just about the GTA," she says. She promises investment to support transit here with the LRT, as "we need to get more cars off the road and provide commuters with real solutions and reliable choices." She says the NDP "will restore funding for new buses that Kathleen Wynne cut when she was transit minister. The expansion of transit must meet the needs of our residents, and we must make smart investments in infrastructure to ensure the community is well served.
Social services: She promises the NDP will also spend in areas of public health care, child care, housing, and schools. "The Ontario NDP will cut emergency room wait times in half by hiring 250 new nurse practitioners, opening 50 new family health clinics, eliminating wait times for acute long-term care," and mandating a maximum five-day wait for home care for those who qualify for it.
JOHN FRASER
Party: Liberal
Occupation: Incumbent MPP
Transit: "The extension of the O-Train to Riverside South is a priority for me; it will take cars off our roads and ease congestion for our community. The province will be there for Phase 2 and I will be encouraging the city to fast track the extension to Riverside South." He says the Liberal government has invested more in transit in Ottawa than previous governments, including light rail, the Transitway expansions and new buses.
Social services: "The province has a responsibility to come to the table with its share of the funding for the services that our families count on and our party has committed to doing just that." He also says the Liberals commit to taking back responsibility for services that were downloaded to municipalities by Mike Harris's government. Liberals would increase the wages for personal support workers (PSWs) by $4 an hour, he said. In the Rogers TV debate, Fraser said the riding has made gains under Liberal governments including expansions at CHEO and the Regional Cancer Centre, shorter medical wait times, and smaller class sizes.
Commentary by the Ottawa Mens Centre
What a sick pathetic Joke.
NONE of these politicians gives a rat's behind about "Social services".

If any of these gutless cowards gave a dam about law and order, crime, corruption, Crimes against humanity, child abuse and terrorizm of Ottawa families, they would have spoken out
to bring an end to the Children's Aid Societies of Ontario.

Our politicians fail to add up the Billions of Dollars that Ontario Liberals have for decades given to
"The Gestapo" of Ontario.

In Ottawa, the Gestapo operations are supervised by Ottawa's God-Father ROB GODMAN who has unbelievable influence in Ottawa that effective dictates to the Ottawa Police to lay criminal charges, to Stay Criminal charges and to provide Immunity from prosecution of Criminal Offenses against the administration of justice not to mention, immunity from Child Abuse and terrorism of parents.

Check out the wanted pages
at
OttawaMensCentre