Assault conviction for hockey hit will have 'chilling effect' on recreational leagues, lawyer warns
Meghan Hurley, Postmedia News | August 13, 2014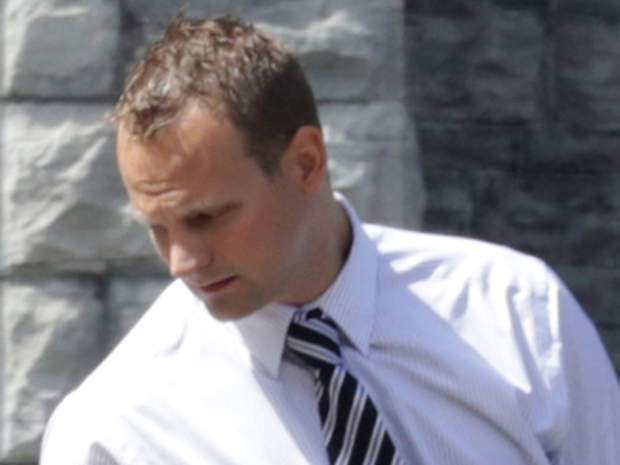 Gordon MacIsaac attempts to avoid a photographer after exiting the Elgin St. courthouse in Ottawa, Wednesday, August 13, 2014.
A 31-year-old recreational hockey player has been sentenced to 18-months probation after a rare criminal conviction for an on-ice collision — a decision that his lawyer says has set a dangerous precedent that could chill participation in such hockey leagues.
Ontario Court Justice Diane Lahaie described the incident, which took place during an Ottawa Senior Men's Hockey League game on March 12, 2012, as a "deliberate blindside hit."
However, Patrick McCann insists his client, Gordon MacIsaac, did not intentionally hit 31-year-old Drew Casterton.
The collision broke some of Mr. Casterton's teeth, scarred his face and caused a concussion that resulted in debilitating headaches.
MacIsaac was convicted at trial of aggravated assault, and at sentencing on Wednesday he was also ordered to pay $5,000 to Mr. Casterton, provide a DNA sample, was banned from possessing a weapon and was forbidden to play or coach competitive sports during his 18 months' probation.
It will inevitably create a chilling effect on anybody that considers playing recreational hockey
MacIsaac's lawyer said the conviction of his client — a PhD student — could give many recreational hockey players pause.
"It will inevitably create a chilling effect on anybody that considers playing recreational hockey," Mr. McCann said. "This could happen to anybody in that situation."
Judge Lahaie said during MacIsaac's sentencing Wednesday that he is an accomplished man who is nearly finished a PhD in aerospace engineering. The judge said she considered the letters of support filed in court that described MacIsaac in "glowing terms."
Those letters described MacIsaac as one of "Canada's rising academic practitioners," a "man of integrity" and level-headed person.
The judge said she also took into account the remorse MacIsaac expressed in a letter of apology written to Mr. Casterton, which she called both touching and sincere.
In the letter, dated Jan. 29, MacIsaac wrote that he never fully understood the extent of Mr. Casterton's injuries until he testified in court.
"I was completely crushed to learn of your long and difficult journey," MacIsaac wrote.
The injuries Mr. Casterton suffered during a game, which took place in a non-contact league, were serious. The court heard the former personal trainer can now only work six hours a week.
While MacIsaac's future looks bright, with a newborn daughter and a job in his field in Calgary, the judge said, Mr. Casterton has gone into debt because he can't work and is on the verge of losing his home.
"Mr. Casterton's success and bright future came to a screeching halt in the last 47 seconds of that hockey game when your frustrations caused you to do what you did," the judge told court.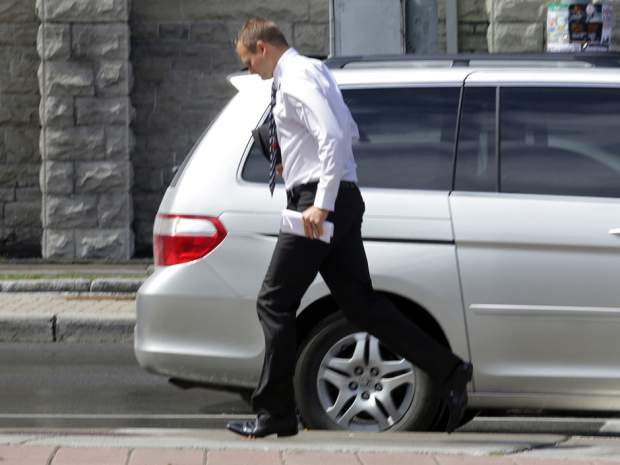 Gordon MacIsaac runs in an attempt to avoid a newspaper photographer in Ottawa, Wednesday, August 13, 2014.
Different versions of the incident were presented at trial.
Witnesses for the prosecution said Mr. Casterton was coming out from behind the net as MacIsaac was rushing in. Witnesses on the victim's team said that with 47 seconds left in the game, MacIsaac's feet left the ice and he hit Mr. Casterton's head, snapping it back. Mr. Casterton lost consciousness and fell to the ice.
Jonathan Desjardins, a referee at the game, testified that both Mr. Casterton and MacIsaac were rushing toward the puck behind the net when the collision happened.
"What I saw, clearly saw, is [MacIsaac] jumped off the ice," Mr. Desjardins testified. "His skates left the ice, arms in the high position, making contact with the victim."
Mr. Desjardins testified that three players from Mr. Casterton's team skated over to where the referee was helping the victim. The players told the referee that MacIsaac skated in front of the other team's bench and said he got Mr. Casterton back for an earlier hit.
I am no longer the strong, supportive, energetic, extroverted, confident person I used to be
However, Mr. McCann argued that MacIsaac didn't say anything about payback for an earlier hit to any of Mr. Casterton's teammate.
Witnesses for the defence said that as MacIsaac was rushing in, he was involved in an unavoidable collision and that his feet never left the ice.
The victim wasn't in court Wednesday for MacIsaac's sentencing. He couldn't bear reliving the incident once again, the court heard.
His victim-impact statement, however, offered a glimpse into his injuries and the emotional and financial losses.
"Emotionally, it is hard to bear," he wrote. "I am no longer the strong, supportive, energetic, extroverted, confident person I used to be."
Mr. Casterton filed a $600,000 lawsuit on Feb. 27 against MacIsaac and the Ottawa Senior Men's Hockey League. The allegations in the lawsuit have not been tested in court.
In the statement of claim, Mr. Casterton alleged he suffered a major concussion, two broken teeth, cuts to his face and mouth and soft tissue injuries to his neck, spine and jaw from a hit to the head.
Mr. Casterton said in the statement that the hit to his head resulted in daily headaches that have kept him from socializing with friends.
In the 22 months before the assault, his business grossed $82,000. Since he could only work limited hours in the past 22 months, his earnings fell to $12,995, the statement of claim alleges.
MacIsaac wrote in his apology letter that it's devastating that Mr. Casterton hasn't been able to live his life the way he previously did.
"It is likely that my apology means little with respect to your hardship, but I am writing this so that you are aware of my complete remorse," MacIsaac wrote.
Postmedia News
Commentary by the Ottawa Mens Centre
The finding of guilt was a forgone conclusion as is the case most of the time with Justice Diane Lahaie who is notorious for personally fabricating justifications for her politically correct decisions and sentencing at the extreme high end.
This is the kind of justice one expects from the deep south of the United States where public defenders are non existent and or press ganged into defending accused persons.
This a judge the crown seek and obtain when they have a next to no chance of obtaining a conviction and who delivers predictable convictions.
Innocent accused persons plead guilty because they cannot afford the sort of lawyer that can only be obtained on a private retainer.
This is a judge who "spins" out trials to create so many delays that the accused change innocent pleas to guilty pleas simply to get away from "the smiling assassin" which is the name she has earned particularly since becoming a judge.
Prior to becoming a judge she was a prosecutor with a similar reputation in Cornwall.
This is the kind of judge who unnecessarily and improperly fills Ontario Jails with innocent men all in jail based on a "she said".
If you have a story to tell regarding "The Smiling Assassin"
Diane Lehaie, send an email to info@ottawamenscentre.com or call (613) 797-3237
If you are presently facing this judge, make sure you do not have a "dump truck" for a lawyer.
P.S. Gordon MacIsaac was later acquitted in appeal in a spectacular decision at the Court of Appeal represented by two lawyers Andrew Burgess and Frank Addario of the Addario Law Group LLP
Ottawa Mens Centre