Death in Pleasantville: Nancy Cooper was strangled — six years later, her husband has confessed
Jana G. Pruden, Postmedia News | October 24, 2014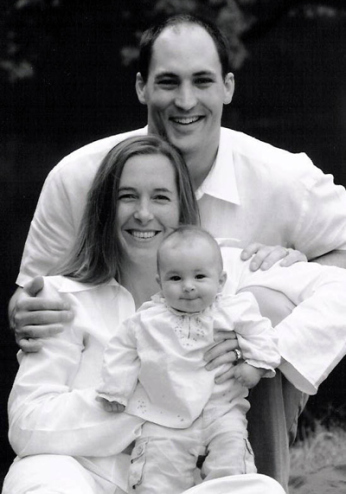 Nancy and Brad Cooper with one of their daughters. Town of Carey Police Dept.
Cary, North Carolina, looks like the American dream. National Geographic once called it ''a futuristic Pleasantville," a town of the young, affluent and educated.
It is a place where neighbours regularly gather for barbecues and cookouts, just as they did on the evening of July 11, 2008, couples eating and mingling while their children played on a warm summer evening, including Brad and Nancy Cooper and their two young daughters.
It was the last time Nancy's friends saw her alive.
Nancy Lynn Rentz and Bradley Graham Cooper were born in Alberta seven weeks apart in the summer and fall of 1973; they met working for IBM in Calgary in 1999.
Nancy was sporty and fun-loving, and ran her own clothing store in addition to her IBM work. She'd always dated popular, outgoing men, and Brad was quiet and reserved. She wanted children and a steady life, and it seemed like he would give that to her. Nancy's heart had been broken before, and she told her sister that Brad felt safer.
"Choose the one you love," Nancy's mother said.
Brad bought Nancy a stunning diamond ring for their engagement, and they planned a big wedding. But when Brad got a job working for Cisco, they decided to marry right away so Nancy could move with him to Cary — another successful young couple in one of the safest cities in America.
Jessica Adam called 911 early on the afternoon of Saturday, July 12, 2008. She was almost breathless, panic swirling in her voice.
Nancy was supposed to be at her house at 8 a.m., but hadn't showed up. Brad said Nancy went jogging with another friend but he was vague on the details, and it wasn't like Nancy to miss plans.
"I don't know what I should do," she told the 911 operator. "Her husband and her are living together but they are in the middle of a divorce. And he is, um, …" The end of the sentence disappeared into a breath.
Nancy's parents, Garry and Donna Rentz, were at a funeral in Edmonton a few hours later when Garry's phone started buzzing in his pocket. The calls were so insistent he went outside to answer. It was Nancy's twin sister, Krista, telling them Nancy was missing.
Nancy Cooper with her brother, Jeff Rentz, left, and father, Garry Rentz, on her wedding day. Courtesy of Rentz family
Garry said to his wife, "Donna, this story is not going to have a happy ending."
The disappearance of an attractive 34-year-old housewife with a successful husband and two young daughters was the kind of case people noticed. Within days, the story was picked up by media around the United States and internationally.
Two days after Nancy was reported missing, a man walking his dog saw a body floating in stormwater in an undeveloped subdivision just outside the town of Cary, about five kilometres from the Coopers' house.
"You think she's beyond any help?" the 911 operator asked.
"I think she's dead," he said.
Nancy had been strangled, choked so hard a bone in her neck broke.
Brad Cooper grew up in a traditional middle class family in Medicine Hat. A psychologist noted Brad gave the impression of "some detachment with little emotional warmth" when he spoke of his family.
Brad was athletic and highly intelligent, with an above-average IQ and a sense of resolve that saw him achieve most of what he set his mind to. He chronicled his accomplishments on his blog, Adventures of Brad, in a section entitled "Goals Completed."
After Nancy's body was found, many turned to Brad Cooper as the obvious suspect.
A week after Nancy was last seen alive, Cooper's lawyers held a press conference to confront the "wild speculation" about the case, and address his noticeable absence at memorials and press conferences.
'You should try to make it work'
"Brad Cooper is a very private man," said Seth Blum, facing a bank of microphones. "He is not accustomed to the hot glare of the media spotlight. He never dreamed that he would see his face splashed across television news shows, nor his name in headlines, especially not under these terrible circumstances … Different people grieve in different ways. Mr. Cooper wishes to mourn privately."
But assistant district attorney Howard Cummings did not see a man in mourning. Instead, he saw in Brad Cooper what he had seen many times before in cases of domestic homicide. Brad had never called the police, and wasn't checking for updates about the case. His reactions seemed muted and dull.
Nancy's family knew her marriage had never been perfect.
Unable to work legally in the United States without a visa, Nancy was bored and unhappy. When Nancy returned to Edmonton for Christmas in 2002, she told her family she didn't want to go back to Cary.
"You decided to marry him, this is your husband," her other sister, Jill Dean, advised. "You should try to make it work."
Things had improved when Nancy started to make friends and got a car, and she was able to earn a bit of her own money by working for cash as a nanny. Their first daughter, Bella, was born in February 2004. Their second, Katie, in 2006.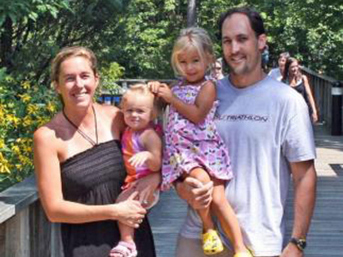 Nancy Cooper and her husband Brad Cooper with two daughters. Town of Carey Police Dept.
Things seemed OK for a while, but by early 2008, Brad and Nancy's marriage was falling apart.
Nancy knew Brad had cheated on her with more than one woman. Nancy wanted to leave, but she was stuck. A lawyer told her if she left the house she could lose everything, possibly even custody of her daughters.
Nancy's family understood the situation was not good. They knew Brad had taken one of their daughter's passports, and was listening in to her phone calls. Still, they'd always liked Brad, and they chalked his behaviour up to the tension of a failing marriage.
Just to be sure, Garry asked her, "Are you afraid for your life?"
"No," she assured him, "Not at all."
After her death, her family learned Brad had never applied for her work visa, intentionally making her dependent on him. The financial control he exerted had escalated to the point where she was quietly selling her clothes and painting friends' houses just to buy groceries. Brad filled up her car with a limited amount of gas, to ensure she could never get farther away than he wanted her to. He had been hacking her emails.
Friends in Cary said she slept with her daughters with the bedroom door locked, and her car keys in her pocket.
"Just to be sure, Garry asked, 'Are you afraid for your life?'"
On a beach vacation in South Carolina with her parents and sister in July 2008, the happy, confident, larger-than-life Nancy had faded into someone almost unrecognizable.
Her parents left the vacation knowing something had to change. They had retained a lawyer for Nancy, and were making plans to figure out custody of the children and get Nancy her out of the house, or buy out Brad's share. Donna was going to go to Cary to help.
When they said goodbye at the airport, Nancy clung to her mother sobbing, "Mom, I just want to go home."
Six days later, Nancy was dead.
On Oct. 2, 2008, Brad Cooper gave a deposition as part of an application by Nancy's family for custody of their daughters. A video shows him sitting before a shelf of books. In the quiet moment of a break, he looked down at his wedding ring, turning it slowly on his finger. It was just over two months after Nancy's murder. No one had been charged.
Examining the video, Mr. Cummings saw what he expected: A man still angry at his wife, and taking several opportunities to further demean her.
Something else in the deposition mattered even more to Mr. Cummings: Brad Cooper swore he'd never been to the spot Nancy's body was found, and didn't know anything about it except what he'd seen on the news. FBI investigators had forensic computer evidence that Brad did a Google Maps search of the area the day before Nancy went missing, zooming in to that exact spot where her body was found.
"That was kind of like, enough is enough," he says. "Let's charge him."
Brad Coopers deposition video
The scenario that emerged at trial was of a murder both calculated and cruel: Brad came home early from the party, secured their children inside a room, then grabbed Nancy from behind or while she slept and choked the life out of her.
The trial lasted two months, with 36 days of testimony from dozens of witnesses. Jurors came back with a unanimous verdict: Guilty of first-degree murder. Brad Cooper was sentenced to life in prison.
The trial put Nancy and her family under the microscope. People weighed in on Internet forums and amateur sleuthing sites, discussing their own opinions and theories about the case as though they were talking about characters on a TV drama.
There was an episode of Dateline about the murder, and a book. A former biologist whose husband worked at Cisco was so convinced of Cooper's innocence she started a Free Brad Cooper website and blog in his defence.
At one point, there were T-shirts being sold with pictures of other supposed suspects in the murder, including Nancy's family. Nancy's youngest sister, Jill Dean, was on vacation in Hawaii when she saw a young man wearing a "Free Brad" shirt. He told her he got it at a thrift store.
"Do you know what that is?" she asked him. "Do you know what that shirt means?"
Brad Cooper's lawyers appealed his murder conviction, and he was granted a new trial. Instead, he accepted a plea deal.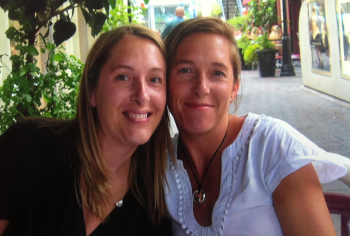 Last month, Cooper pleaded guilty to second-degree murder and was sentenced to 12 to 15 years in prison. A key part of the plea bargain was that he give up the rights to his children, who are being raised by Krista in B.C.
"When we started this process years ago, one of the first things I said was that I would wish the person who was responsible for this crime would come forward and acknowledge their guilt and own up to their behaviour," Garry Rentz said after the hearing. "That's happened today."
The family supported the plea bargain. They were relieved not to have to go through another trial. Nancy's daughters are now 10 and eight, old enough to find out what would be said about their mother at another trial. Bella recently Googled her own name, and saw enough.
But whatever else Nancy's family hoped from a guilty plea, they did not get it. There was no apology from Brad, no explanation, nothing but a slight glance and what looked to Jill like a smirk. Outside the courthouse, Donna Rentz told her family, "I feel empty."
Given the time he has already served, Brad Cooper will spend, at the most, eight more years in prison, and then be deported back to Canada.
"He likes computers and phones and he likes to ride his bicycle," Mr. Cummings says. "Maybe he'll find a place in the world where he can do that and nobody will know his name."
Postmedia News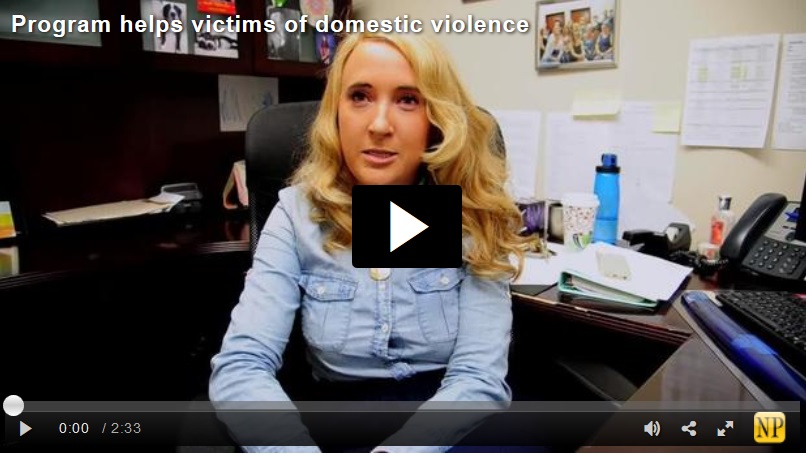 commentary by the Ottawa Mens Centre
Notice that the National Post don't allow comments on this story? While the National Post allows more posts on more controversial subjects than another media outlet in Canada it still often declines to allow comments were feminists hold the power.
If Brad Cooper was a woman, and Nancy a man, and if the investigation was conducted by Det. Peter Van Der Zander of the Ottawa Police, the outcome could have been entirely different.
Det. Peter Van Der Zander would probably fabricate evidence from an "interview" that the perpetrator denied strangling the victim, simply to make a "custody decision" regarding the Children.
The Ottawa Police are amongst the Worst Criminals in the Western World, fabrication of evidence against generally males is rampant when it comes to Domestic Violence.
The Ottawa Police rank as "Domestic Terrorists" which is to justify where most of their $400 Million Dollar budget is spent, promoting Male Gender Apartheid, using "Male Sharia Law" that means men, particularly fathers have next to no legal rights.
These lowest forms of the life are funded by the Ontario Government, and habitually use the courts to terrorize their victims. Ottawa is riddled with Judges who routinely blatantly ignore abuses by the Ottawa Police such as failing to provide disclosure, fabricating charges against victims of domestic violence and directly or indirectly taking instructions from Ontario's worst Criminal Cartel, the Children's Aid Societies of Ontario.
In Ottawa, the local Criminal Branch is the Children's Aid Society of Ottawa where Evidence is habitually fabricated by the likes of Marguerite Isobel Lewis, a lawyer for the Children's Aid Society of Ottawa who fabricates evidence in the court room and NOT a single judge of the Ontario Superior Court or Ontario Court of Justice will act when the evidence is before them.
The Ottawa Police claim that 90% of perpetrators of Domestic Violence are men.
That statistic is contradicted by most other jurisdictions.
If you have had the misfortune of being a Male Victim of the Ottawa Police or the Children's Aid Society of Ottawa send an email to
OttawaMensCentre@hotmail.com