'Explosive cocktail' of mental illness, drug addiction and extremist ideology behind Cirillo shooting: minister
Jordan Press and Dylan Robertson, Postmedia News | November 4, 2014 11:24 PM ET
OTTAWA — The federal public safety minister suggests an "explosive cocktail" of mental health problems, drug addiction and extremist ideology prompted the killing of Cpl. Nathan Cirillo at the National War Memorial in Ottawa.
Steven Blaney told a security conference Tuesday that Canada must be vigilant about the threat posed by people who become radicalized "for whatever reason."
"We saw the explosive cocktail that mental health, drug addiction and ideology — extremist-inspired — can provide," he told the audience of security professionals. "So we need to adapt, adjust and reach out — take this opportunity as Canadians to be prepared. And also … work with other countries that are facing the same challenges."
The public safety minister defended new counterterrorism legislation, saying there are "robust" safeguards in place to ensure that proposed new powers for the federal spy agency don't infringe on civil rights.
"If we want civil rights to flourish in the country, we need to have security," he said.
Mr. Blaney made the comments on the same day the House of Commons kicked off debate on the government's new counterterrorism bill. Opposition parties expressed cautious support for a series of amendments to give Canada's spy agency more powers.
The new bill to bolster the Canadian Security Intelligence Service Act would give the agency greater surveillance powers, and enshrine in law the ability of CSIS to operate at home and overseas while also making it easier to share intelligence with allies. The bill, known as C-44, would also grant anonymity to CSIS witnesses in court cases, even keeping their identities secret from the judges involved.
The legislation does allow for a court-appointed lawyer to argue in favour of disclosing a witness's identity, Mr. Blaney said.
"There are robust legislative measures that make this bill reasonable," he said.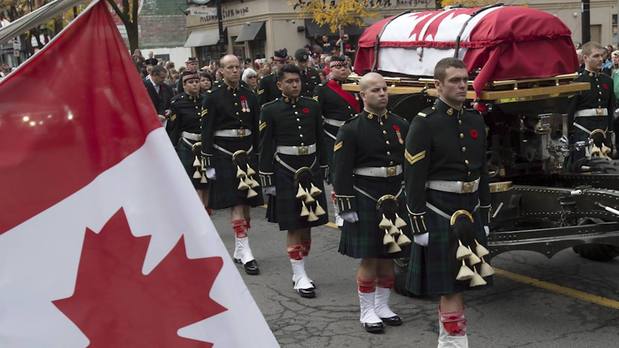 The bill was originally slated to be introduced on Oct. 22, the same day Cpl. Cirillo was slain at the National War Memorial by Michael Zehaf-Bibeau, who then opened fire inside the Centre Block before being killed.

In the Commons, Mr. Blaney introduced the bill by quoting the sister of the soldier who was killed two weeks ago in St-Jean-sur-Richelieu, Que., by a man on an RCMP terrorism watch list. Mr. Blaney said Warrant Officer Patrice Vincent's sister asked at Mr. Vincent's funeral that her brother's death not be in vain. "There is no liberty without security," Mr. Blaney said.

He said the deaths of both Warrant Officer Vincent and Cpl. Cirillo were terrorist attacks, saying "we have to call a spade a spade."

He also defended an amendment that would expedite the citizenship minister's ability to strip citizenship from dual nationals convicted of terrorism. "We will not share a passport with those who want to cut off our heads," he said.

The government also is considering adding more provisions to the Criminal Code, including making it illegal to promote, incite or glorify terrorism online.

Postmedia News, with files from The Canadian Press

Public Safety Minister Steven Blaney: "If we want civil rights to flourish in the country, we need to have security."

Commentary by the Ottawa Mens Centre

When it comes to "Extremist Ideology" Public Safety Minister Steven Blaney needs to take a look at the Judiciary of the Ontario Superior Court of Justice who are perhaps the worst Terrorists in Canada.

Ontario Superior Court Judges operate under the Extremist Ideology of "Male Sharia Law" that means its unofficial normal policy to engage in what can only be called a Gender Superiority Program that results in women getting custody 99% of the time.

Ontario Superior Court Judges operate with FASCIST goals of supporting "The Authorities even when they are the Criminals.

The Worst Example of Extreme Ideology is that of Ottawa Police Detective Peter Van Der Zander who personally Fabricates Evidence to NOT charge violent women who attempt to strangle to death their husbands.

Another equally Extreme Example of Extreme Terrorist Ideology is that of
MARGUERITE ISOBEL LEWIS
A lawyer now less, for the Ottawa Chapter of Ontario's Criminal Cartel of Children's Aid Societies, The Children's Aid Societies of Ottawa.

MARGUERITE ISOBEL LEWIS personally fabricates evidence that fathers make admissions of being pedophiles to remove children from fathers to place them with the most violent of mothers.

JUSTICE MONIQUE METIVIER Allows the Children's Aid Society to obtain Exparte Orders for custody in order for the Children's Aid Society to Circumvent the Child and Family Services Act. In the politest of terms, its called Judicial Misconduct.

The Most Extreme Terrorists in Canada are not ISIS but those Society entrusts with the Rule of Law, Child Protection and Police.

Ottawa's Police Chief, The Regional Senior Justice of the Ottawa Superior Court are all aware of their organizations Blatant Criminal Offences that make them Canada's most Extreme Terrorists.

There is nothing more terrifying than being a male in Canada and the victim of female domestic violence that is openly promoted by the Judges of Ontario Superior Court.

Our Prosecutors are an other example of Extreme Terrorists.

Take TARA DOBEC of the Ottawa Crown's office. She prosecutes charges against Male Victims of Domestic Violence to cover up, her own, staying of charges against the most violent female offenders when the same evidence would be an almost automatic trial, conviction and significant jail sentence.

Every Male Police officer who happens to be a father in Canada should NOT reside in the City of Ottawa where these Extreme Terrorists operate with impunity.

Ottawa Mens Centre