Tories back NDP motion to suspend Dean Del Mastro, but battle brewing over move to strip his pension
Stephen Maher, Postmedia News | November 5, 2014 9:23 AM ET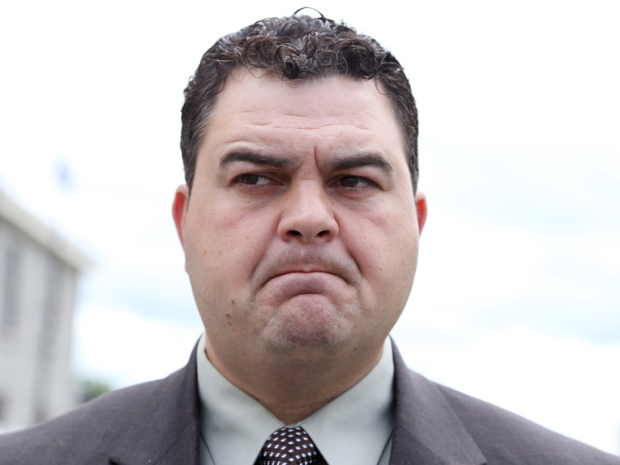 MP Dean Del Mastro talks to the media during lunch break for his trial in Peterborough on July 9, 2014. Del Mastro and official agent Richard McCarthy are accused of campaign overspending and falsifying documents to cover up the overspending.
In a surprise move, the Conservative government supported an NDP motion Tuesday to immediately suspend disgraced MP Dean Del Mastro without pay.
Del Mastro, the former parliamentary secretary to Prime Minister Stephen Harper, was found guilty on Friday of three Elections Act offences, carrying a possible total penalty of three years in prison and a $6,000 fine, triggering a section of the act that calls for him to be expelled from the House.
But on Monday, Conservative House Leader Peter Van Loan moved a motion to send the question to a Conservative-dominated parliamentary committee for study, rather than acting immediately.
On Tuesday, after the NDP accused the government of protecting Del Mastro's pension by making changes to a bill that could remove pensions, when the House began debating NDP House Leader Peter Julian's motion to have Del Mastro suspended immediately, Van Loan surprised him by saying the government would support the NDP motion.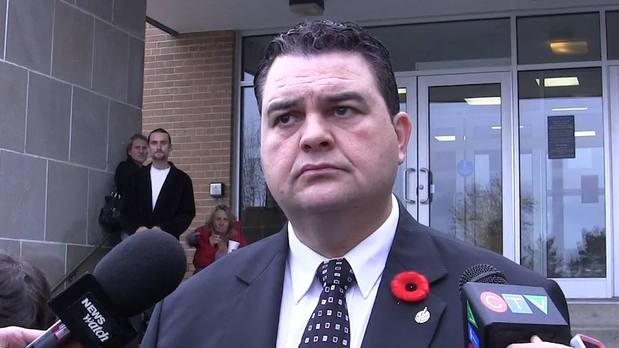 Van Loan made the announcement after Julian accused the government of "tucking it under the carpet," and argued that the Conservatives have shown a "systematic pattern of breaking the Canada Elections Act."
Van Loan said that the Conservatives will vote with the NDP, voting to immediately stop Del Mastro's paycheques and remove the privileges he enjoys as an MP.
"I do want to restate the government's position, and from the outset I will indicate that the government is of the position that it will support this motion," he said.
When the motion passes, as expected, it will send the matter to the procedure and house affairs committee, which will figure out how and when Del Mastro will be expelled and when a byelection should be called.
Earlier Tuesday, that committee happened to be debating a private member's bill from Conservative MP John Williamson, which would strip MPs of pensions if they resign after being found guilty.
As the law stands now, MPs are stripped of their pensions if they are expelled for serious criminal wrongdoing, but not if they resign.
NDP Democratic Reform critic Craig Scott moved several amendments that would have made the pension provision potentially apply to Del Mastro.
"Their amendment says it's only this list of criminal code offences and I said No," he said. "Add the Canada Elections Act, illegal or corrupt practices to the list that could result in you losing your pension."
Tom Lukiwski, the parliamentary secretary to the government house leader, said the bill wouldn't have affected Del Mastro's pension.
"I think what they were trying to do was somehow bring forward a conspiracy theory that we were making amendments to this bill in an attempt to protect Mr. Del Mastro," he said. "I assured them publicly that was not the case."
Scott said he suspects the Tories might prefer that Del Mastro be encouraged to resign rather than fighting to keep his seat, potentially embarrassing the government.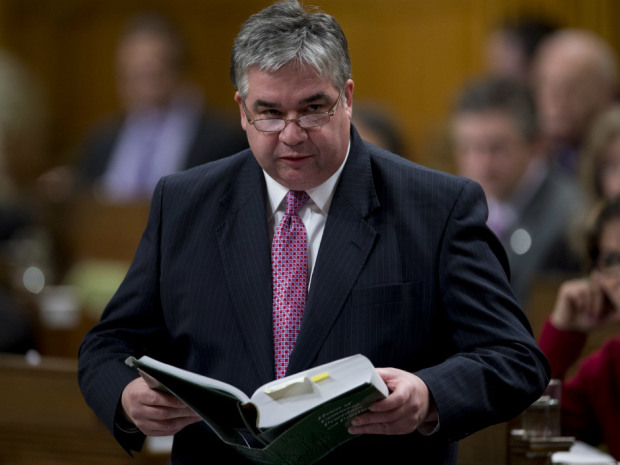 "One assumes that if Mr. Del Mastro can be told, you can resign and keep your pension because this act doesn't touch you, then this is helpful in getting him to resign," he said. "I will not say it's their plan. I will say it's a helpful component if it is their plan."

Aaron Wudrick, of the Canadian Taxpayers Federation, said he's not sure the law should be changed to capture Del Mastro's wrongdoing.

"I don't think you should write legislation to capture the crime of the day," he said.
But he said Del Mastro should be suspended.

"I think given the circumstances a suspension without pay is warranted," he said. "He's been convicted of a crime. There's no question mark."

Del Mastro did not respond to a request for comment.

On Tuesday, he told the Peterborough Examiner that he would avoid the House but do his job from his Parliament Hill office.

"I will go to Ottawa and do my job," he said. "I'm just not being presumptive. I want to be respectful to everyone."

On Monday, Del Mastro announced that he has new evidence that he wants the court to consider before his Nov. 21 sentencing date. He has not said what that evidence is.

Commentary by the Ottawa Mens Centre

Wow, Thanks to Stephen Maher for an incredible article.

When it comes to keeping Pensions, the Ontario Government will be paying some very fat Pensions to the Extreme Terrorists in Canadian Society who just happen to have Absolute Power and who are perhaps the most outrageous examples of Criminals operating in disguise.




Ontario Superior Court Judges operate under the Extremist Ideology of "Male Sharia Law" that means its unofficial normal policy to engage in what can only be called a Gender Superiority Program that results in women getting custody 99% of the time.

Ontario Superior Court Judges operate with FASCIST goals of supporting "The Authorities even when they are the Criminals.

The Worst Example of Extreme Ideology is that of Ottawa Police Detective Peter Van Der Zander who personally Fabricates Evidence to NOT charge violent women who attempt to strangle to death their husbands.

Another equally Extreme Example of Extreme Terrorist Ideology is that of
MARGUERITE ISOBEL LEWIS
A lawyer now less, for the Ottawa Chapter of Ontario's Criminal Cartel of Children's Aid Societies, The Children's Aid Societies of Ottawa.

MARGUERITE ISOBEL LEWIS personally fabricates evidence that fathers make admissions of being pedophiles to remove children from fathers to place them with the most violent of mothers.

JUSTICE MONIQUE METIVIER Allows the Children's Aid Society to obtain Exparte Orders for custody in order for the Children's Aid Society to Circumvent the Child and Family Services Act. In the politest of terms, its called Judicial Misconduct.

The Most Extreme Terrorists in Canada are not ISIS but those Society entrusts with the Rule of Law, Child Protection and Police.

Ottawa's Police Chief, The Regional Senior Justice of the Ottawa Superior Court are all aware of their organizations Blatant Criminal Offences that make them Canada's most Extreme Terrorists.

There is nothing more terrifying than being a male in Canada and the victim of female domestic violence that is openly promoted by the Judges of Ontario Superior Court.

Our Prosecutors are an other example of Extreme Terrorists.

Take TARA DOBEC of the Ottawa Crown's office. She prosecutes charges against Male Victims of Domestic Violence to cover up, her own, staying of charges against the most violent female offenders when the same evidence would be an almost automatic trial, conviction and significant jail sentence.

Every Male Police officer who happens to be a father in Canada should NOT reside in the City of Ottawa where these Extreme Terrorists operate with impunity.

Ottawa Mens Centre